Finding Volunteer Opportunities
There are numerous ways to find local volunteer opportunities, and we've included some information below to help you with your search. Thank you for your interest in serving our community!
Please note: The links on this page are from external sources and are provided for informational convenience purposes only. It does not constitute the Volunteer Center's endorsement or approval, and the external parties are solely responsible for the accuracy of the content.
---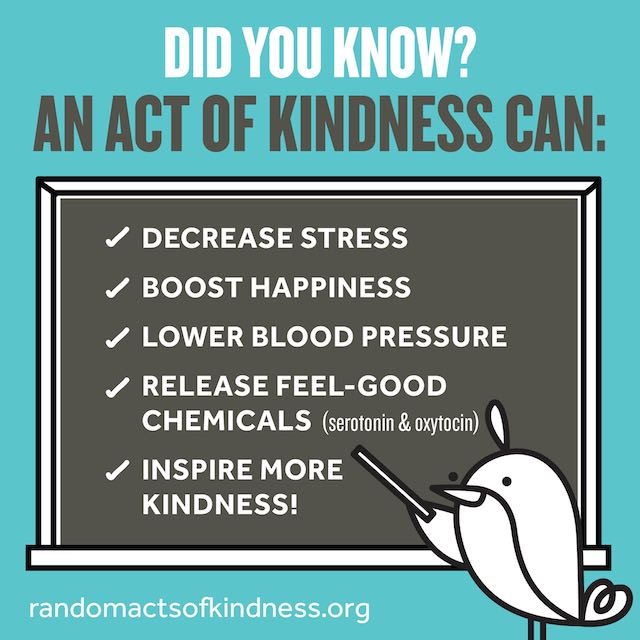 Did you know that performing acts of kindness is good for your mental and physical health? Among the many benefits, practicing kindness:
Minimizes stress and improves depression
Boosts happiness - for both sides!
Reduces blood pressure and improves heart health
Contributes to our sense of community and belonging - important protective factors! - which are key contributors to a healthy, longer life
It also encourages empathy, which something we teach local youth and families through our new, all-encompassing program, Engaging Hearts and Minds.
Learn more about the health benefits of kindness from this CNN article and from the Random Acts of Kindness Foundation, where you can also find more resources on practicing kindness!
---
Volunteer Opportunity Search Databases
Click any of the three images below to visit peer organizations' websites and use their volunteer opportunity databases to search for service opportunities.
---
Volunteer Information for Local Organizations
Refer to the chart below to learn more about the volunteer opportunities at these local organizations. Click the links at the right to find more detailed volunteer information on each organization's website.
Please Note: The chart below was developed prior to the pandemic, so the three volunteer opportunity search databases above may be the better option in trying to find volunteer opportunities right now.
Organization
Location(s)
Area(s) of Focus
Minimum Age to Volunteer
More Information
1736 Family Crisis Center
Torrance and Wilmington
Family Services
18
Info for Prospective Volunteers
Beach Cities Health District
Redondo Beach
Family Services, Health
14
Info for Prospective Volunteers
Cabrillo Marine Aquarium
San Pedro
Animals, Environment
None
Info for Prospective Volunteers
The Children's Clinic
Long Beach
Family Services, Health
16
Info for Prospective Volunteers
Food Finders
Lakewood
Food Insecurity
7 with an adult
Info for Prospective Volunteers
Friendship Foundation
Redondo Beach
Youth With Special Needs
8
Info for Prospective Volunteers
James Armstrong Theatre
Torrance
Arts and Culture
15
Info for Prospective Volunteers
Los Angeles Maritime Institute
San Pedro
Maritime, Youth Development
13
Info for Prospective Volunteers
Madrona Marsh
Torrance
Environment
14
Info for Prospective Volunteers
Museum of Latin American Art
Long Beach
Arts & Culture
13
Info for Prospective Volunteers
Palos Verdes Peninsula Land Conservancy
Palos Verdes Estates, Rancho Palos Verdes, Rolling Hills Estates, San Pedro
Environment
None
Info for Prospective Volunteers
Our Village
Redondo Beach and Long Beach
Youth With Special Needs
4
Info for Prospective Volunteers
Rancho Los Cerritos
Long Beach
History and Culture
13
Info for Prospective Volunteers
Richstone Family Center
Hawthorne, Torrance, Inglewood
Family Services
None
Info for Prospective Volunteers
Ride to Fly
Rancho Palos Verdes
Animals, Youth With Special Needs
14
Info for Prospective Volunteers
South Bay Literacy Council
Gardena, Hawthorne, Lomita, Torrance, Wilmington
Education
18
Info for Prospective Volunteers
South Bay Village
Torrance
Senior Services
None
Info for Prospective Volunteers

Click on "Forms" for the Volunteer Application.
Switzer Learning Center
Torrance
Education, Youth With Special Needs
18
Info for Prospective Volunteers
Toberman Neighborhood Center
San Pedro
Family Services
16
Info for Prospective Volunteers
Torrance Art Museum
Torrance
Arts and Culture
18
Info for Prospective Volunteers
Volunteer Action for Aging
Various
Senior Services
18
Info for Prospective Volunteers
The Western Museum of Flight
Torrance
History and Culture
13
Info for Prospective Volunteers