Become an Operation Teddy Bear Sponsor
Individuals, corporations and organizations often look for ways to support the community. The Volunteer Center is proud to offer an opportunity for you to support Operation Teddy Bear® (OTB), our volunteer-powered literacy program that provides schoolbags filled with books, educational materials and wellness tools, along with a lesson in kindness, compassion, volunteering and identifying emotions, to the area's most underserved first grade students each year.
---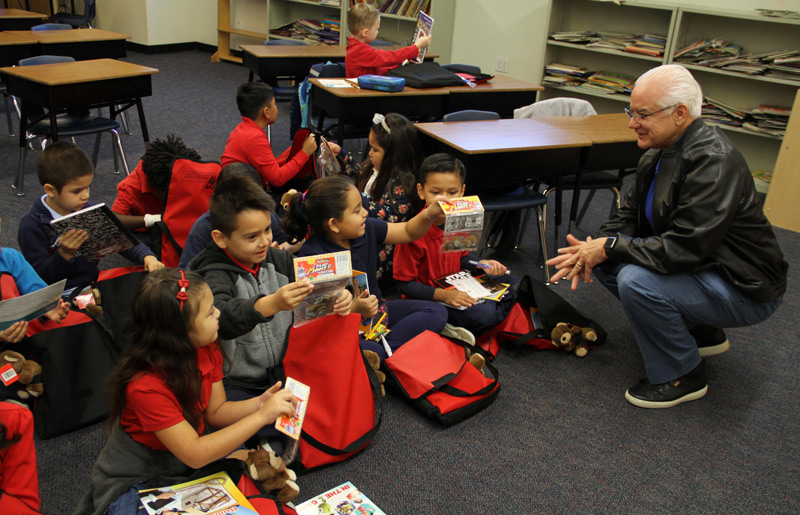 Each year, we work with local school districts to pick approximately 40 of the most underserved schools in the South Bay, Harbor, Long Beach and Compton areas. Each school has an average of four first grade classrooms and 100 first grade students per school. A sponsorship gives you an opportunity to create a partnership with a school, the first grade classes and your community.
Operation Teddy Bear also gives volunteers a chance to help and inspire the children first-hand by preparing items, packing and delivering the schoolbags, and interacting with the students in the classrooms. Corporations and organizations can work together as a team and build a spirit of camaraderie while creating one of the best days in many of these children's lives! Click here to read more details about Operation Teddy Bear, including how the program benefits students, teachers and the community.
---
Benefits of Sponsorship
As an Operation Teddy Bear Sponsor, you have first choice of partner school. Once you pick your school(s) and remain an active annual sponsor, that school will be yours as long as it is part of OTB.
School Sponsorships - $5,000 per school - cover:
Schoolbags (produced by local veterans)
Educational Materials and Wellness Tools related to:

Reading, Writing and Drawing
Science and Math
Health and Well-Being
Social Development

Storage for Schoolbags, Educational Materials and Wellness Tools
Volunteer Management and Administration
Sponsorships include:
An opportunity to participate in a packing event, typically in November*
An opportunity to deliver the schoolbags, read to the children and teach them about volunteering, typically in December*
An opportunity to create a relationship with a school for other potential partnerships throughout the year
*Corporations and organizations are encouraged to wear team t-shirts
You will be acknowledged in several ways:
You will receive an official thank you letter from our President/CEO recognizing your tax-deductible donation
You will be acknowledged on our website, in social media posts and in our monthly eNewsletter
You will receive thank you notes from the students
Your pictures and videos may be added to our website
You can also arrange a special check presentation with a Volunteer Center staff or board member
For Corporations and Organizations:
Your logo or name will be included on an appreciation card inside every schoolbag
We can include items branded with your logo, such as pens, erasers, crayons or anything else we already include in the bags
...to let the students and families know of your generosity!
---
If you have questions or would like to become an Operation Teddy Bear sponsor, please contact Liz Reinhardt at liz@volcenter.org or (310) 212-5009.