Our History
The Volunteer Center was founded as the Volunteer Bureau in 1963 by the Junior League of Long Beach in response to the urgent needs of the community. Over the decades, we have referred more than a million volunteers to hundreds of nonprofit agencies who maintain critical programs for those in need.
Highlights of our 50+ Years
1963
The Junior League of Long Beach establishes Volunteer Bureau at 1427 Pacific Ave., San Pedro
Funded by Junior League
Placed 34 volunteers in 24 agencies
Vernon Fay, Volunteer Center Became Founding Board President (pictured to the right)
1964
Bureau recruits 232 volunteers
1965
313 volunteers recruited for nonprofit agencies
1966
Last year of Junior League funding
First official budget was $4,103
1967
Moved to 2008 W. Carson St. in Torrance on April 24
Placed more than 800 volunteers at 60 different agencies
1968
Placed more than 900 volunteers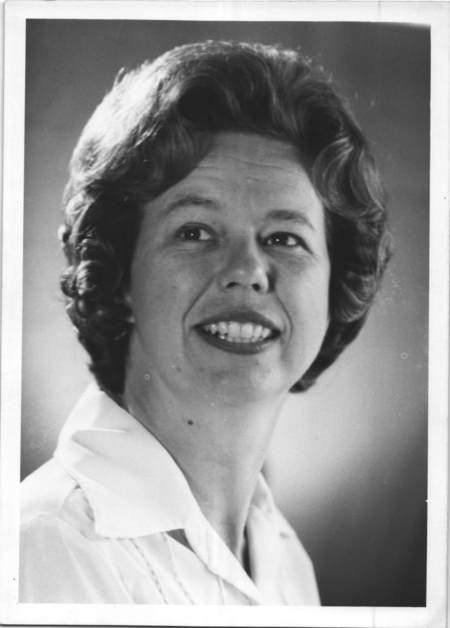 1969
Organized first workshop for nonprofit agencies
Charlotte Lobb (pictured to the right) started publicizing volunteer opportunities in the Daily Breeze newspaper
1970
Supplied playground equipment for Harbor Hills Housing Project
200 participants attended agency workshops
1971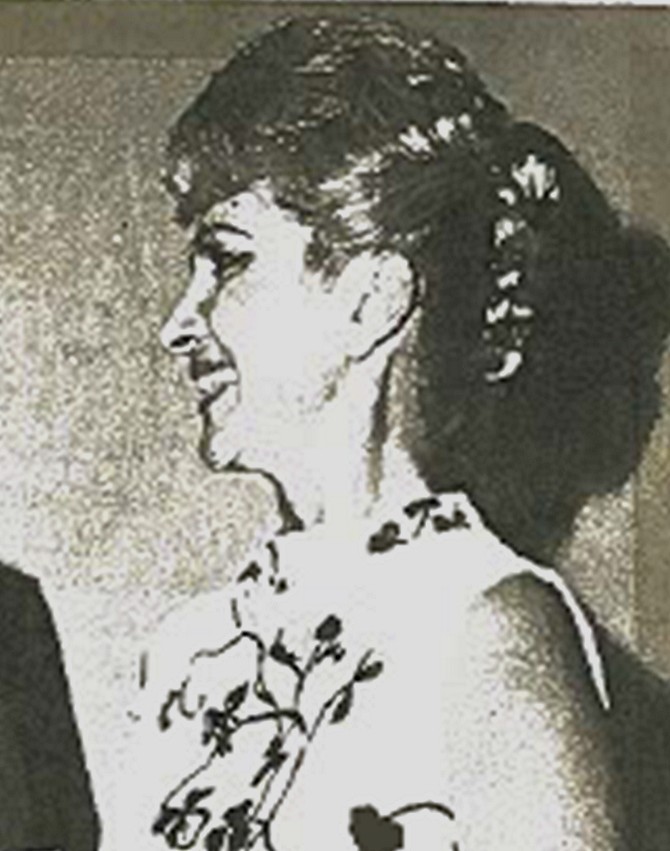 Joan Santaella became Executive Director (pictured to the right)
Placed 1,785 volunteers at 93 agencies
1972
Changed name From Bureau to Volunteer Action Center
Expanded to include beach cities
1973 - Tenth Anniversary
Volunteer Service Awards program became annual event
4,400 volunteers, 156 agencies

Kathryn Joiner became Executive Director (pictured to the right)

Established Court Referral Community Service Program
1975
Added Court Referral Coordinator to staff
1976
1977
Recruited 450 high school volunteers
1978 - Fifteenth Anniversary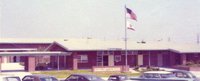 1979
Moved to the vacant Grace Wright School at 3915 Spencer St. in Torrance
1980
Held First Annual Corporate Volunteer Awards Banquet fundraising event
1981
Joined coalition of 40 California Volunteer Action Centers to unify activities and program strategies
Expanded services to Long Beach area
1982
TRW and CCH Computax contributed a new computer system
1983 - Twentieth Anniversary
Initiated Human Race fundraiser for nonprofits
1984
Grew partners to more than 500 agencies
1985
Teen Involvement Program began with help from TRW
Collaborated on Taste of South Bay fundraising event
1986
1987
Rented former Stone & Meyers Mortuary from Torrance Redevelopment Agency
Torrance Historical Society declared edifice a Historic Building
1988 - Twenty-Fifth Anniversary
Planted a heart-shaped flower garden at Torrance City Hall
1989
Partnered with 550 agencies

Renovated the Stone & Myers Mortuary
1990
Founded the One-Can-Do Program
Served 12,000 volunteers
1991
Center selected from 47 in state to receive the Gloria Deukmejian Award as the most outstanding Center
1992
Opened second satellite office in San Pedro
Coordinated the J.C. Penney Golden Rule Awards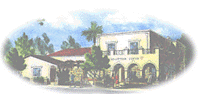 1993
Purchased Stone and Myers historical building through generous grant of $200K from Toyota
Budget was at $395,000
Provided more than $5.5 million dollars worth of services to the community
Board member, Jim Fucile, received the Gloria M. Deukmejian Outstanding Volunteer Award
1994-1996
De De Hicks served on National Board of Volunteer Centers
1994
1995
Began building renovation
1996
Hosted 'Hard Hat' Tea Party to announce Capital Campaign
Received Excellence in Communication award from Points of Light Foundation for our Capital Campaign packet
Board member, Lea Ann King, received the Gloria M. Deukmejian Outstanding Volunteer Award

Renovated the Volunteer Center
1997
President's Summit on Volunteerism selects Long Beach as one of 100 cities to send delegates to Conference in Philadelphia; De De Hicks selected as Summit delegate
Major Youth Volunteer Program begins
Expanded corporate involvement program; established the Corporate Volunteer Council
3rd satellite office opened in West Los Angeles
21-month Capital Campaign ended in the fall, surpassing the million dollar goal
27,000 volunteers recruited
Board member, Ev Durfee, received the Gloria M. Deukmejian Outstanding Volunteer Award
1998 - Thirty-Fifth Anniversary
Adjacent parking lot purchased
Fourth satellite office in San Pedro opened
Partnership with 650 agencies
Expanded Training Program for nonprofits
Operating budget grew to $628,000
Implemented Family Matters Volunteer Program
Started Durfee Scholarships for students
1999
Hosted first group of International visitors
Opened Fifth satellite office near LAX
Started JAM (Joint Agency Meetings)
Became host, sponsor and fiscal agent for the Human Relations Forum
Family Matters Program recognized nationally
2000
Hosted First Regional Youth Service Project
Launched resource library for fund development and volunteer management
Operation Teddy Bear program distributed 3,000 filled backpacks
Hosted Pirates of Portuguese Bend successful fundraiser
Facilitated creation of Butterfly and Hummingbird Garden at George F. Canyon Nature Center
Hosted representatives from 24 nonprofit agencies from around the world
2001
De De Hicks received President/CEO title
Spearheaded a collaborative project for Cesar Chavez Day of Service and Learning (actually went on for 5 months instead of one day!)
Youth service project partnered with Habitat for Humanity
Join Hands Day activities received national recognition
Organized community projects for Martin Luther King Day, Cesar Chavez Day, Join Hands Day, National Youth Service Week, Make a Difference Day, National Family Volunteer Week and USA Initiative
2002
Bauer/Honda Funded Nonprofit Library & Resource Center opened
Dedication of renovation of parking lot
Organized Senior Prom as youth project
Held 22nd Annual Corporate Volunteer Awards Banquet, "Make a Difference" theme
Implemented Harbor Area Child Safety Awareness Program
Budget $860,000 – value of services to the community estimated to be over 14 million dollars annually.
2003
Celebrated 40th Anniversary and congratulated 'Operation Teddy Bearers' at a Mardi Gras party!
Operating budget topped $1,000,000
Center chosen to participate in national LeadershipPlenty training
Held 23rd Annual Corporate Awards Banquet, sports theme
Volunteer Center received POLF 2003 Communications Excellence Award, Technology category
2004
Awarded nine Durfee scholarships to High School seniors
For National Youth Service Day, Youth Coalition hosted "Day of Fun for Everyone"
"Kids at Heart" themed Corporate Volunteer Awards Banquet honored Tom Sullivan
Volunteer Center received POLF 2004 Communications Excellence Award, Special Events category
De De Hicks attended George Bush's 80th Birthday Bash
Volunteer Center hosted a "circus" themed Operation Teddy Bear party to thank donors
4,000 backpacks given to first graders for Operation Teddy Bear program
15 high schools participated in Youth Coalition
12 cities proclaim December 11, 2003 as Operation Teddy Bear Day
Corporate Volunteer Council (CVC) members spruced up Torrance Children's Center
2005
Court Referral Program introduced a new Teen Project
Operation Teddy Bear fundraiser honored Pete Carroll, U.S.C. football coach
Operation Teddy Bear program distributed a record 5,000 backpacks
Operation Teddy Bear fundraiser hosted in Long Beach at Long Beach Yacht Club
25th Corporate Volunteer Awards Banquet, sponsored by ExxonMobil, "You Oughta Be in Pictures" theme
Youth Program received Human Relations Award
Donors thanked at Operation Teddy Bear's "Mission Impossible" rather "Possible" party
Volunteer Center Youth Coalition organized "Laps of Love" walk-a-thon
Six youth service projects addressed community needs from MLK Day to Cesar Chavez Day
2006
VOLUNTEER CENTER AWARDED DESIGNATION AS #1 VOLUNTEER CENTER IN THE NATION BY POINTS OF LIGHT!
Operation Teddy Bear party thanked donors, themed "You Gotta Have Heart….and You Have".
De De attended Regional Conference in San Diego
26th Corporate Volunteer Awards Banquet themed "American Idol"
Affinity Group started and hosted several recruitment teas
Attended Governor & First Lady Awards Luncheon in Long Beach
Corporate Volunteer Council (CVC) participated in joint project to paint and clean-up the Wilmington Teen Center
Operation Teddy Bear distributed 5,600 backpacks
2007
Operation Teddy Bear party themed "Teddy Bears Picnic"
27th Corporate Volunteer Awards Banquet themed "Mythical Journey to the Land of Gods & Goddesses"
'Legends' fundraiser at the Negri home
De De travels to Philadelphia for National Volunteer Conference
VIVA summer program includes more than 40 students at Volunteer Center
Implemented training program with Torrance Area Chamber of Commerce
Expanded Corporate Volunteer Council and service activities
De De honored for Van Dine Americanism award at Palos Verdes Estates Fourth of July celebration
Operation Teddy Bear fundraiser at Long Beach Yacht Club
Recruited more than 250 volunteers for First Lady Playground Build in Long Beach
Volunteer Center participated in Palos Verdes Chamber Citiopoly game fundraiser
Best Nonprofit awarded by Palos Verdes Chamber of Commerce, Salute to Business 2007
2008
PVP Chamber named Operation Teddy Bear as Best Nonprofit Program
28th Corporate Banquet, theme: "We're Wild about Volunteers, Safari Style"
Hosted CA Volunteers "Listening Tour" and was reported one of the best sites
Hosted Volunteer Center's 45th Anniversary celebration at Ed & Susie Beall's home
Five Ev Durfee scholarships granted to deserving local high school students
Corporate Volunteer Council held membership drive at Toyota's Automotive Museum
Interfaced with 34,658 individuals within its programs
2009
29th Corporate Volunteer Awards Banquet – theme: "Volunteers Are Out of This World" – Boeing sponsored
VCYC hosts a Global Youth Service Day Project – April 18
Affinity's "Legends In Our Time" – fundraiser for Operation Teddy Bear
Scholarships awarded to students at Leuzinger High School
Reps attended National Conference in San Francisco
VIVA – Summer Service Learning Program expands to 56 students
End of fiscal year report for Court Referral program celebrated its 'best year ever'.
Conducted a bus Tour for board members and others to visit 5 satellite Volunteer Center offices
Started Food For Kids program in October
Started an after-school art program for underserved elementary school children
Connected with over 44,000 individuals/groups for the year
Long Beach office's Mary Manos presented with Outstanding Volunteer Award for volunteers in Long Beach
2010
Volunteer Center Youth Coalition held MLK Day event
De De attended large Volunteer Centers meeting in Dallas
Palos Verdes Coordinating Council presents the 2010 Community Service Award to the Volunteer Center
Volunteer Center Youth Coalition Day of Service in Long Beach partnered with Peace 4 Kids
30th Corporate Banquet held at Dave's Garage, theme: "Celebrating Volunteers with a Fifties' Flair"
Global Youth Service Day, "Hooked on Books" Literary Fair at Meyler Elementary School put on by Volunteer Center Youth Coalition
Attended National Conference in New York
Opened new court referral office in Bellflower
2011
Volunteer Center Youth Coalition held MLK Day event at LMU to benefit foster youth
Corporate Banquet held at the Torrance Marriott Hotel, "Broadway Bound….Volunteers Take the Stage"
Volunteer Center Youth Coalition held Literacy Fair at Meyler Family Learning Center for Global Youth Service Day
Affinity Group hosted 'Legends' party held to celebrate four Palos Verdes women volunteers
'Food For Kids' program feeds 8,100th individual since inception
Long Beach Food For Kids support group formed called Team 100
Served 44,965 people through our many programs
2012
Volunteer Center Youth Coalition held MLK Day event to benefit foster kids at Loyola Marymount University
Volunteer Center Youth Coalition held Global Youth Service Day at American Martyrs in Manhattan Beach
Volunteer Center Youth Coalition 'Day of Magic' for kids with cancer at TMMC
'Art to Go' thrives and volunteers trained others in order to expand the program
Corporate Banquet held at Torrance Marriott Hotel,"Volunteers Make a World of Difference".
Affinity Group held the Legends event at the Yellow Vase in Palos Verdes Estates to honor four Palos Verdes women who volunteer
Held the first annual Blue Martini Ball in Long Beach to raise funds for Food For Kids
Volunteer Center Youth Coalition held 'End of the Year Celebration' in Volunteer Center's parking lot
CVC (Corporate Volunteer Council) volunteered at Toyota Village for Special Olympics in Long Beach
2013 - 50th Anniversary
Volunteer Center Youth Coalition MLK Day, January 26, at Richstone Center
Held Art To Go trainings in boardroom at Volunteer Center, in March
Nonprofit trainings begin in March through June at the Volunteer Center
Affinity Tea at Heinsheimer's home
Corporate Banquet, "Volunteers Make Magic Happen in the French Quarter", April 25th
Legends In Our Time event at Yellow Vase in P.V.
Volunteer Center Youth Coalition Global Youth Service Day, "Rumor Has It" event
50th Anniversary Tea in Long Beach to thank Junior League of Long Beach for founding the Volunteer Center
Blue Martini Ball in Long Beach, Food For Kids fundraiser put on by Team 100
50th Anniversary Celebration, September 21 at the Volunteer Center - James Bond theme
2014
VCYC MLK Day at Friendship Circle
Art to Go training in board room, February 21
Corporate Volunteer Awards Banquet, April 24,"Volunteers Are Music to Our Ears!"
VCYC "Rumor Has It" event for Global Youth Service Day, April 29
Affinity Group, Legends In Our Time, June 1 at the Buxton's
Blue Martini Ball, June 7 in Long Beach
VCYC 9/11 event held on September 21 at the Midnight Mission in L.A.
VCYC Harvest Festival at Toberman Neighborhood Center, November 6
Corporate Volunteer Council Christmas luncheon held at Toyota Automotive Museum, December 2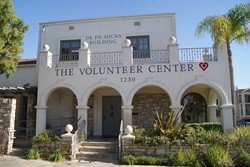 2015
VCYC MLK Day Science Fair in collaboration with the Friendship Circle
VCYC – Senior Prom at Bartlett Center, April 10 for Global Youth Service Day
Affinity, Legends in Our Time fundraiser – June 14 at Norris Pavilion
CVC – Special Olympics, Toyota Village, June 13 & 14 at CSU Long Beach
Pantry Partners support group founded to support Food For Kids
Summer Fest 2015 – August 9, held in front of Depot Restaurant
De De honored as 'Citizen of the Year', presented at Torrance State of the City Luncheon
PV Chamber, Outstanding Nonprofit Awards honored the Volunteer Center at Terranea Resort, October 23
VCYC Harvest Festival, Toberman Neighborhood Center, October 30
Legacy Thank You Party for donors, December 3, and celebration of the renaming of the building to the De De Hicks Building
Torrance office dedicated to De De Hicks
De De Hicks retired after 29 years
2016
Sara Myers becomes President/CEO (pictured to the right)
---
The Original Volunteer Center Building
The original building as built in 1928.
Picture taken in 1929.

Inside of the original building as built in 1928.
Picture taken in 1929.