Operation Teddy Bear Donation Supply Drive
We are looking for businesses, service groups, schools and other organizations to help conduct drives to collect items for our 2016-2017 Operation Teddy Bear® program. Below is information about how to conduct a drive and the types of items that we need. Most are easy to find at most stores, especially during back-to-school season. If you would like to buy them items in bulk, we can offer you several great contacts.
What are some creative ways to inspire involvement at my organization?
Ideas for team drives are only limited by your creativity. Summer is a great time of year because stores have special displays of school supplies and many are currently on sale.
Choose one special item for your organization to focus on, and give each participant a reminder shopping flyer with your selected item(s) and suggested local vendors with low prices.
Ask your participants to bring any of the needed items to a group meeting. Form teams and have competitions to see which team can bring in the most items. It can be a fun team building event.
Put a collection box at your organization with signage for people to see. We can provide big Operation Teddy Bear®boxes that are great marketing tools that show your commitment to the local community.
Plan an organization-wide "impact" day. Collect or purchase Operation Teddy Bear® items and sort all the items out by type and pack similar items in quantities of 50-100, so they are ready for our "packing" day.
You can teach children how to help the local community in a manner that re-enforces your group's values. For example, every time you take children shopping, have them pick one item to donate to another child. After you accumulate a box full, bring the children and the box to the Volunteer Center for a tour M-F from 8:30 a.m. to 4:00 p.m.
For even more creativity, look for a large object or area at your organization and hold a "stuff the ____" drive. Encourage participants to bring their items and start filling the designated object or area with the items. Snap pictures of the progress and encourage participation to stuff the object or area until it is overflowing.
When are the items needed?
We will be packing the items in early November and thus ask for them to be delivered by October 14. However, it would be very helpful if you would let us know if you are conducting a drive so we can incorporate your efforts into our planning.
Our Wish List of Items: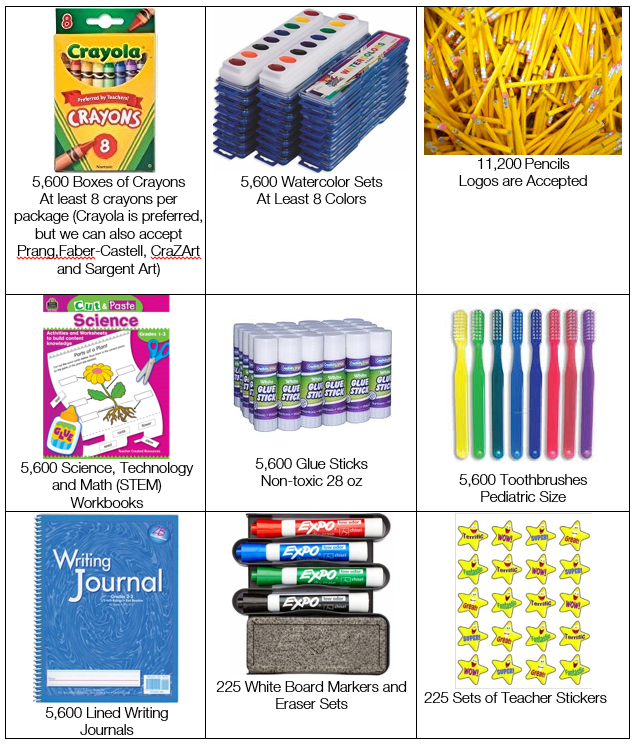 To see items like these on the internet, click on the links below:
Click on these to see examples
Other items suggested by a First Grade Teacher

1st Grade Level Books: New or Very Gently Used
Highlighters
Erasers
White glue
Electric pencil sharpener
A good stapler
Paper plates-craft usage
Popsicle sticks-crafts
Heavy duty magnets for the whiteboard
Folders with fasteners
Gift cards to Target, Lakeshore or similar teachers supply store, Michaels, JoAnns
Clorox (disinfectant) wipes-for teacher/parent volunteer use
Baby wipes to help clean young children's hands
Where should they be delivered?
Once your organization completes its drive, if the size of the delivery is small (less than a pallet or about 200 lbs), then please deliver Monday – Friday 8:30 a.m. to 4:00 p.m. to:
Attn: William Welch
Volunteer Center
1230 Cravens Ave, Torrance, CA 90501
310-212-5009 or operationteddybear@volctr-sobay.org
If the quantity or weight is high or you need a loading dock, please call Jerry Richman at 310-327-1120 first to arrange business hours delivery to our warehouse:
c/o Jerry Richman
Mixpak
14805 South Maple Ave, Gardena, CA 90248
Can the items have corporate logos or branding information?
Yes so long as 1) the supplies are useful and safe for first grades students and teachers and 2) the primary purpose of the item is not to solicit a sale.
How will my team or company be recognized for the donation?
You and your team will be thanked in several ways:
You may include your logos on items so that the families know of your generosity
You will be thanked in a Facebook post
You will be thanked in our eNewsletter which goes to thousands of local residents
You will be thanked on our website which is visited 40,000+ times a year
You are welcome to bring a team banner, wear shirts, and otherwise show your team spirit at the packing event
You will receive an official thank you letter from our President/CEO recognizing your donation