Operation Teddy Bear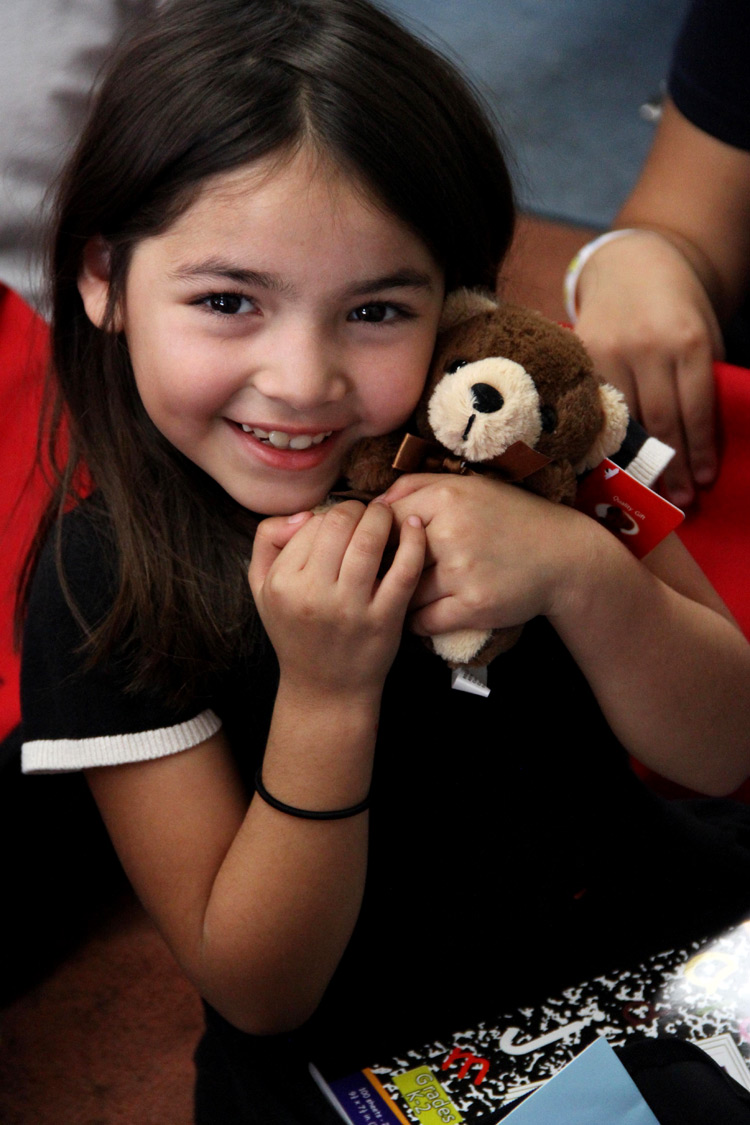 Operation Teddy Bear is a volunteer-powered literacy program that provides schoolbags filled with books, educational supplies and wellness tools to the area's most underserved first grade students. The program provides volunteers with an opportunity to help and inspire these children first-hand, by packing and delivering the bags, as well as interacting with and reading to the students in their classrooms. Click here to see a video of Operation Teddy Bear in action.
How Operation Teddy Bear Helps | Keeping Up with the Needs of the Students
How You Can Help | Our Generous Sponsors | Operation Teddy Bear Volunteers-in-Action
---
The Need for Educational Support
An average of 76% of students in the school districts we serve live at or below the poverty line. This high percentage of children are eligible for the Free and Reduced Meal Program through Title I. While our Food For Kids program helps with the dietary needs, many of these students also arrive at school without adequate educational supplies to begin their day. These circumstances create special needs in the areas of education, literacy and self-esteem.
How Operation Teddy Bear Helps...

The Students

Operation Teddy Bear® addresses these needs by providing more than 4,000 of our signature schoolbags and supplies to these children. Each bag contains such items as reading and coloring books, writing journals, crayons, pencils, pencil sharpeners, toothbrushes, toothpaste, and of course, a teddy bear!

The Teachers

The program also provides teachers with supplies, including items such as white board marker/eraser sets, tissues, pencils, crayons and glue sticks.

The Community

And that's not all. Our volunteers love taking the time to sit and read stories to the children, and share how volunteering is important in the community. Plus, the bags themselves are crafted by U.S. veterans in Carson through GreenVetsLA and their nonprofit vocational rehabilitation program, Vets Corps USA.

This multi-faceted approach sets the students up for success and everyone wins!

Keeping Up with the Needs of the Students

Each year, we survey the teachers and principals to gather feedback on the program and how it fits the students' needs. Last year, we added writing journals, math manipulatives (in the form of play money) and additional non-fiction books at the request of the teachers and principals. These additions better complement the Common Core Curriculum Standards - with an increased emphasis on science, technology, engineering, art and math (STEAM) - and help the students practice what they've learned in class at home. This year, we're incorporating more STEAM-related items, as well as items to help the students identify emotions, write about feelings and relieve stress as a part of the Volunteer Center's new focus on social and emotional well-being.
---
How You Can Help
Make a Monetary Donation
Operation Teddy Bear® is funded entirely by donations from individuals, corporations and foundations. Make an immediate impact on these students by donating toward the cost of a bag (each bag costs approximately $55).
Click here to donate and put Operation Teddy Bear in the notes section

Sponsor a School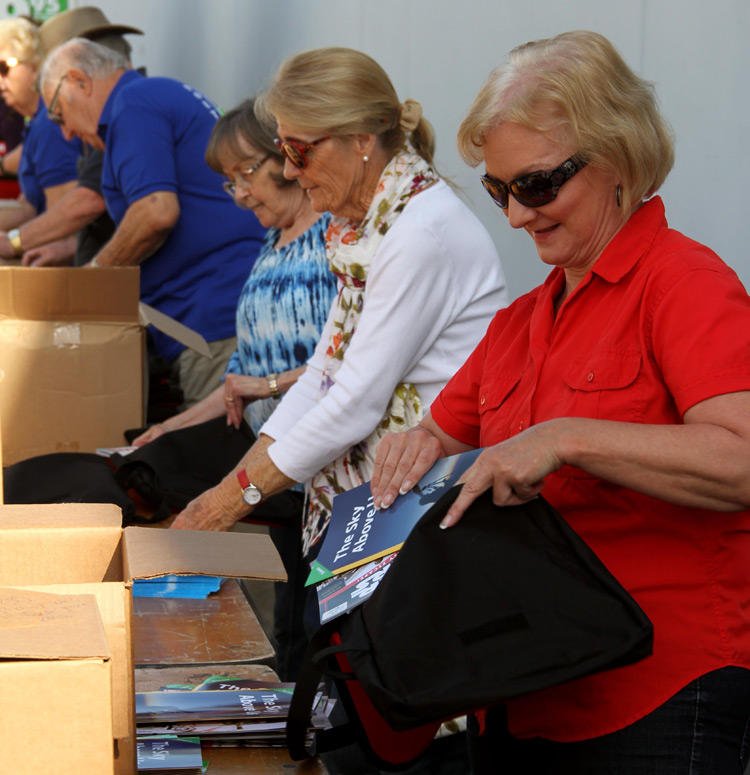 Companies and organizations can adopt an entire school as an Operation Teddy Bear Sponsor.
Click here for more information.

Volunteer
Community members can volunteer to help with Operation Teddy Bear in one of the following ways between August and December:
Collect supplies
Set up materials

Pack schoolbags
Deliver bags to schools

Read to the children
Provide administrative support
For more information on ways you can help, contact Trisha Smith, Volunteer Services Manager, at trisha@volcenter.org or (310) 212-5009.
We are also grateful to the Affinity Group for their support of the Operation Teddy Bear program. Click here to learn more.
---
Operation Teddy Bear is possible thanks to the support our generous sponsors:
Operation Teddy Bear® is a registered trademark of the Volunteer Center South Bay–Harbor–Long Beach.