Operation Teddy Bear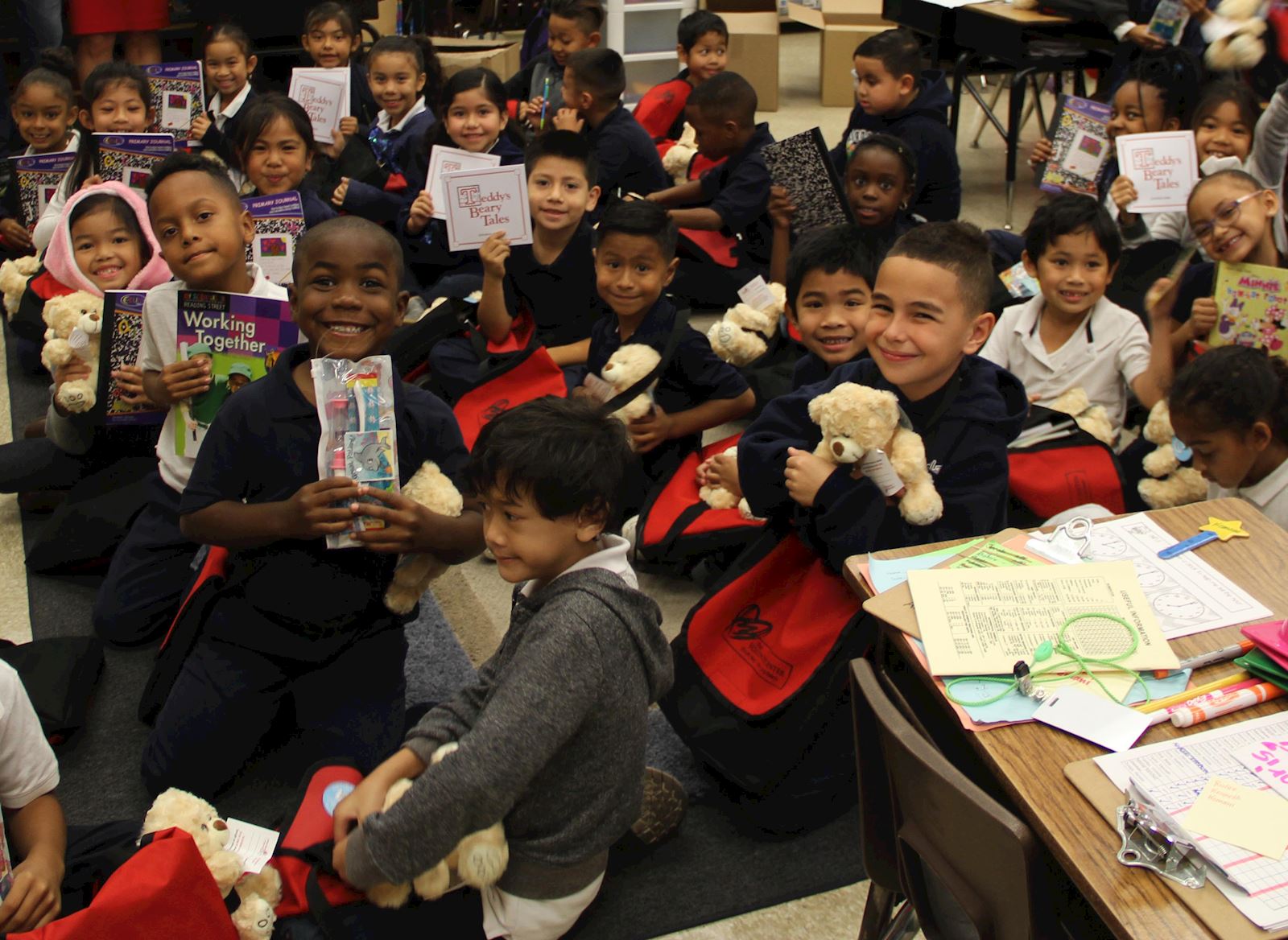 Operation Teddy Bear® is our volunteer-powered literacy program that provides an educational boost through a kind gift - more than 4,000 schoolbags filled with books, educational materials and wellness tools, along with a lesson in kindness, compassion, volunteering and identifying emotions - to the most underserved first-graders in the South Bay, Harbor and Long Beach areas each year. The program also provides volunteers with an opportunity to help and inspire these children first-hand by preparing items, packing and delivering the schoolbags, and interacting with the students in the classrooms. Click here to see videos of Operation Teddy Bear in action.
How Operation Teddy Bear Helps | Keeping Up with the Needs of the Students
How You Can Help | Our Generous Sponsors | Operation Teddy Bear Volunteers
---
The Need for Educational Support
An average of 83% of students in the school districts we serve live at or below the poverty line, making them eligible for the Free and Reduced Price Meals. While our Food For Kids program helps with the dietary needs, many of these students also arrive at school without adequate educational supplies to begin their day. This can have dramatic negative effects on school performance, behavior, well-being and future academic success, creating special needs in education, literacy, self-esteem and social-emotional wellness.
How Operation Teddy Bear Helps...

The Students

Operation Teddy Bear addresses these needs by providing our signature schoolbags, educational materials and wellness tools to every first grade student at select schools in our service area each year. The schoolbags contain such items as reading and coloring books, writing journals, crayons, STEAM-related items, toothbrushes, toothpaste, and of course, teddy bears!

The Teachers

The program also provides teachers with supplies, including items such as white board marker/eraser sets, tissues, pencils and glue sticks.

The Community

And that's not all. Our volunteers love taking the time to read an original story about "Teddy the volunteer" to the students, which facilitates a lesson about kindness, compassion, volunteering and identifying emotions, and uses the experience of receiving a gift as encouragement to "pay it forward."

We also partner with GreenVetsLA and their nonprofit vocational rehabilitation program, Vets Corps USA, to produce the schoolbags locally, which provides job training for disabled, homeless and/or unemployed veterans.

This multi-faceted approach sets the students up for success and everyone wins!

Keeping Up with the Needs of the Students

Each year, we survey the teachers and principals to gather feedback on the program and how it fits the students' needs. The feedback also allows us to adapt the materials as the school experience changes and evolves.

For example, teachers had been requesting more quality non-fiction reading books and writing journals with room to draw pictures to help the students to better meet the Common Core Curriculum Standards, emphasizing science, technology, engineering, art and math (STEAM). We were able to grant those requests in recent years, and we also added two new items based on the feedback we received: a volunteer-made "Rekenrek" Counter to assist each first-grader with concepts of math and counting – and calm fidgety fingers – and a STEAM Engineering Kit to help the students learn to build two- and three-dimensional shapes.

We also make changes to the program based on the latest community needs. The schoolbag now includes wellness items, including writing prompts to help them identify how they're feeling and a tag attached to the teddy bear suggesting they give the bear a hug and take a deep breath when they're nervous or afraid, which the volunteers demonstrate in class. These additions were incorporated to address the mental health crisis facing youth nationwide and further the goals of the Volunteer Center's focus on this issue locally. All of these improvements provide the students with even better tools they need to succeed and allow them to practice what they learned in class at home.
| | |
| --- | --- |
| | Special teddy bear instructions with volunteers from the Port of LA |
How You Can Help
Make a Monetary Donation
Operation Teddy Bear® is funded entirely by donations from individuals, corporations and foundations. You can make an immediate impact on these students through a monetary donation. (It costs approximately $50 to provide one schoolbag to a first grade student.)
Click here to donate and put Operation Teddy Bear in the notes section

Sponsor a School
Companies and organizations can adopt an entire school as an Operation Teddy Bear Sponsor. Click here for more information.

Volunteer
There are a variety of ways that community members help with Operation Teddy Bear. These opportunities typically take place between August and December.
If you would like to be added to our Operation Teddy Bear Volunteer Interest List, please complete this form, and we will contact you when opportunities become available.
Assemble materials
Pack schoolbags

Deliver bags to schools
Read to the children

Provide administrative support
Donate supplies (click here for details)
Please note: Due to the program's popularity, program sponsors receive priority for all volunteer opportunities.
For more information on ways you can help, contact us at info@volcenter.org or (310) 212-5009.
We are also grateful to the members of our Affinity Group for their support of the Operation Teddy Bear program. Click here to learn more.
---
Operation Teddy Bear is made possible thanks to the support our generous sponsors:
Operation Teddy Bear® is a registered trademark of the Volunteer Center South Bay-Harbor-Long Beach.