Helpful Resources for Connection and Wellness Amidst Uncharted Times

Resources for Coping with Stress and Emotions | Resources for Families | Featured Kindness Opportunities | Hope Will Not Be Cancelled
Food For Kids Update | The CARES Act and Charitable Contributions
Click here for our page of helpful resources on screen time, mental health and having conversations about both.
Please note: The links below from external sources are provided for convenience purposes only. It does not constitute the Volunteer Center's endorsement or approval, and the external parties are solely responsible for the accuracy of the content.
---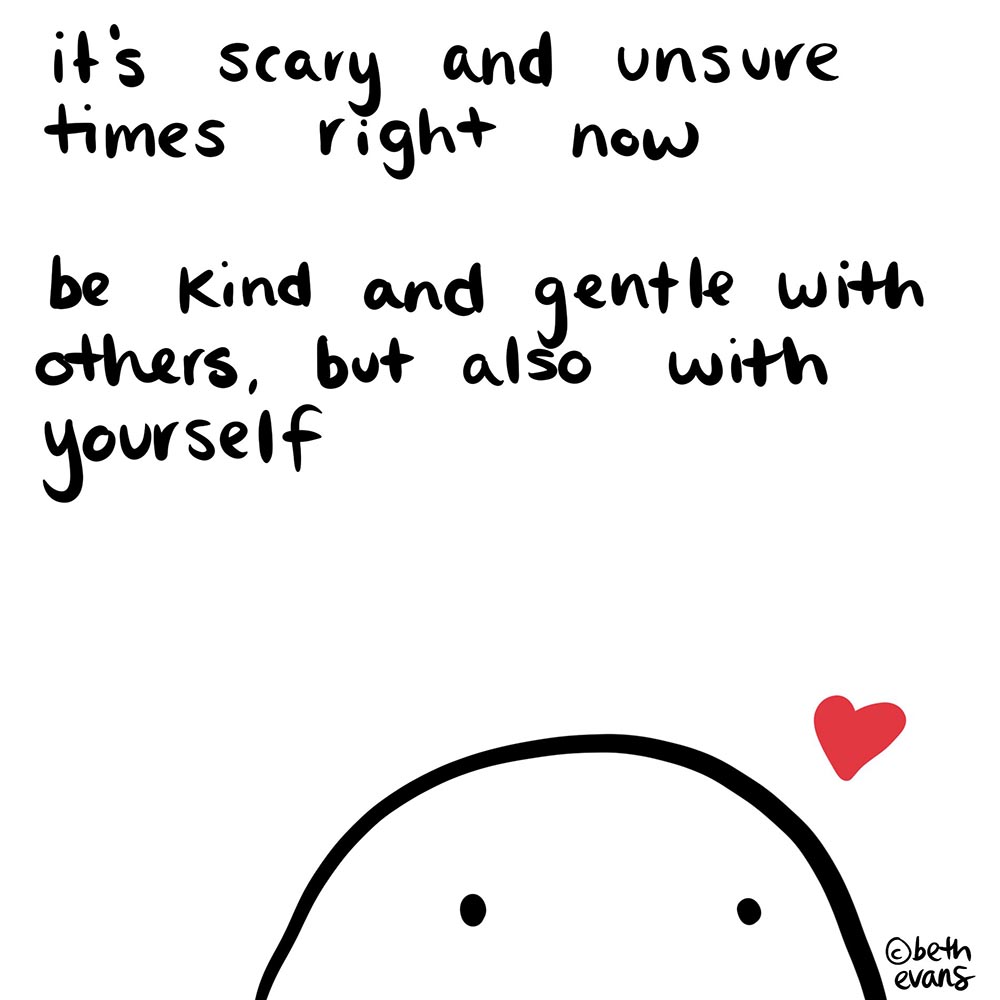 Dear Volunteer Center Family,
We know it's not an easy time right now, so we wanted to share some of the many resources available to help you navigate and cope with the stress and emotions this situation may be causing.
You may have seen people joking online about how they plan to completely ignore healthy screen time habits during this crisis to help manage children who are out of school. We certainly all recognize the serious difficulties parents face right now, especially since many are trying to juggle both working from home as well as caring for and teaching children. That said, we should all keep trying our best to find some balance with screen time to avoid adding more anxiety, depression and isolation to an already emotionally challenging situation.
There are a lot of great opportunities to make screen time interactive and educational, such as taking virtual museums tours together or watching a zoo's live stream and then discussing what you've seen. Plus, follow-along exercise activities, including yoga, make a great replacement for recess. You can mix it up by dusting off some old-fashioned board games and puzzles, letting your kids explore their creative side both indoors and out, or reading some of the books on our list of Books about Kindness and Empathy. Check out these lists from South Bay Mommies & Daddies, Screen-Free Parenting and Resilient Little Hearts for more ideas, and see more resources to help you below.
Some say that this is the most serious global crisis since the onset of social media, and we are already seeing the benefits of how social media, FaceTime and other apps are keeping us connected. If we can curb the compulsion of too much mindless scrolling - the kind that causes us to disconnect from each other - it will benefit our mental health. Most importantly, we need to remember to be kind to ourselves, that none of us are perfect, and we're not alone.
A friend of mine recently shared these wise words from Rev. Caela Simmons Wood and I thought they summed up how we can come together as a community to navigate this uncharted time:
"PSA: Nearly everyone around you is learning how to "do/be X in a pandemic" for the first time ever right now. Parents, teachers, administrators, librarians, that cashier at the fast food joint, coaches, elected officials, your barber, your friend, your neighbor.
People will make mistakes.
You will make mistakes.
I will make mistakes.
We will love each other through it.
Be gentle with yourself and others. Breathe deeply. Take a break and find some joy. Keep listening and loving."
The Volunteer Center team is currently exploring ways to safely and creatively remain "at the heart of helping" through this unprecedented pandemic. Feel free to write us about resources, remote volunteer opportunities, or anything else you wish to share, and we will do our best to keep everyone informed and connected. Please also check back for updates, and follow us on on Facebook, Instagram and Twitter for additional content.
May we all have compassion for each other, be kind to ourselves, and stay safe,
Sara Myers
President/CEO
---
Resources for Coping with Stress and Emotions
For You:

For Kids and Teens:

Screen Time During the Coronavirus Crisis:
Experts at the Child Mind Institute offer some tips to help you set expectations, support your child and - maybe most important of all! - cut yourself some slack. Click here to read Screen Time During the Coronavirus Crisis.

Local:
The LA County Department of Mental Health has partnered with Headspace to offer free subscriptions to all LA County residents throughout 2020 for their mindfulness and sleep content, mini exercises and more. Click here for details.

See more resources below and check back for updates/additions.
---
Resources for Families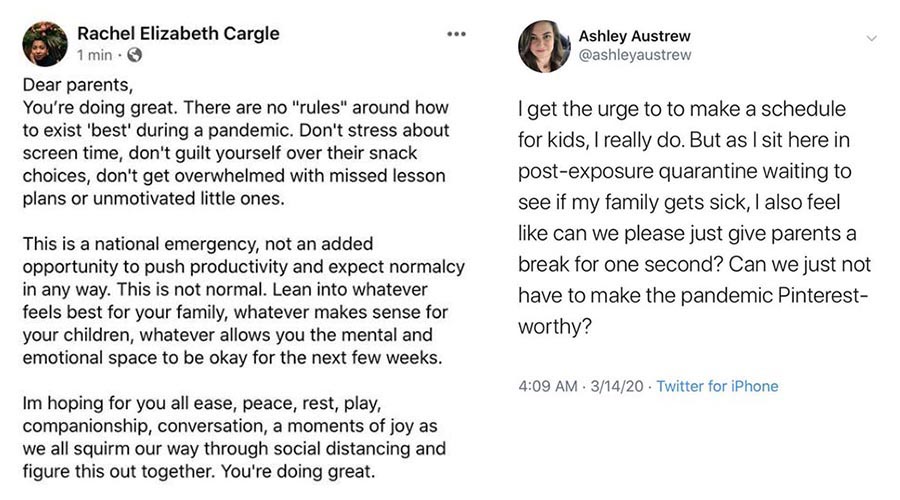 Posts by Rachel Elizabeth Cargle on Instagram @rachel.cargle and Ashley Austrew on Twitter @ashleyaustrew
Continuing on the theme of "you are not alone," we wanted to share these wise words, as well as more resources to help families during this uneasy time.
Crisis Text Line: "If you're worried about making rent, we're here for you. If you're overwhelmed homeschooling your kids, let's talk. If you work in healthcare and show up ready to help, thank you - you're superheroes. It's okay to not be okay." Text SHARE to 741741 to reach a Crisis Counselor.
Teen Line: While they have temporarily closed the physical hotline space, youth may continue to contact Teen Line from 6:00 - 9:00 p.m. (PST) nightly by texting TEEN to 839863, sending an email through their website, using the online message board, or downloading the app. Click here for complete details.

Teen Line is also beginning to offer virtual online lectures in place of their physical outreach programming. This outreach covers a wide range of topics for middle school and high school students, including stress and anxiety, as well as proper responses if a student is worried about someone else or themselves. Click here to learn more or contact Outreach Manager Sara Shewfelt, MSW at sara@teenlineonline.org.

This is a particularly lonely time for everyone, especially youth. Please share this information, so as many youth as possible can find the support they need right now, and click here for Teen Line's advice on How to Help Your Teen Through the Coronavirus Shutdown.
Counselor Keri: While some schools are closing, kids are out of their comfortable routines, which can contribute to those worries. Click here for 15 things we can do to talk to kids about Coronavirus and help them manage these big worries they might be holding on to.
Dana Howell of Behavioral Interventions And Solutions: In the wake of the vast number of school closings, Dana created this FREE daily schedule and activity list printable PDF for parents. Are the schedule times or order of activities not quite right? Print it out, cut out the strips apart, reorder them to your liking and then glue it to a plain sheet of paper.
Christine Carter, Ph.D., Greater Good Magazine: Click here for three ways to cope if your kid's school closes: 1. Create some structure around work and school at home now. 2. Connect with your clan. 3. Embrace not being so busy.
HuffPost Personal: In Parents: It's OK If You're Barely Getting By Right Now, guest writer Kim Simon shares a 7-point "Permission Slip for Petrified, Paranoid Parents During This Pandemic" that includes "Teach your children how to listen to their own needs," "Cut yourself some slack. A lot of slack," "Make room for big feelings," and "Social media is not a measure of success."
L.A. Parent Magazine - L.A. Parent's April 2020 Digital issue - the Safer-at-Home Survival Guide - contains positive stories from our community, tips on staying active and battling cabin fever, breathing techniques to steady you in unsteady times, learn-at-home resources and work-from-home tips, self-care tips for a "date night" at home, details about virtual online experiences and more!
Greater Good Magazine - With their mission is to share scientific research that can help promote a happier, more compassionate society, Greater Good is committed to bringing you stories, tips, and tools for these uncertain times in our global community. Find practices, resources, and articles for individuals, parents, and educators facing COVID-19 in Greater Good's Guide to Well-Being During Coronavirus.
JED Foundation - The JED Foundation's Love is Louder Action Center offers tips, tools and resources for taking care of our physical and mental health, and supporting each other during this time of uncertainty. They encourage you to explore each section - Stay In, Stay Safe, Stay Calm, Stay Kind, Stay Active, and Stay Connected - for simple things we can do every day as we stay in and social distance to feel better, stay strong and feel connected.
LONG Creations - Check out this printable time capsule to help you and your children reflect on what you did, how you felt and ways you connected with others during this unique time in history. Designer Natalie Long said, "This is something I designed for fellow families with children living through this difficult time; it is meant as a gift, not for profit! However, should you wish and are able to, please consider donating to a local charity or passing on a random act of kindness within your community."
Greater Good Magazine - In Three Tips from a Therapist for Calming Your Coronavirus Anxiety, Lindsey Antin, MFT, says, "As a psychotherapist, I know that getting through this time will involve getting a grip on our minds. We need to focus on what is reassuring and positive, and what we can control. We can control our minds, at least to some extent. We can start small. Here are some things to work on."
Give An Hour - Check out this Healthy Habits Children's Activity Book, inspired by the Health Habits of Emotional Well-being. "A good way to keep our bodies and feelings healthy is to practice healthy habits daily," the activity book includes writing and drawing prompts, as well as word games.
Child Mind Institute - Knowing how difficult this situation can be for children of any age, their Learning and Development Center offers these guidelines and strategies from their experts to help families support their children's education at this time. Check out Tips for Supporting Learning at Home by age group - Preschoolers through College Students.
Resilient Little Hearts - Their Family Crisis Guide shares 10 principles you need to navigate crisis and bring your family closer together. It relates to the current crisis of COVID-19, but also any other challenge you may have to navigate.
---
Featured Kindness Opportunities
While group volunteer activities are not possible, we encourage each of you to touch base with your neighbors and practice kindness on a personal level as much as possible. Here are a few opportunities to help you do that:
Kids and kids-at-heart can create cards, draw pictures and/or write letters for local seniors! Simply scan or take photos of them and send the scans/photos by email to Khryste Griswold at Home Care Assistance. Khryste said the pictures and words will bring great joy to elder community members - it's an especially lonely time for them, so join us in helping to brighten their day!

Want to have conversations about giving back with your kids while you work on this project? Check out #7 on this page for guidance from Abby Withee, MFT and our friends at South Bay Mommies and Daddies.
If you're looking for ways to reach out to your neighbors, whatever size gesture you wish to make, there are resources to help you.

We Love LB has published a postcard in seven languages that you can use to introduce yourself to your neighbors, and help set up lines of communication and aid for those that might be high-risk or otherwise in-need. Visit welovelb.org and scroll down for links to the different versions.
The City of Long Beach has created similar cards you can use to let neighbors know you're there to help.
Beach Cities Health District has created Kindness Cards and shared Errand Assistance Guidelines and Steps to help everyone stay safe.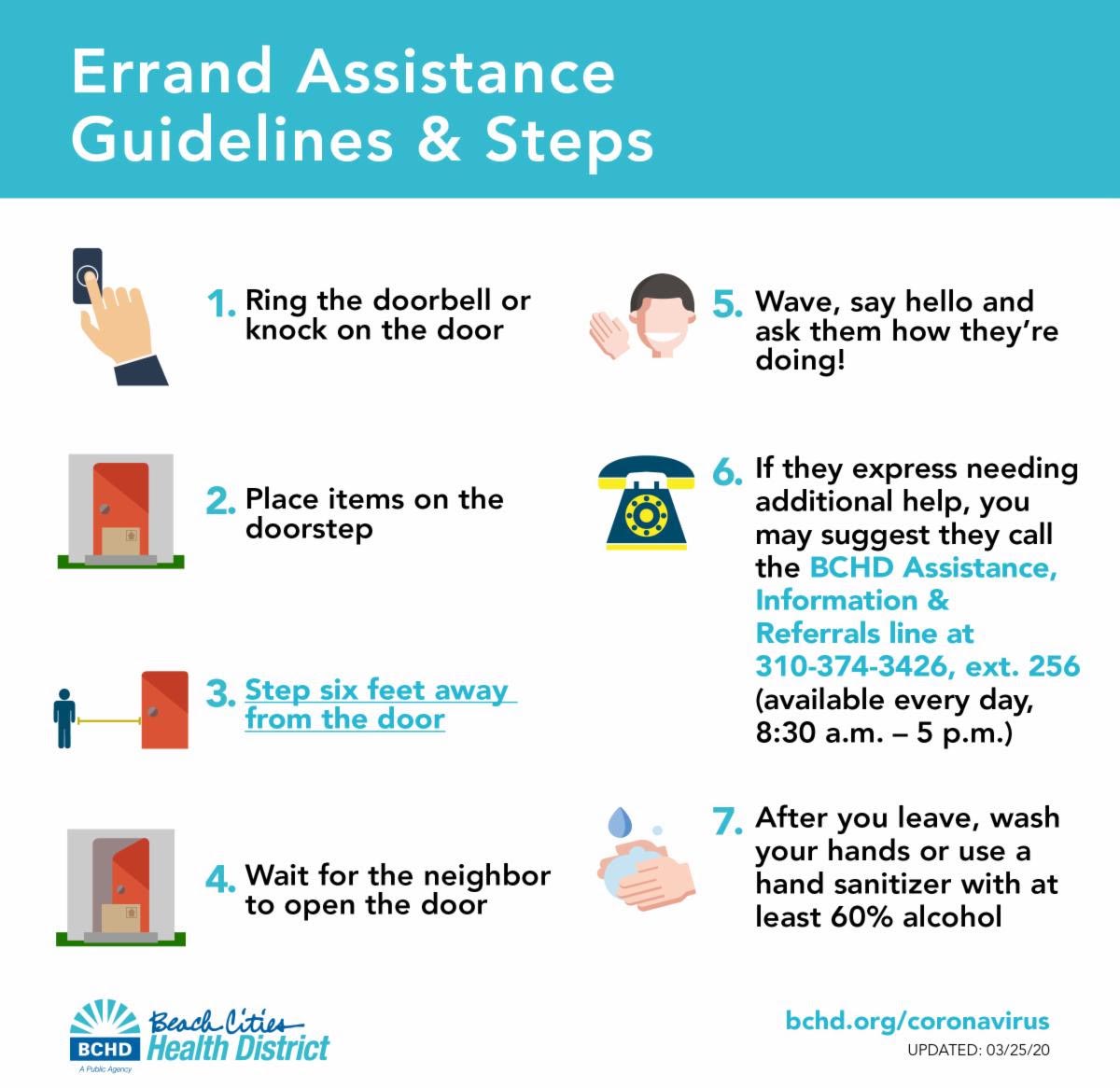 ---
Hope Will Not Be Cancelled
"While the list goes on and on and grows longer every day, we're going to need some good stuff to lean on and look forward to. Here are a few things to consider:
Conversations will not be cancelled.
Relationships will not be cancelled.
Love will not be cancelled.
Songs will not be cancelled.
Reading will not be cancelled.
Self-care will not be cancelled.
Hope will not be cancelled.
That's just my initial list. What else? What do you love that won't be cancelled? Who and what can you rely on right now? What will you continue to participate in?
We're all in this together... May we care well for one another. May we live with more grace and compassion than ever before. May we be careful and wise but also honest on the days we feel afraid. May we always always always know that it's okay to ask for help. And may we lean into the good stuff that remains."
- Jamie Tworkowski
Founder of To Write Love On Her Arms and New York Times Bestselling Author
Click here to read the full post
---
Food For Kids Update
We have been communicating with our Food For Kids partner schools to explore the best ways to continue to support families during the school closures, and we are happy to report that we have been able to deliver bags of food to multiple sites to help local families in need during this challenging time.
We are still accepting donations - by appointment only - for the time being, as long as our main office (1230 Cravens Avenue, Torrance) remains open. We will continue to post updates on our website and social media channels as the situation evolves.
If you would like to donate food, please follow these temporary procedures to ensure your safety and the safety of our staff:
If you are healthy and in a low-risk age group, please email programs@volcenter.org to make a drop-off appointment. Please allow 24-48 hours for a response and note that we are not open on weekends.
If you are experiencing symptoms of respiratory illness (including fever or cough), we ask that you reschedule your visit for another time, after you have been healthy without symptoms for several days.
At your designated drop-off time, you can drive up to the ramp adjacent to our parking lot, and our staff will work with you to help you remain six feet away as you unload your donation. Please note that all guests must wear masks and practice social distancing when visiting the Volunteer Center.
We would also truly appreciate financial donations to help us continue this program and serve local families in need during this challenging time. Click here to make a donation.
Click here to learn more about Food For Kids and additional COVID-19 updates, as well as a downloadable copy of our Shelf-Stable Shopping List and more, and follow us on Facebook, Instagram and Twitter to hear about the latest Food For Kids donations.
---
The CARES Act and Charitable Contributions to Qualifying Organizations, including the Volunteer Center
Individuals who claim the standard deduction in 2020: Deduct up to $300 of cash donations.
Individuals who itemize deductions in 2020: The deductible amount has been raised from 60% to 100% of adjusted gross income.
In-Kind Food Donations: The tax deduction has been raised from 15% to 25% for 2020. Click here for our temporary food donation process - currently by appointment only.
Corporations: The cash gift limit has been raised from 10% to 25% of corporate taxable income for 2020.
These details are provided for convenience purposes only. Please consult your tax advisor for more information. References: Forbes | 1040.com | Independent Sector