Kids For Kids Sponsorships - Supporting Operation Teddy Bear
Kids For Kids is a unique opportunity for individuals, corporations and organizations to support Operation Teddy Bear® (OTB) - the Volunteer Center's literacy program that provides schoolbags filled with books and educational materials, along with a lesson in kindness and volunteering, to the area's most underserved first grade students.
---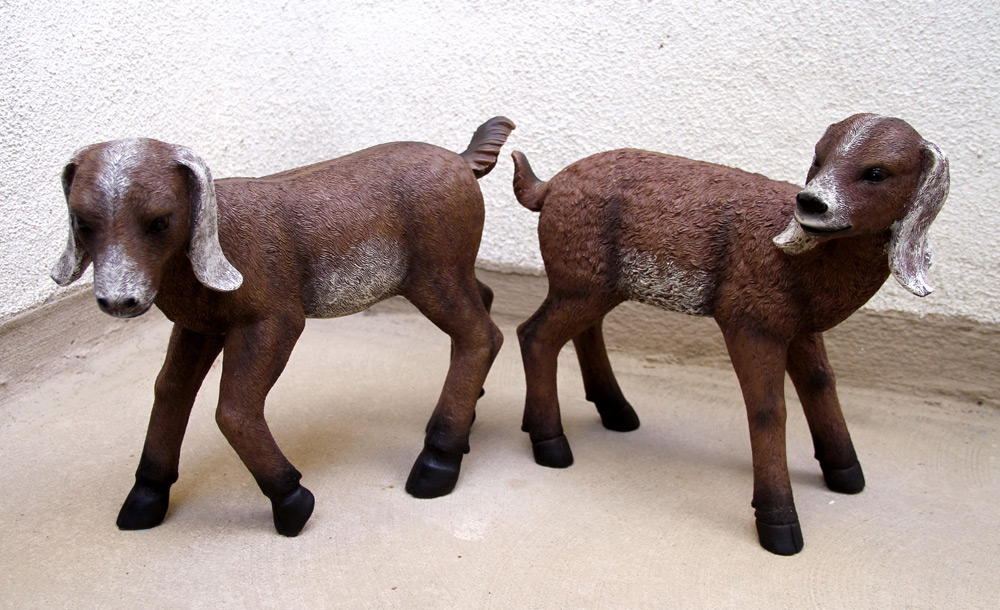 Inspired by the goats used to clear brush on the hillsides of the Palos Verdes Peninsula and other areas in the South Bay, you will receive a special gift from the Volunteer Center's Affinity Group for sponsoring Operation Teddy Bear through Kids For Kids with a $1,000 donation: a resin statue of a baby goat - otherwise known as a "kid!"
One of these charming statues with adorable faces, realistic eyes and playful poses (pictured) will be hand painted with a unique design by a local artist, unless you prefer to keep the natural look of your "kid." Your Kids For Kids sponsorship will be acknowledged on a special website, and if you plan to display your statue at a public location, your "kid" will be featured on the website's interactive map! This will help draw the community to your business or organization. You will also be honored at a special Kids For Kids celebration on Sunday, July 8 (see sponsorship details below).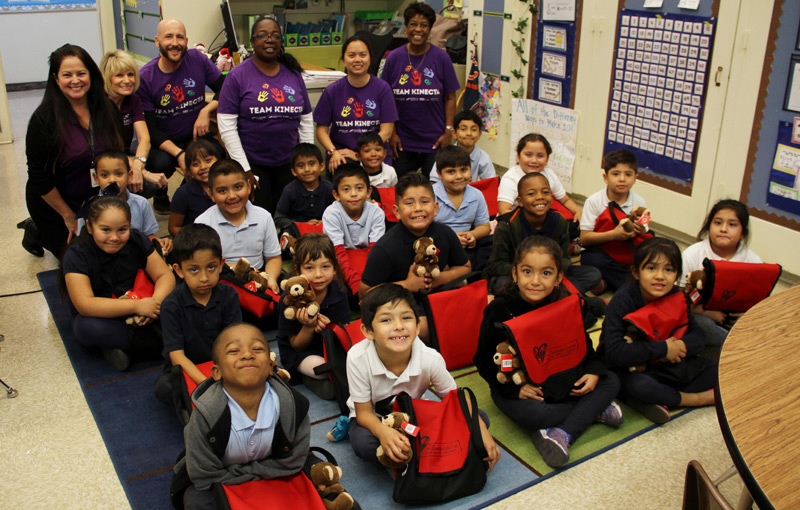 Each year, the Volunteer Center works with local school districts to pick approximately 40 of the most underserved schools in the South Bay, Harbor, Long Beach and Compton areas, and each school has an average of 120 first grade students.
An Operation Teddy Bear sponsorship gives you the chance to help and inspire the children first-hand by delivering the bags and interacting with the students in the classrooms. Corporations and organizations can work together as a team and build a spirit of camaraderie while creating one of the best days in many of these children's lives! Click here to learn more about Operation Teddy Bear.
---
Benefits of a Kids For Kids Sponsorship to Support Operation Teddy Bear
As a Kids For Kids Sponsor, you have an opportunity to help support students at a local school.
Kids For Kids Sponsorships – starting at $1,000 – will cover:
Schoolbags (produced by local veterans)
Educational materials related to:

Reading, Writing and Drawing
Science and Math
Health and Well-Being
Social Development

Storage for Schoolbags and Educational Materials
Volunteer Management and Administration
Kids For Kids Benefits include:
A resin "kid" statue for you to keep* – painted by a local artist or as is… your choice!
Two tickets to the Kids For Kids celebration at a private home in Palos Verdes Estates on Sunday, July 8
An opportunity to deliver the schoolbags, read to the children and teach them about volunteering, if you wish (corporations and organizations are encouraged to wear team t-shirts!)
*You can also donate the "kid" statue to the auction at the July 8 celebration
You will be acknowledged in several ways:

You will receive special recognition at the Sunday, July 8 celebration
Your "kid" will be featured on an interactive map on the Kids For Kids website, if it is displayed in a publicly visible or accessible location
You will be acknowledged online and in the Volunteer Center's monthly eNewsletter
You will receive an official thank you letter from the Affinity Group recognizing your tax-deductible donation

For Sponsorships of $5,000 or more (5 or more "kids"):

Your logo or name will be included on an appreciation card inside every schoolbag
Your logo can be include on donated items

Kids for Kids co-chairs Sharon and Jennifer Ryan with one of the goats that inspired the project
Contact Sharon Ryan at (310) 540-4304 or travelser@yahoo.com with questions or to support Operation Teddy Bear through Kids For Kids.
---
The Affinity Group of the Volunteer Center South Bay-Harbor-Long Beach
The Volunteer Center is grateful to the Affinity Group for their leadership in creating this unique fundraiser. The Affinity Group was founded in 2005 as a support group for the Volunteer Center. Members of the Affinity Group work together to support Operation Teddy Bear and other Volunteer Center programs, making a difference in the lives, education and futures of the underserved children and their families. Click here to learn more.