Jump to: Event Details | Tickets | Sponsors | #Heart2HeartHunt #AtTheHeartOfHelping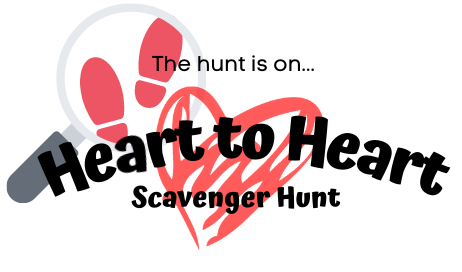 The Heart to Heart Scavenger Hunt is a fun, COVID-safe, family-friendly virtual community event to raise funds for the Volunteer Center. Using the GooseChase app, participants will take part in dozens of zany challenges throughout the day – the more missions you complete, the more "heart points" you will earn to win a prize package!
---
---
Saturday, March 20, 2021

9:00 a.m. - 4:00 p.m.

Purchase Tickets to Play "Virtually"

(Link will open in January 2021)

Ticket sales will close Thursday, March 18, 2021 at 11 PM.
---
HERE'S HOW TO PLAY:
• First, you'll register on this page. The cost is $25 per team. We recommend 2-5 people per team; each of you will be able to complete missions under one account, using one device. By registering, you acknowledge you've read and accepted the Liability Waiver.
• Once you register, you'll receive a welcome email with information about how to access the game. You'll receive a GAME CODE and a PASSCODE to enter The Heart to Heart Scavenger Hunt. Please do not share this passcode with anyone else.
• Next, you'll download the free GooseChase app found on Android or iPhone and use the codes from your email to join The Volunteer Center's Heart to Heart Scavenger Hunt.
• On Saturday, MARCH 20, at 8:30 AM, visit this Web site to watch our event kick-off video, which will have event instructions and tips on making the most of your scavenger hunt experience. At 9 AM, you'll be able to access the game in GooseChase. Missions must be completed by 4 PM.
• Once in the game on GooseChase, you'll be presented with missions your team can complete by submitting a photo or video. To complete the mission, select it from the list and hit the "Snap Evidence" button.
• Make sure to complete missions accurately! If you're asked to take a photo with a real dog, and you take a photo with a hand-drawn dog, you might lose points! On the flip side, if you go above and beyond and take a photo with 10 dogs, you might get EXTRA points!
• You'll be able to keep track of how you're doing with the leaderboard and receive notifications from The Volunteer Center. Be sure to turn on your app notifications.
• For every 2,000 points you earn, you'll receive 1 "heart" towards a possible prize. For 4,000 points, you'll receive 2 "hearts," for 6,000 points, 3 hearts, and so on. The more hearts, the more likely you will earn a prize, limit 1 prize per participant team.
WAIVER AND HOLD HARMLESS AGREEMENT:

I am fully aware that participation in this scavenger hunt involves certain risks including those of physical injury or death. Being fully informed as to these risks, I hereby assume all risk of injury, damage and harm to myself arising from such activities. I further hereby agree individually, and on behalf of my heirs, executors, and assigns, to release and hold harmless The Volunteer Center, its officials, employees and agents and waive any right of recovery that I might have to bring a claim or a lawsuit against them for any personal injury, death or other consequences occurring to me arising out of my participation in the scavenger hunt, unless the claim is the result of The Volunteer Center's sole negligence. While participating in the scavenger hunt remember to abide by all federal, state, and local orders related to COVID-19. For more information see Los Angeles County's COVID -19 Emergency webpage: http://publichealth.lacounty.gov/media/Coronavirus/guidances.htm. Also, please be sure to check the local requirements in your area.

No refunds on ticket purchases.
The free ticket benefit is non-transferable and is limited to one offer per family.

Sponsorships available

Proceeds benefit the Volunteer Center's programs and services.
Click here to learn more about our signature programs
---
Sponsored by

A heartfelt thank you to the other in-kind donors and volunteers:
Coming Soon!