Food For Kids
COVID-19 Update | How You Can Help | Our Generous Sponsors
Thank You Notes | Narratives and News Stories | Volunteers-in-Action
We are accepting food donations -

by appointment only

- as long as our main office in Torrance remains open. Click here for complete details about our temporary food donation procedures.
All guests must wear masks and practice social distancing when visiting the Volunteer Center. In addition, we ask that you do not visit if you are experiencing symptoms of respiratory illness, including fever or cough.
---
How can any child concentrate in school when they are hungry?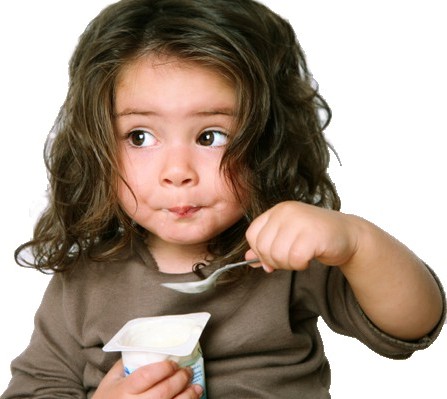 While low-income students receive school-provided meals for breakfast and lunch during the week, many of their families are unable to feed them adequately on the weekends. The students then arrive at school on Monday without the proper nourishment, which can negatively affect their school performance and self-esteem.
That's where Food For Kids comes in... we provide bags of non-perishable food and health-related inserts to low-income students at partner schools and organizations in the South Bay and Harbor areas each week through our volunteer and donation-driven food pantry. Volunteers assemble and deliver bags of food filled with items to make 2 breakfasts, 2 lunches and 2 dinners to our partners prior to the weekend. The school and nonprofit staff identifies the families with the greatest need each week, and the students take the bags home to share with their families over the weekend.
---
COVID-19 Update
We have been communicating with our Food For Kids partner schools to explore the best ways to continue to support families during the pandemic. We are happy to report that we are continuing to deliver bags of food to multiple sites to help local families in need during this challenging time, despite school closures.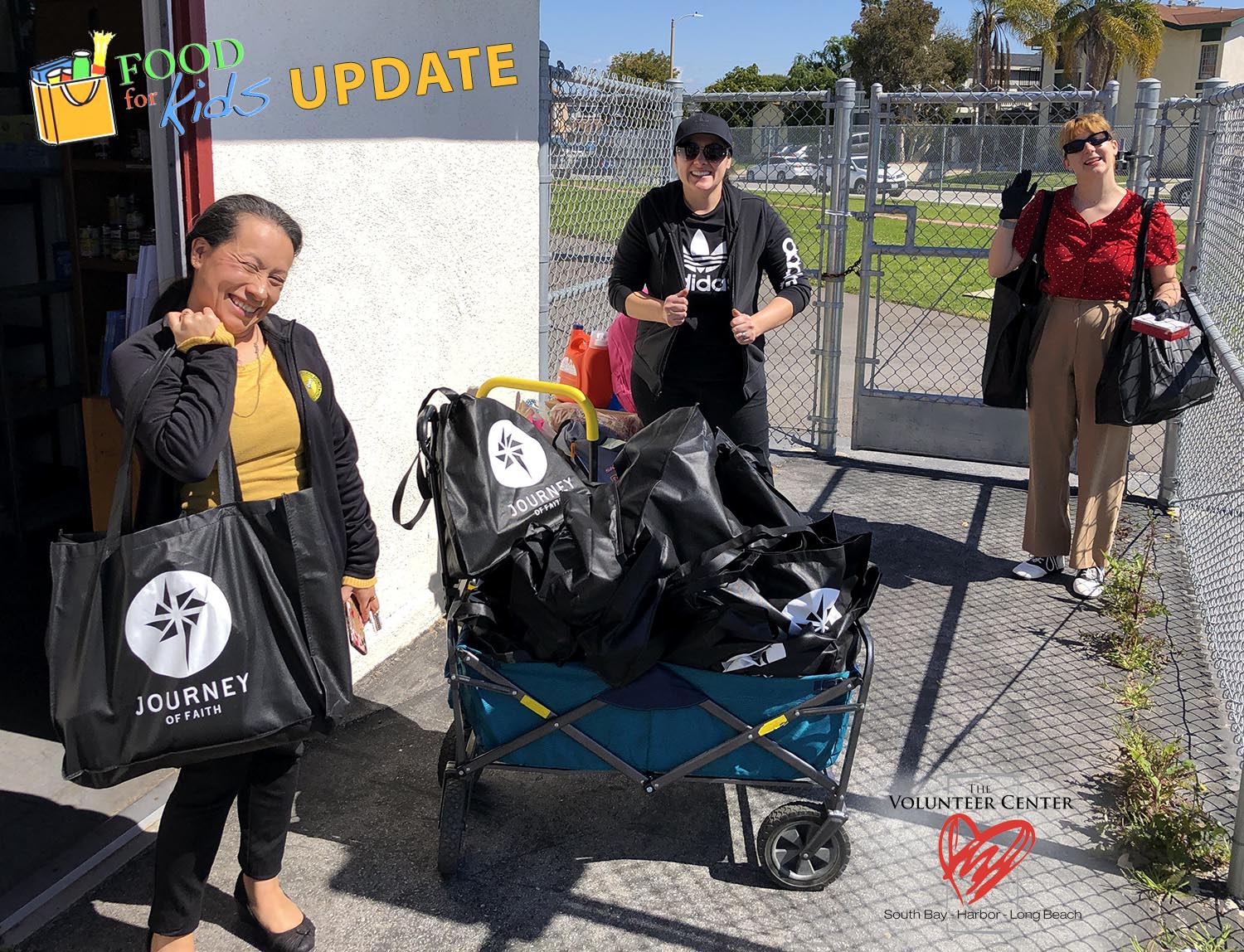 WEEK 1
Our school contacts told us that they had been getting calls from families all week after the closures wanting to know if we would still be bringing our weekly bags of food. Everyone was so incredibly grateful and happy to see us during our first deliveries - they kept saying "thank you!"
WEEK 2
We visited Torrance Unified School District's Family Resource Room with a special delivery of supplies for Project Hope, serving the district's homeless families. South High School alumna Kimmy Shields began volunteering with us that week and participated in the special drop-off!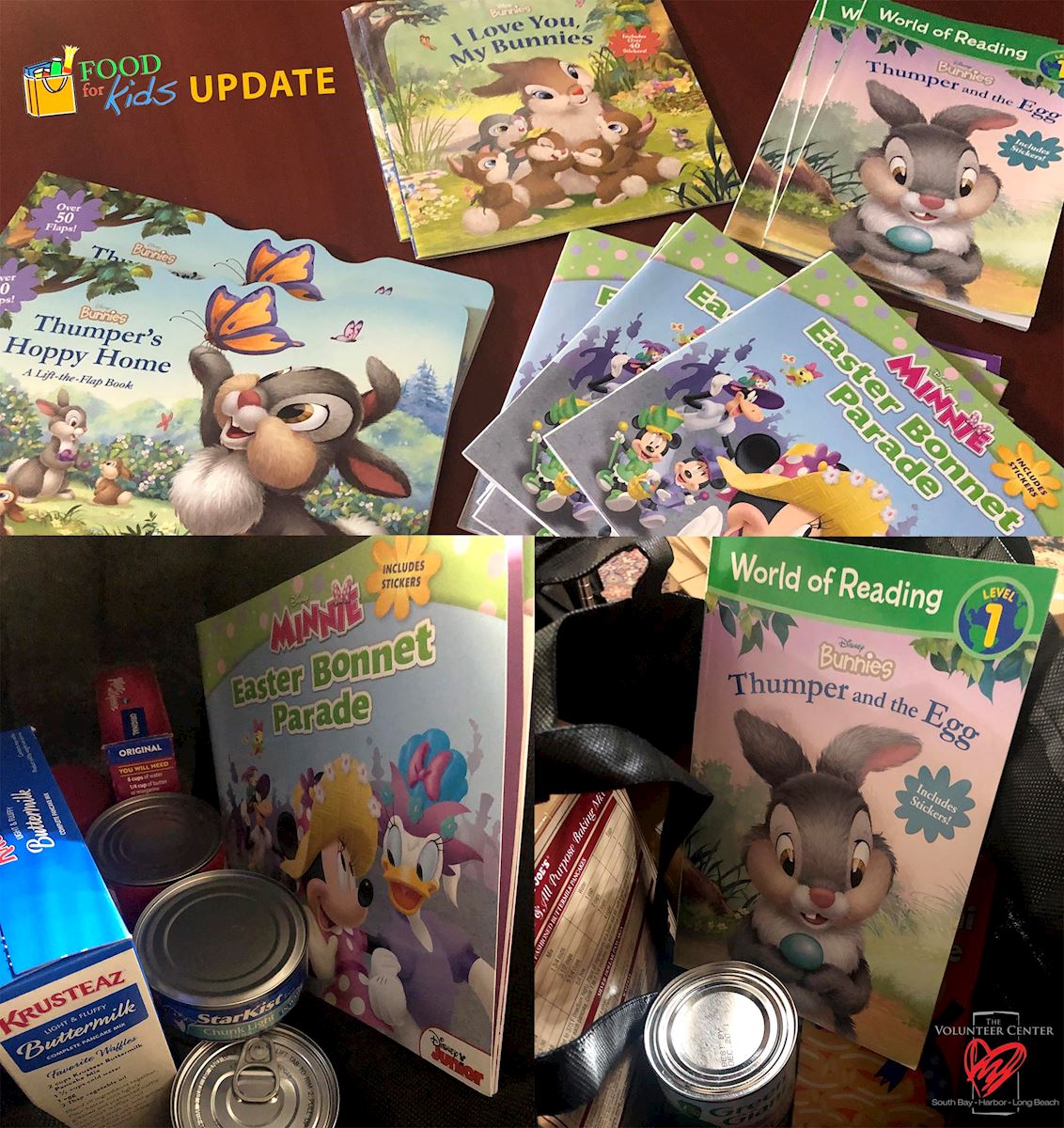 WEEK 3
A school staff member asked us if we could provide bags of food for a few families living in a shelter, and the answer was a resounding, "yes!" It definitely warmed our hearts to know we were helping local families who are having an especially difficult time right now.
WEEK 4
We wanted to make this week's delivery extra special, so each bag included a Spring holiday-themed book for the kids courtesy of the Molina Foundation! Luckily, face masks don't hide a person's eyes... while we always see gratitude in the faces of the families as they pick up the weekend meals, the additional excitement showed an extra sparkle of joy this week!
Providing Masks, Magazines and More!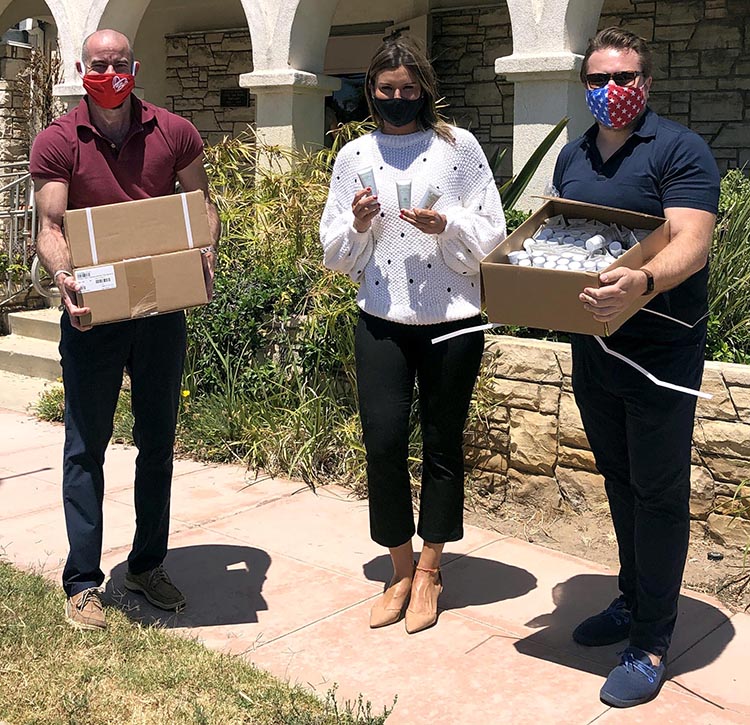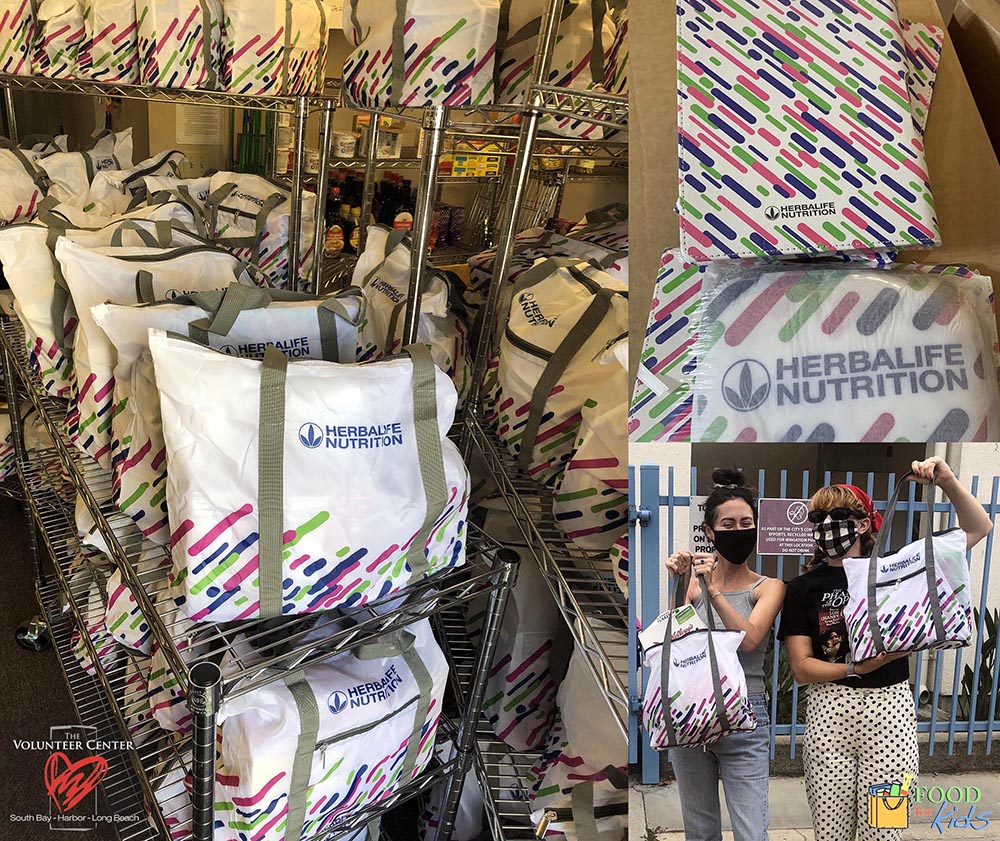 As part of our second year as a Casa Herbalife partner, some of the families we serve will receive food in wonderful, reusable Herbalife bags, as well as coordinating notebooks, which we hope they will use to write about their feelings and emotions.
Our friends and neighbors at Sunrider International have also generously donated boxes of their Kandesn® Hand Cleansing Gel to help the youth and families we serve. We are so grateful for their generosity - to us and the other the local nonprofits they supported with this kind act - as well as the work they do to keep communities healthy and safe!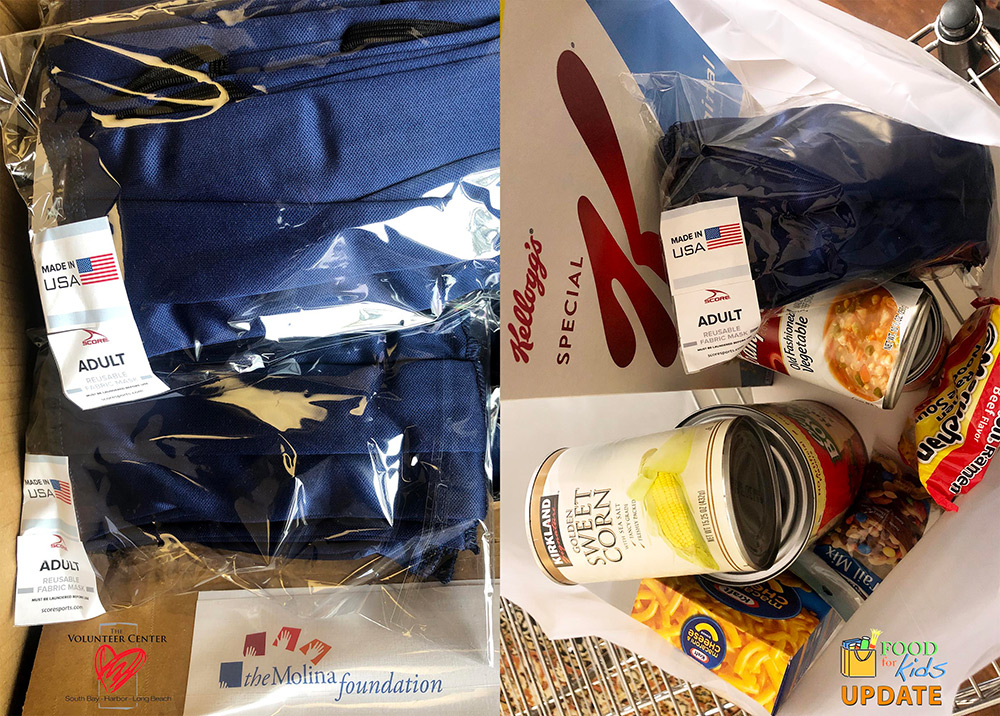 In addition, our friends at the Molina Foundation and SCORE Sports in Wilmington donated reusable face masks. When we began distributing the masks with our weekly bags of food, some of the families told us that they already had masks, so they would rather leave the donated masks for the families who truly need them... kindness and compassion abound - right when we need it most!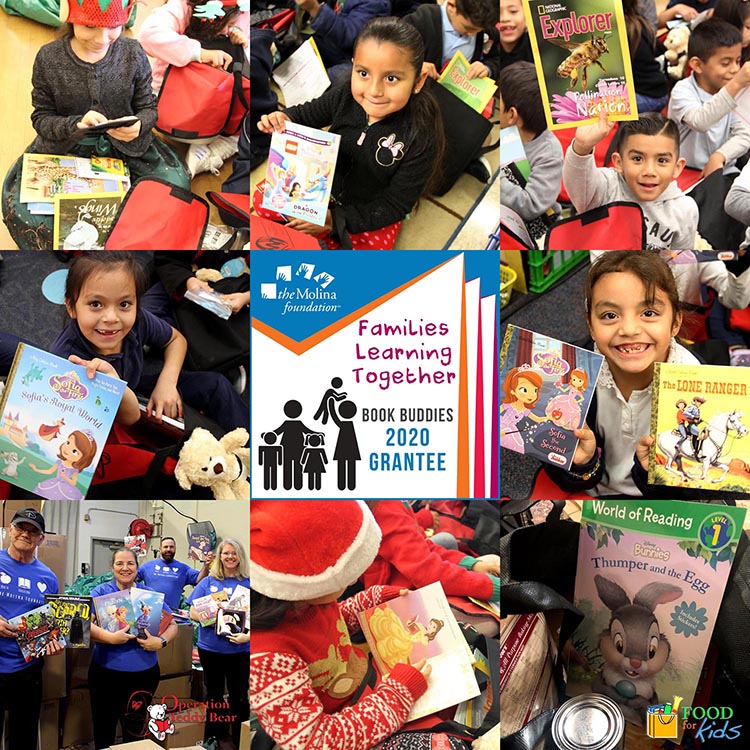 The Molina Foundation has played a huge role in helping us promote literacy through Operation Teddy Bear for the past 15 years, and now we can add support for Food For Kids to this annual literacy partnership! They've provided National Geographic Explorer Magazines for BOTH of our programs as part of their Book Buddies 2020 program, "Families Learning Together," in addition our annual book grant for Operation Teddy Bear!
This year's Book Buddies efforts are designed to help the families we serve connect through reading and learning during the summer and back-to-school season as the COVID-19 pandemic continues. They have provided more than 1.5 million books and magazines nationwide to community partners like us! (The photos shown are from last year's Operation Teddy Bear school visits, including the National Geographic Explorer Magazines we obtained through the magazine's partnership with First Book.)
Continuing to Make A Difference Together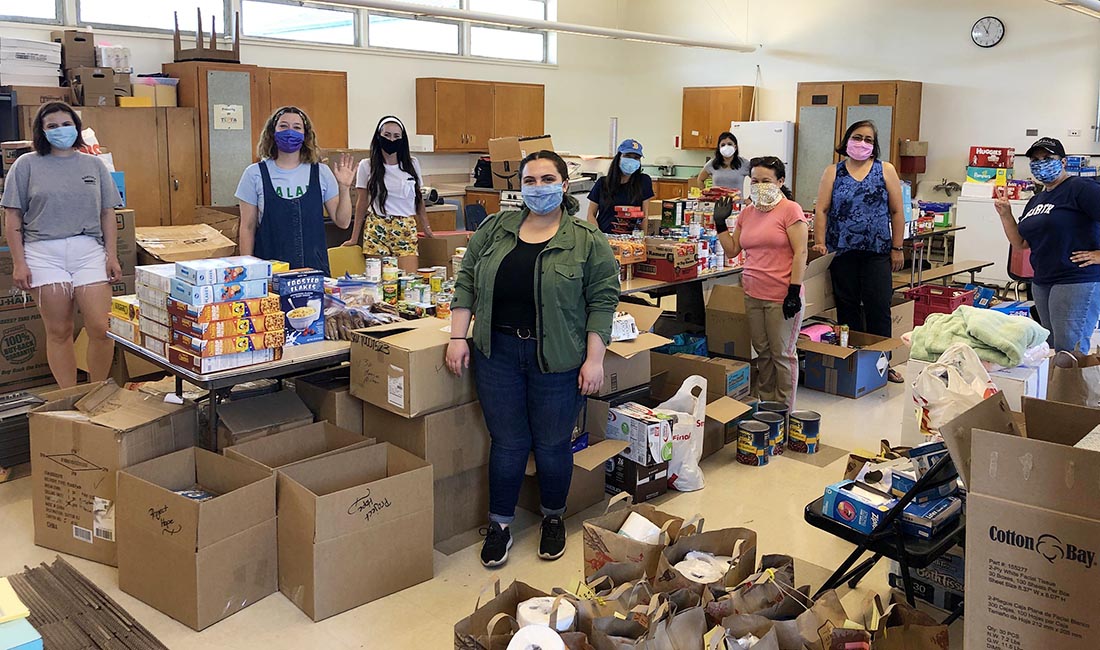 We joined together with Torrance Unified School District's Building Bridges Collaborative and Torrance Council of PTAs' Project Hope in late April as they provided supply boxes filled with non-perishable food, school supplies and hygiene products to 50 homeless families. We contributed 30 bags of food - in addition to the 20 bags we provided in late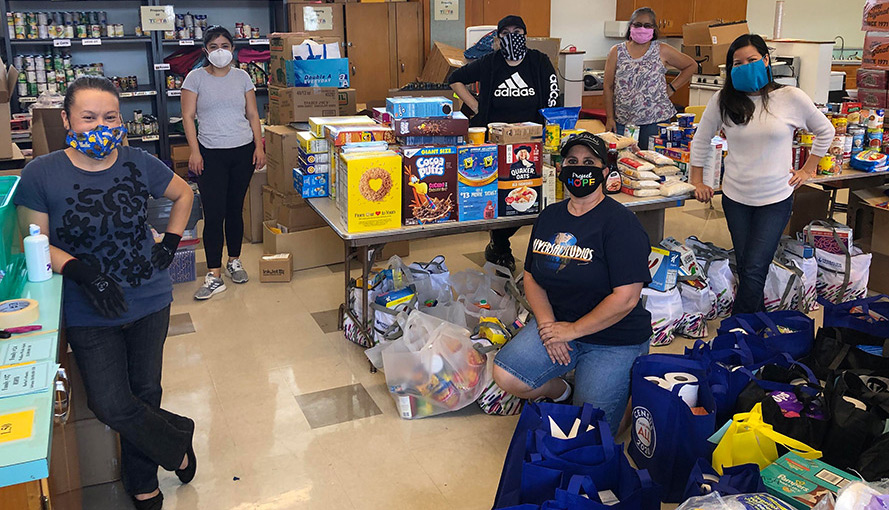 March - and our Food For Kids volunteers helped prepare and distribute the supply boxes to the extremely grateful families - all at a safe distance!
We were delighted to be able to once again join them in early June as they prepared and distributed more supplies. We contributed another 30 bags of food and the helping hands of our volunteers, plus we passed along some of the Herbalife bags and notebooks, as well as some of the donated masks, showing that making a difference together is at the heart of what we do!
New Distribution Partnership!
We began working with our friends and Downtown Torrance neighbors at Pediatric Therapy Network (PTN) in August to help feed families in their programs through Food For Kids. PTN has identified the families who need extra support, and each week, these families visit a special drive-thru to pick up weekend meals with the help of PTN's Charlene Nishimura and her husband Chris!
"We are so thankful to the Volunteer Center for providing our families with much needed food donations through their Food For Kids Program," PTN's CEO, Terri Nishimura, shared. "The Volunteer Center is working with our Early Head Start and our Early Intervention Program, Leaps and Bounds. These programs serve our youngest clients - newborns, babies and toddlers. This is especially helpful during these challenging times and also because many older children are getting meals from their schools but the families with babies and toddlers may not be. Thanks to the Volunteer Center, 30 families a week do not have to worry about missing a meal. We are very thankful to the support and generosity of our neighbor and friends at the Volunteer Center."
---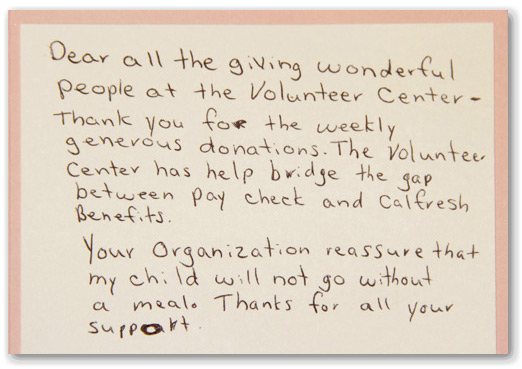 How You Can Help
Make a Monetary Donation
Make an immediate impact by helping us provide weekend meals to families in need! (It costs approximately $15-20 to provide one bag of food to a family at one of our partner schools.)
Click here to donate and put Food For Kids in the notes section

Program Sponsorships
Food For Kids Sponsorships are available for companies and organizations who want to make a greater impact in the community. Click here for more information.

Make a Food Donation
Click here to review, download and/or print our Shelf-Stable Shopping List, with details about all the items we accept!
Please note: No glass containers, bulk-size items or expired food.
We are accepting food donations - by appointment only - as long as our main office remains open (1230 Cravens Avenue, Torrance). We will continue to post updates here and on our social media channels as the situation evolves.
If you would like to donate food, please follow these temporary procedures to ensure your safety and the safety of our staff
If you are healthy and in a low-risk age group, please email programs@volcenter.org to make a drop-off appointment. Please allow 24-48 hours for a response and note that we are not open on weekends.
If you are experiencing symptoms of respiratory illness (including fever or cough), we ask that you reschedule your visit for another time, after you have been healthy without symptoms for several days.
At your designated drop-off time, you can drive up to the ramp adjacent to our parking lot, and our staff will work with you to help you remain six feet away as you unload your donation. Please note that all guests must wear masks and practice social distancing when visiting the Volunteer Center.

Shop our Amazon.com Wish List
We've made it easy for you to support Food For Kids through our Amazon.com Wish List! Skim the list here and consider adding something to your cart. You can have the items shipped directly to the Volunteer Center at checkout - an option when selecting the delivery address - and if you use AmazonSmile, we will also benefit from eligible purchases.
If you purchase items from our Amazon Wish List, please send us an email to let us know what to expect! This will help us know to look for the package(s) and we can thank you properly, since Amazon doesn't always includes details about who sends us the donations.


Food Drives
There is a food drive for every type of organization. For a range of fun and productive ideas, read our Food Drive Tips and Tricks.


Volunteer Interest
Due to the COVID-19 restrictions, we are unable to accommodate additional volunteers to help with Food For Kids at this time. If you would like to be added to our Food For Kids Volunteer Interest waiting list, please complete this form, and we will contact you if opportunities become available.

You are welcome to come meet with us and see the food pantry first-hand or we can speak to your group. For more information and other ways you can help, contact us at programs@volcenter.org or (310) 212-5009.
---
Food For Kids is made possible thanks to the support our generous community of donors and our major sponsors:
---
What you do makes a difference to real children, and it is deeply appreciated by the children and their families.