Corporate Volunteer Council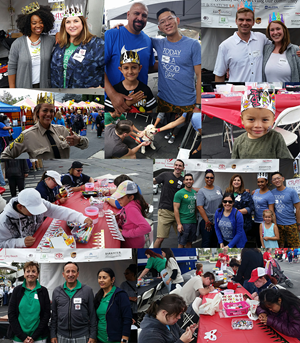 The Corporate Volunteer Council (CVC) is a professional association of local businesses dedicated to making a difference in the community through the development and promotion of employee volunteerism and community involvement, in close partnership with local nonprofit agencies. The CVC provides volunteer leadership by responding to the changing needs of the local community, as well as serving as a forum for training, networking and the exchange of ideas and information on corporate philanthropy and employee volunteerism.
CVC Membership Benefits
Increase the visibility and publicity of your business's community engagement
Learn new ways to promote corporate philanthropy and employee volunteerism at your organization through peer-to-peer collaboration
Participate in coordinated, multi-organization volunteer service projects throughout the year
Obtain training, ideas, advice and resources on improving volunteer engagement
Garner knowledge of local community issues and volunteer needs
For more information on the CVC, contact us at info@volcenter.org or (310) 212-5009.
---
Past Meeting Topics
Meeting
Topics
April

National Volunteer Week
Spring/Summer Joint Project Planning
Sharing: Recognizing Employee Volunteers

May

Citizenship as a Form of Volunteering
Paid Time Off for Volunteering
Spring/Summer Joint Project Update
Launch of VC Summer Youth Opps.

June

Increasing Employee Engagement
Sharing: Case Studies from Local Companies
Spring/Summer Joint Project Update

July

Planning for Annual "Engage" Meeting
Creative New "Drives" for Your Employees
Fall/Winter Joint Project Planning

August

Update on VC Strat Plan and Programs
Launch of Family Fun Faire Volunteer Opps.
Planning for Annual "Engage" Meeting
Fall/Winter Joint Project Update

September

Ideas: Family Volunteering Together
"Hot Button Social Issues"
Fall/Winter Joint Project Update

October

Keynote Speaker – TBD
Fall/Winter Joint Project Update
Holiday Employee Volunteer Ideas

November

Sharing: Holiday Volunteer Events/Plans
Preventing Burnout for Volunteer Managers
Company Sharing: Favorite Volunteer Events From the Past Year

December

Recognition of Members
CELEBRATE
CVC Members have represented:
The Balm Shop & Co.
Barrister Executive Suites, Inc.
Berg & Associates, Inc.
Chevron Products Co.
El Segundo Refinery
DKI Music
DoubleTree by Hilton Torrance-South Bay
GreenDart
Holiday Inn L.A.-Gateway-Torrance
Moog, Inc.
Saatchi & Saatchi LA
Sunrise Senior Living
Toyota Motor Sales, USA
Toyota
Toyota TFS
UPS Cartage Services
Watson Land Co.

CVC Members
Engage Event - August 24, 2016
Brianne King Speaking

LeVal Brewer and Sara Myers

LeVal Brewer speaking

William Welch, Brianne King, Sara Myers, LaVal Brewer,
Melissa McCormick and Laura Nelson