Community Volunteer Awards Luncheon
Members of the Affinity Group invite you to join them for a Community Volunteer Awards Luncheon benefiting Operation Teddy Bear® on Wednesday, June 21 at the Palos Verdes Golf Club. The reception starts at 12:00 noon.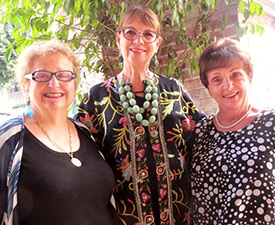 Jean Adelsman, Ann Buxton and Joyce Kochanowski will be honored for their outstanding contributions to the community at this year's luncheon (click here to read more about the honorees).
The luncheon will also feature a Broadway music by singer Jeralyn Glass. Ms. Glass began her career on Broadway as the youngest cast member in the 25th anniversary revival of My Fair Lady, and has also performed regionally and on national tours.
Become an Event Sponsor!
Platinum Sponsor: $1,000 (includes a table of 10)
Gold Sponsor: $500 (includes two tickets)
Single tickets are also available for $75. Email volopps@volctr-sobay.org to become a sponsor or obtain more information about attending the event.
---
About the Honorees
Jean Adelsman is a longtime community volunteer who is a past chair of the board of the Volunteer Center and currently chairs the Food for Kids program. She is a former president of the Torrance Cultural Arts Foundation board and has been active in the past on the H.E.L.P., RSVP and Community Helpline boards. She is also a member of Affinity.
Ann Buxton has been a key supporter of the Palos Verdes Art Center and its support group, The Circle. She is past president of that group and is currently president of the Center board. She has also chaired the successful Homes Tours for both PVAC and Neighborhood Church. She and her husband David have hosted two Affinity Legends fund raisers at their beautiful home.
Joyce Kochanowski has volunteered for many community organizations. She is past president of Las Primeras and currently president of Las Vecinas, support groups of the Assistance League. She has been Treasurer of Toberman auxiliary and currently is treasurer for both The Associates of PVAC and the Affinity Group. She is also a volunteer for H.E.L.P. and adds sunshine wherever she volunteers.