Food For Kids
How can any child concentrate in school when they are hungry?
---
How You Can Help | Pantry Partners | Thank You Notes | Real-life Narratives and News Stories | Food For Kids Volunteers-in-Action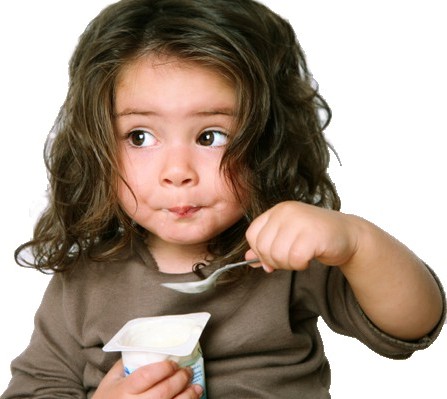 While low-income students receive school-provided meals for breakfast and lunch during the week, many of their families are unable to feed them adequately on the weekends. The students then arrive at school on Monday without the proper nourishment, which can negatively affect their school performance and self-esteem.
That's where Food For Kids comes in... our donation-driven food pantry provides bags of non-perishable food and nutrition handouts* to select elementary schools in Carson, Compton, Long Beach, San Pedro, Torrance and Wilmington every week. Volunteers assemble and deliver bags of food filled with items to make 2 breakfasts, 2 lunches and 2 dinners to the local schools on Fridays. The school administration identifies the families with the greatest need each week, and the students take the bags home to share with their families over the weekend. Click here to read real-life narratives and news stories about the Food For Kids program and the families it serves.
*One of five bilingual nutrition handouts provided by Providence Little Company of Mary Medical Center Torrance and the USDA on topics related to healthy eating habits and choices.
---
Providing Food For Kids On Summer Break
During the school year, we help children and their families at our partner schools by providing them with bags of food to take home over the weekend. Unfortunately, summertime creates a bigger challenge for the students who no longer have access to school-based programs.
Luckily, many of our fellow agencies provide a Summer Food Service Program (SFSP) that ensures that these same students continue to receive meals at SFSP sites when school is not in session. We recently met with one of these agencies, SBCC Thrive LA in Wilmington, and found they were a terrific match that would allow us to help fill this need by once again offering our support to a local SFSP program during the summer. We have partnered with them to provide 60 bags each week over seven weeks, benefitting the students participating in the SBCC's summer tutoring program. These students range from Kindergarten to 8th grade, representing schools in Torrance, San Pedro and Wilmington.
We need you to help us continue to feed students and families in need this summer! Scroll down to learn more about how you can support Food For Kids through food donations and/or food drives, and to download a copy of our Non-Perishable Food Shopping List.
---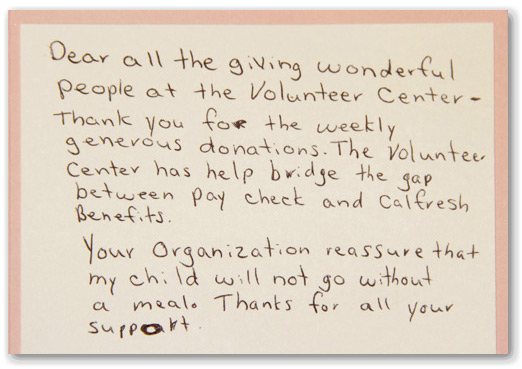 How You Can Help
Make a Monetary Donation
Make an immediate impact on a family by donating toward the cost of a bag of food (each bag costs approximately $26), or become a member of Pantry Partners for an annual donation of $50 or more!
Click here to donate and put Food For Kids in the notes section
Click here to learn more about Pantry Partners.

Make a Food Donation
Click here to review our Non-Perishable Food Shopping List.
Please note: No glass containers and no expired food please!
Donations can be dropped off at our Main Office (1230 Cravens Ave, Torrance) Monday through Friday between 8:30 a.m. and 4:00 p.m.
Please contact Trisha Smith at trisha@volcenter.org or (310) 212-5009 to schedule a time to drop off larger donations.

Shop our Amazon.com Wish List
We've made it easy for you to support Food For Kids through our new Amazon.com Wish List! Skim the list here and consider adding something to your cart. These items will be sent directly to the Volunteer Center, and if you use AmazonSmile during check out, we will also benefit from the total purchase.

Volunteer
We are always looking community members with the following skills to support the Food For Kids program:
Food wrangler
Brain-stormer and leader
Volunteer herder

Donation seeker
Party planner
Go-fer and task hole-filler

Sponsor strong-armer
Team-building event planner
Roster and member coordinator
Support a Food Drive
There is a food drive for every type of organization. For a range of fun and productive ideas, read our Food Drive Tips and Tricks.

You are welcome to come meet with us and see the food pantry first-hand or we can speak to your group. For more information and other ways you can help, contact Trisha Smith at trisha@volcenter.org or (310) 212-5009.
---
What you do makes a difference to real children, and it is deeply appreciated by the children and their families.