---
New Youth Mental Health Focus
Three years ago, when we began our strategic planning process to identify the community's current needs, we never imagined the severe crisis we would find. Many of you have shared stories about the youth you know, the heart-wrenching pain they are facing, and how their suffering is affecting both their families and the community.
While there are many factors contributing to the rise in anxiety, stress, panic, depression and suicide in our youth, we are focusing on the biggest issue identified by our community: excessive screen time and social media addiction. Click here to learn more about our new youth mental health focus, including how we enlisted the community's input, the feedback we heard loud-and-clear, and our progress.
We are committed to compassionately supporting local youth and families through new services to increase empathy and resilience, just as we have through our legacy programs. Click here to join our email list and stay up-to-date on our progress!
---
---
An Evening of Heartwarming Moments
Nearly 200 members of the community joined us for an evening celebrating kindness, empathy, compassion and mindfulness at our Heart to Heart Gala on Saturday, June 15. As guests arrived to the expansive space inside CRAFTED at the Port of Los Angeles, we invited them to take their chances on the silent auction and other games, giving them the opportunity to go home with a variety of fun-filled items, experiences, trips, bottles of wine, and baskets filled with something for everyone - all supporting our new Youth Mental Health programs. Guests could also celebrate the evening's theme - and share it widely - by taking a photo at the "Kindness & Empathy Photo Booth," learn more about our programs, and see the display of recent honors from the City of Torrance, Supervisor Janice Hahn, Assemblymember Al Muratsuchi and Congressman Ted Lieu.
As everyone took their seats for dinner, current Board Chair Lynne Neuman and incoming Board Chair Brenda Williams welcomed guests and invited them to join in a meaningful moment and enjoy the feeling of being unplugged, centered and connected. They also publicly honored the five local high school graduates selected to receive Durfee Family Scholarships (see more below) and thanked the event's major sponsors. President/CEO Sara Myers took the podium to talk about the organization's history and future, as she described the planned programs that will help youth, families and the community look up from devices, reconnect, and practice more kindness toward themselves and others, followed by local teens Luke Antaky and William Brandt sharing their thoughts on the new teen program.
Auctioneer John Kunkle hosted a lively and exciting live auction featuring five exciting packages and a bidding war for a Havana Nights-themed party in a private home. Then, you could hear a pin drop as Jason Reid shared how he lost his son to suicide in March 2018, one week after he turned 14. Jason spoke about his passionate vision to end teen suicide by the year 2030, and his support for the Volunteer Center's work and new programs. Community members were also encouraged to pledge their support for our new programs, which many did quite generously. Finally, Dr. Vernon Williams revealed that Steve and Khryste Griswold won the popular 52-Card Draw prize - a trip to San Diego - before we invited all the guests to the dance floor.
The Heart to Heart Gala was generously sponsored by Torrance Refining Company; ActivePDF, Inc.; California Water Service; Chevron; Griswold & Griswold Insurance Agency; Torrance Memorial; Continental Development Corporation; The South Bay Bar Association; Torrance Community Credit Union; The Hans and Dianne Bozler Trust; Steven A. Kovary, CPA and Company; and the Friends & Family of Sara Myers. Click here for complete details, including a list of auction donors, wine donors and additional supporters. Click here for videos of the evening's remarks.
---
Five Durfee Family Scholarships Awarded
Every year, the Volunteer Center awards Durfee Family Scholarships to local high school seniors to assist them with the cost of classes, books and materials during their first year of college. The scholarship fund was established in 1988 thanks to a generous endowment gift made by the late Ev Durfee, who was a longtime supporter and member of the Volunteer Center's Board of Directors.
After reviewing applications from dozens of dedicated, deserving and resilient college-bound students, the following five students were selected to receive $1,000 Durfee Scholarships in recognition of their commitment to their academic endeavors, while dedicating time to serving their communities. Each recipient also maintained a positive attitude while overcoming adversity. We were proud to honor each of them at the Heart to Heart Gala, and we wish all them success as they embrace their bright futures ahead!
Jazmin Cuevas is graduating from Phineas Banning High School. She will attend the University of California, Los Angeles, where she plans to study sociology and become a teacher.
Karla Diego is graduating from Hawthorne High School. She will attend the University of California, Los Angeles, where she plans to study English.
Erika Morales is graduating from North Torrance High School. She will attend California State University, Fullerton, where she plans to study nursing science.
Janilka Nettle-Salazar is graduating from San Pedro High School. She will attend California State University, Long Beach, where she plans to study biology as a pre-med student.
Julianna Pelayo is graduating from Leuzinger High School. She will attend California State University, Long Beach, where she plans to study environmental engineering.
---
Continued Compassion and Generosity
We are grateful to the members of our community who celebrate kindness and empathy with us by donating shelf-stable food to our Food For Kids program!
The Finance Division of American Honda Motor Co. hosted their annual food drive, collecting and donating more than 400 pounds of food again this year.
Manuel Jimenez and his students from Banning High School collected and donated 380 pounds of food.
The families of Girl Scout Troop 71213 in Rancho Palos Verdes donated more than 50 pounds of food, and during their visit, the young scouts also learned how their kindness supports other kids their age, further developing their sense of empathy and compassion.
Journey of Faith in Manhattan Beach hosted their quarterly Pop-up Pantry, resulting in a donation with 330 already-packed bags, plus nearly 400 pounds of additional food, for a total donation of more than 3,500 pounds of food.
Norma Lyon of Torrance donated 137 pounds of food.
The Pentecostal Missionary Church in Gardena donated more than 70 pounds of food.
Communities across the country joined the United States Postal Service to Stamp Out Hunger on Saturday, May 12, and our local Torrance Post Office delivered 1,068 pounds of the food donated to us for Food For Kids.
Click here to learn more about Food For Kids, including a downloadable copy of our Shelf-Stable Shopping List. You can also learn about the latest Food For Kids donations and see other updates when you follow us on Facebook, Instagram and Twitter!
---
Youth Suicide Prevention Task Force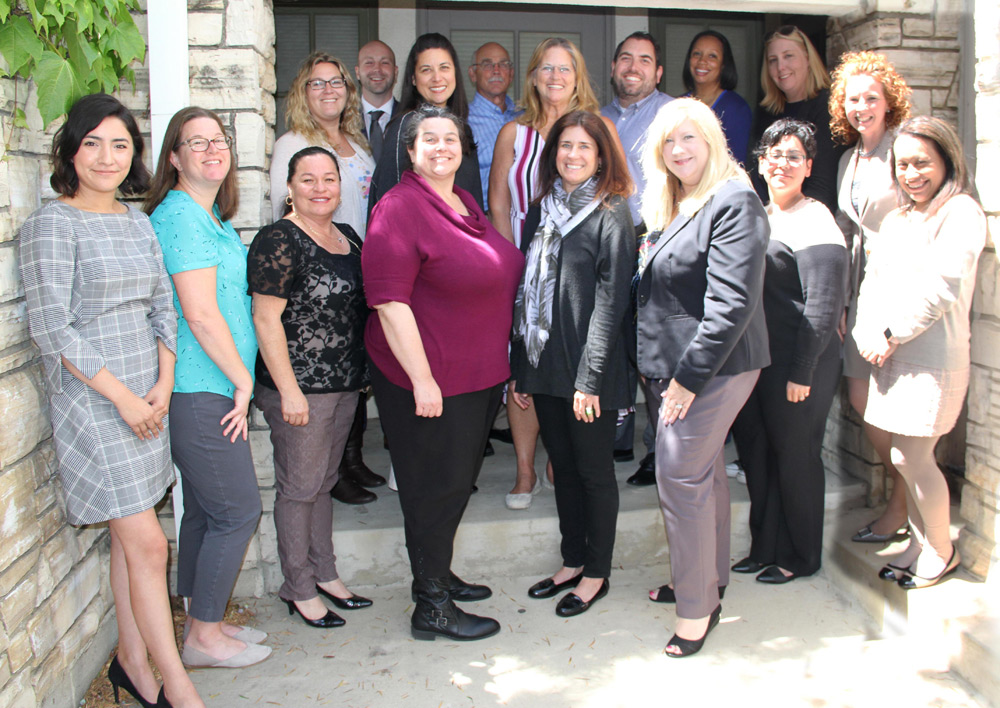 We are proud to announce the launch of the Youth Suicide Prevention Task Force, a local effort in support of Project 2025, the American Foundation for Suicide Prevention's nationwide initiative to reduce the annual rate of suicide in the U.S. 20 percent by 2025. Representatives from 18 organizations serving youth in L.A. County's Service Planning Area (SPA) 8 helped us kick-off Mental Health Month on May 1 with the official launch of the Task Force. Click here to learn more!
---
Declaring May as Mental Health Month
We are proud to report that May was officially declared as Mental Health Month in a State Resolution by Assemblymember Al Muratsuchi and a Proclamation from Mayor Patrick Furey on behalf of the City of Torrance. Both the State Declaration and the Proclamation also recognized our innovative, new youth mental health focus and the launch of the collaborative Youth Suicide Prevention Task Force, as did a Certificate of Congressional Recognition from Congressman Ted Lieu and a Commendation from Los Angeles County Supervisor Janice Hahn. We're so grateful for the support our local officials continue to provide.
---
A Very Happy National Volunteer Week!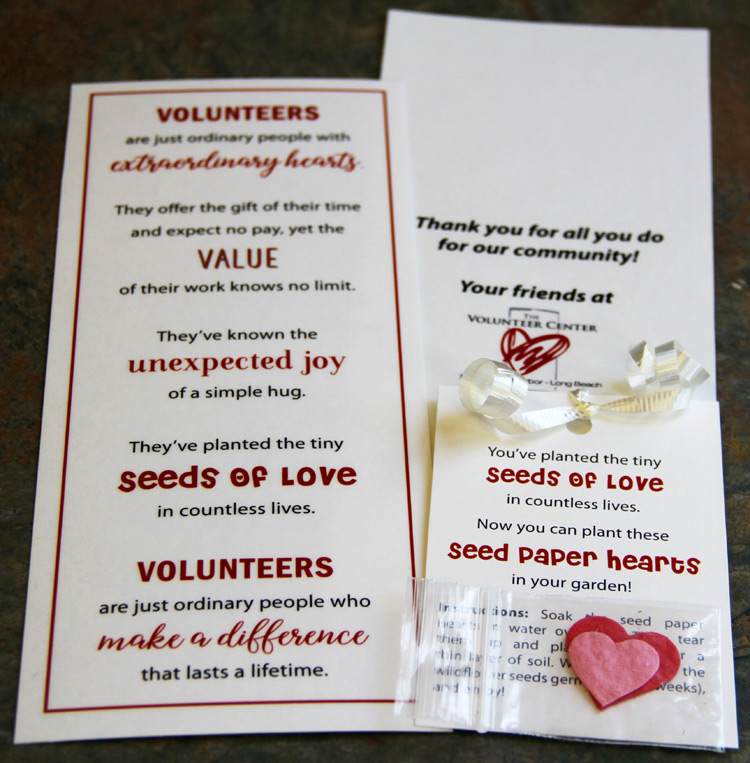 National Volunteer Week is always the perfect time to publicly thank all of our wonderful volunteers! We are extremely grateful for all the hours they dedicate to us, whether they're the members of our Board of Directors and Affinity Group, the faces we see weekly through Food For Kids, or those who help us with various aspects of Operation Teddy Bear during the fall and winter months.
Throughout the week, we've been highlighting some of our volunteers on social media, and we've given many of them a token of our appreciation in recognition of the way they touch so many lives in our community with their kindness: a special bookmark highlighting their true value, along with seed paper hearts in recognition of the "seeds of love" they've planted in countless lives.
---
They Came, They Saw, They Accessorized
The members of our Affinity Group spent National Volunteer Week preparing for and hosting the Spring Bling Jewelry and Accessories Sale. This fantastic FUNdraiser featured a treasure trove of earrings, necklaces, bracelets, rings, watches, scarves and handbags. Community members joined us throughout the afternoon to schmooze, shop and bid on silent auction items, with proceeds benefitting Operation Teddy Bear. We are extremely grateful to the ladies of Affinity Group for all they have done and continue to do to support the Volunteer Center!
---
Joining Together in Remembrance, Hope & Support
We proudly joined together with the American Foundation for Suicide Prevention (AFSP) and the South Bay Association of School Psychologists last month to sponsor and participate in the first ever Out of the Darkness South Bay Campus Walk at Torrance High School. More than 200 community members representing 45 teams walked together in remembrance, hope and support of suicide prevention and mental health. The South Bay Campus Walk surpassed its fundraising goal of $10,000 by more than $5,000, which will help fund AFSP's educational programs and services in our community.
The morning began with a resource fair and an opening ceremony featuring remarks by Congressman Ted Lieu, Torrance Unified School District (TUSD) Board Member Betty Lieu, Assemblymember Al Muratsuchi, Dr. Mimi Hoang, a suicide survivor and someone affected by suicide. During a bead ceremony, participants held up the bead necklaces in various colors to indicate their personal reasons for supporting the walk, which also allowed them to connect with others who shared similar experiences. After the one mile walk around Torrance High School, the event closed with remarks by Clear Recovery Center's Howard Baker, Torrance Mayor Pat Furey, and the closing song, "Lean On Me," performed by Dalia Rodriguez.
Volunteer Center staff members were honored to walk with more than 40 other community members on Team Lucas in memory of Lucas Smith, the South High teen who died by suicide last summer. The team was led by his best friend Luke Antaky - one of the participants of our youth input panel - and Team Lucas earned the honor of carrying the banner at the front of the walk for raising the most funds. Click here to see more photos from the Campus Walk on Facebook, and click here to watch Betty Lieu's remarks about what TUSD is doing to help with the rise in anxiety, depression and suicide of our youth.
---
Thinking Outside the Cookie Box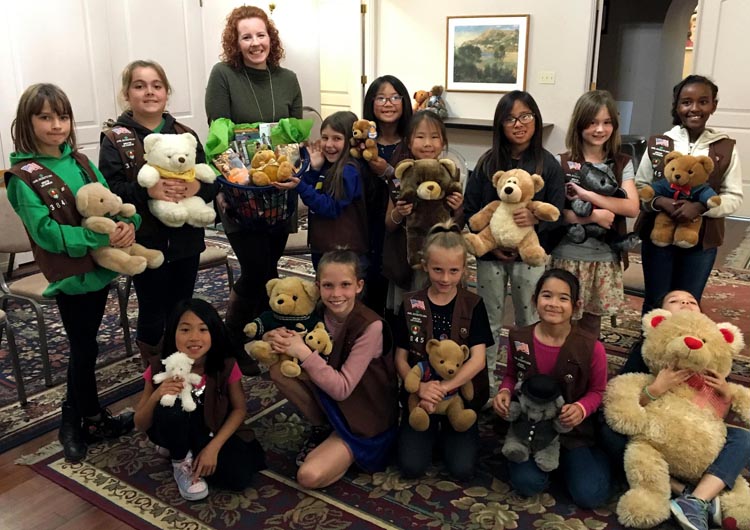 The kind, compassionate and energetic members of Torrance's Girl Scout Troop 3845 visited us at the beginning of March to present a basket of donated cookies for our food pantry and a generous check following a successful Girl Scout Cookie season. During their visit, we showed the girls how the Volunteer Center helps local elementary school students their age.
First, we introduced the girls to Food For Kids by taking a tour of the pantry and reading a book from our kindness-themed book list ("Maddie's Fridge" by Lois Brandt). Then, we looked at the different items in the Operation Teddy Bear schoolbag and talked about why we provide them to the first graders, followed by a discussion about our feelings and ways we can be kind. We ended on a very empathetic, comforting note as we hugged teddy bears and practiced taking deep breaths. We are so grateful to have such a generous community of youth, and we love when we can have conversations about kindness, compassion and social-emotional wellness!
---
The Volunteer Center is a participant of the UCommunity - UPrinting Sponsorship Program.