Presenting our 2017-2018 Annual Report!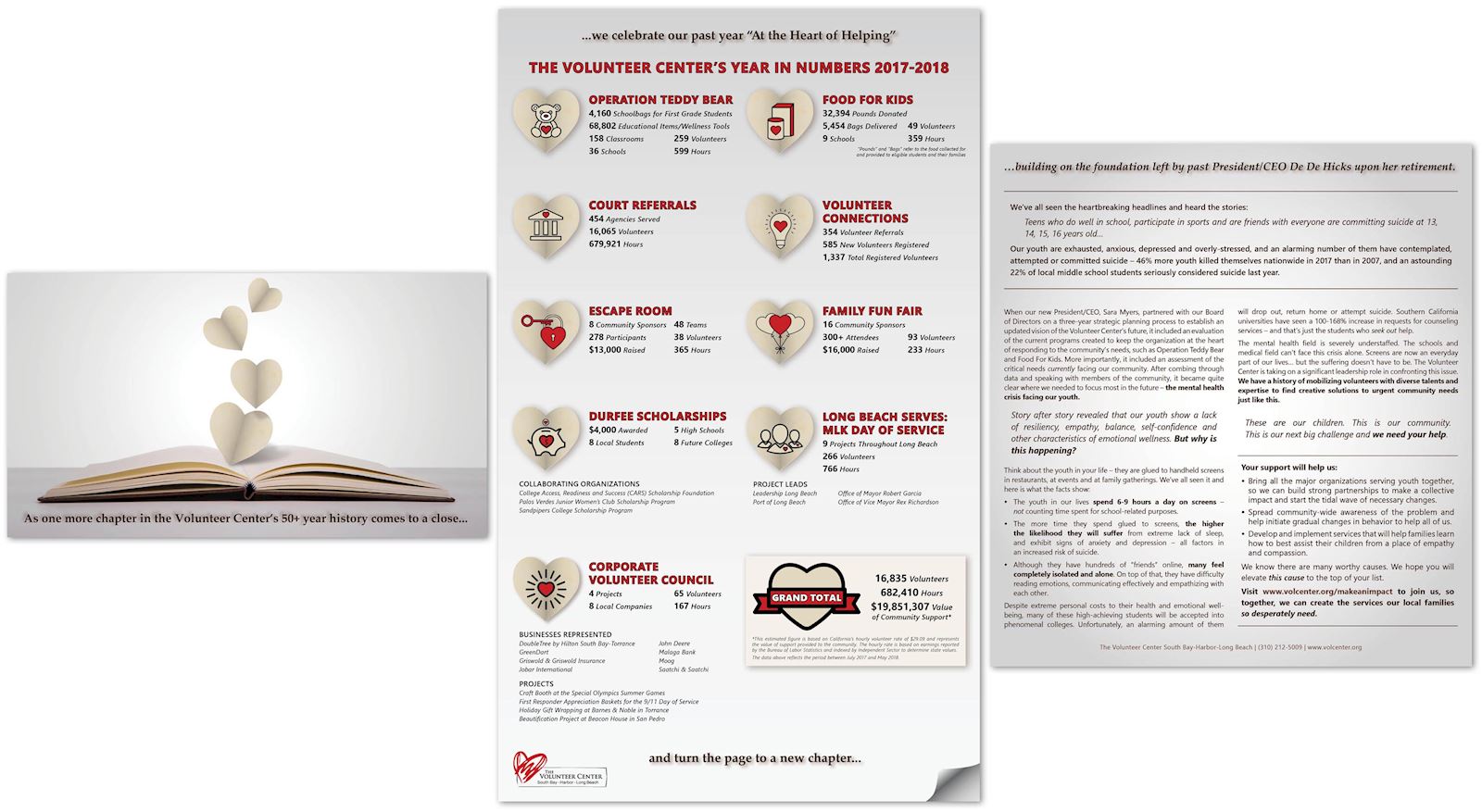 Click here to check out our Annual Report and learn more about the next inspiring chapter in the Volunteer Center's 50+ year history! After you read about our past and future in the Annual Report, we hope you'll join us in making an impact with a donation, so we can continue to meet the needs of our community and be "at the heart of helping" together.
NEW! Click here to learn more about what we're tackling and why in our guest post on South Bay Families Connected's blog!
Thanks for Supporting the Dental Supply Drive!
It takes a village, and we are so grateful to everyone who collected and/or donated toothbrushes and toothpaste for our Operation Teddy Bear Dental Supply Drive! Because of your support, the kids we serve through this time-honored program will be able to focus on learning in school, and not be distracted by their dental hygiene. For many of our youngsters, the toothbrush is their favorite part of the bag, since it is often an "extra" item that families can't afford on tight grocery budgets.
---
John Deere's "Can Build" Benefits Food For Kids
As part of their Community Giving Week, our friends at John Deere in Torrance created a "Can Build" Competition. Employees were split up into teams, and they had 20 minutes to create structures using the food items they brought in to donate to Food For Kids. Each team was quite creative, as you can see in the photos and in this video. Their donations were then gathered and weighed after the competition, and totaled more than 1,600 pounds of food - one of our largest donations in recent years! We couldn't be more grateful for their generosity and ingenuity!
Donations like these help us fill the bags of food we distribute to eligible families every week. Click here to learn more about the program, including about how and where you can contribute, and a downloadable copy of our Shelf-Stable Food Shopping List. You can also learn about the latest Food For Kids donations from the community and more on our Facebook, Instagram and Twitter accounts!
---
More Ways to Help with Amazon.com
So many of us do our shopping online these days... if that sounds like you and you're shopping through Amazon.com, we've made it easy for you to support Food For Kids by creating an Amazon.com Wish List! Skim the list here and consider adding something to your cart. These items will be sent directly to the Volunteer Center, and if you use AmazonSmile during check out, we will also benefit from the total purchase (click here for our AmazonSmile donation page or simply set us as the charity you support through this program).
---
Board Member Shirley Starke-Wallace is An Angel!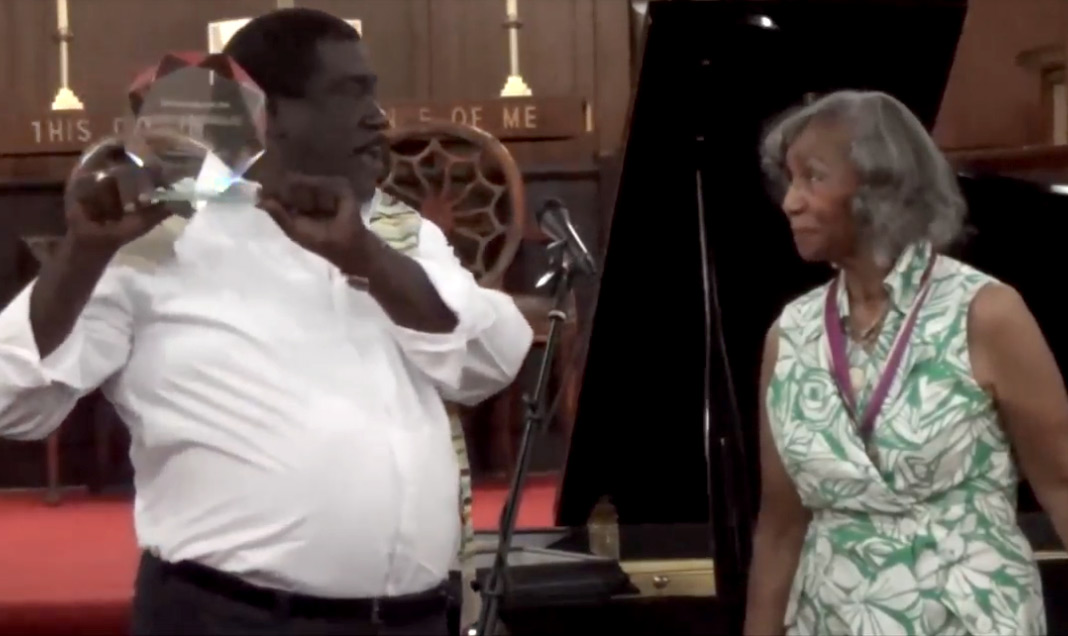 We are proud to announce that longtime Board Member and dedicated volunteer Shirley Starke-Wallace was recently honored with the 2018 Art Angel of the Year Award by the Friends of WGStill, the Sally Bell Mentor Group, and Mentors for Youth and Adults Worldwide for her efforts to bring Links to Art to students in Watts. Shirley coordinated the program with the Palos Verdes Chapter of The Links and the Palos Verdes Art Center, modeling it after Art at Your Fingertips.
Links to Art exposes underserved elementary school students to all aspect of the arts by bringing affordable visual arts education to the classrooms and helping every child feel comfortable using art as a means of expression. Thanks to Shirley's leadership, this program provides training to Links members, in collaboration with the Palos Verdes Art Center, so they can teach the students how to create each project. As a retired teacher, counselor and principal, it is no surprise that Shirley made sure the experience met the California State Visual and Performing Arts Standards.
During the event, a number of individuals shared remarks about Shirley and her impact in the community, including Supervisor Mark Ridley-Thomas and representatives from the City of Torrance Performing Arts Consortium, King/Drew Magnet High School for Math and Science, League of Allied Arts, Palos Verdes Chapter of The Links, and Watts Learning Center Charter Schools. You can watch a video of the program here.
---
Kids For Kids' Unique, Artistic & Creative Success
On a Sunday afternoon during the recent heat wave, a cool breeze ran through the back yard of Dr. Michele and Paula Del Vicario. Guests mingled on the lawn, enjoying music by Palos Verdes High School students, as a small army of colorful goats were on parade for all to enjoy. It was the perfect afternoon to celebrate the success of the Affinity Group's unique fundraiser, Kids For Kids, raising more than $20,000 for Operation Teddy Bear!
This project was the brilliant idea of co-chair Sharon Ryan, who headed up the endeavor with her daughter and co-chair, Jennifer Ryan Marshall. We are so thankful for their hard work in coordinating all the details of the project, including the 23 painted or otherwise artistically-created resin goat statues, each one a masterpiece completely unique and different from the next.
Our immense gratitude goes to our friends and neighbors at Destination: Art and the Torrance Artists' Guild for spearheading the goat-art process for a majority of the "kids!" David Wolfram, president of both groups, worked hard to help Sharon and Jennifer recruit many of the artists from their participating members and coordinate related details. We encourage you to visit Destination: Art - a nonprofit gallery in Downtown Torrance - and discover all the wonderful local talent they feature on a regular basis!
A big thank you to the members of the Affinity Group committee - Dianne Bozler, Virginia Butler, Anne Destabelle, Francine Gamble, De De Hicks, Joyce Kochanowski, Jacky Mason and Cherri Olson - who helped Sharon and Jennifer line up the program's sponsors and attended to all the details for this culminating reception with live and silent auctions. The live auction featured five of the "kid" creations, a stay at Terranea Resort, and a child's rocking chair hand-painted by one of the artists, while the silent auction featured more unique artwork. Special thanks to Dave Diestal, a friend of the Affinity Group, who served as auctioneer complete with witty repartee.
The afternoon featured remarks by the Volunteer Center's President/CEO Sara Myers and the Affinity Group's President, De De Hicks. Both spoke about the impact of Operation Teddy Bear, and De De also thanked the afternoon's hosts, Dr. Michele and Paula Del Vicario, along with everyone else who made the fundraiser a success.
We encourage you to visit kidsforkidsotb.org to see all 23 "kids" and learn about the artists who created them. The website also acknowledges the fundraiser's generous sponsors and everyone who made this fundraiser a success!
---
The Volunteer Center is a participant of the UCommunity - UPrinting Sponsorship Program.