Presenting our 2017-2018 Annual Report!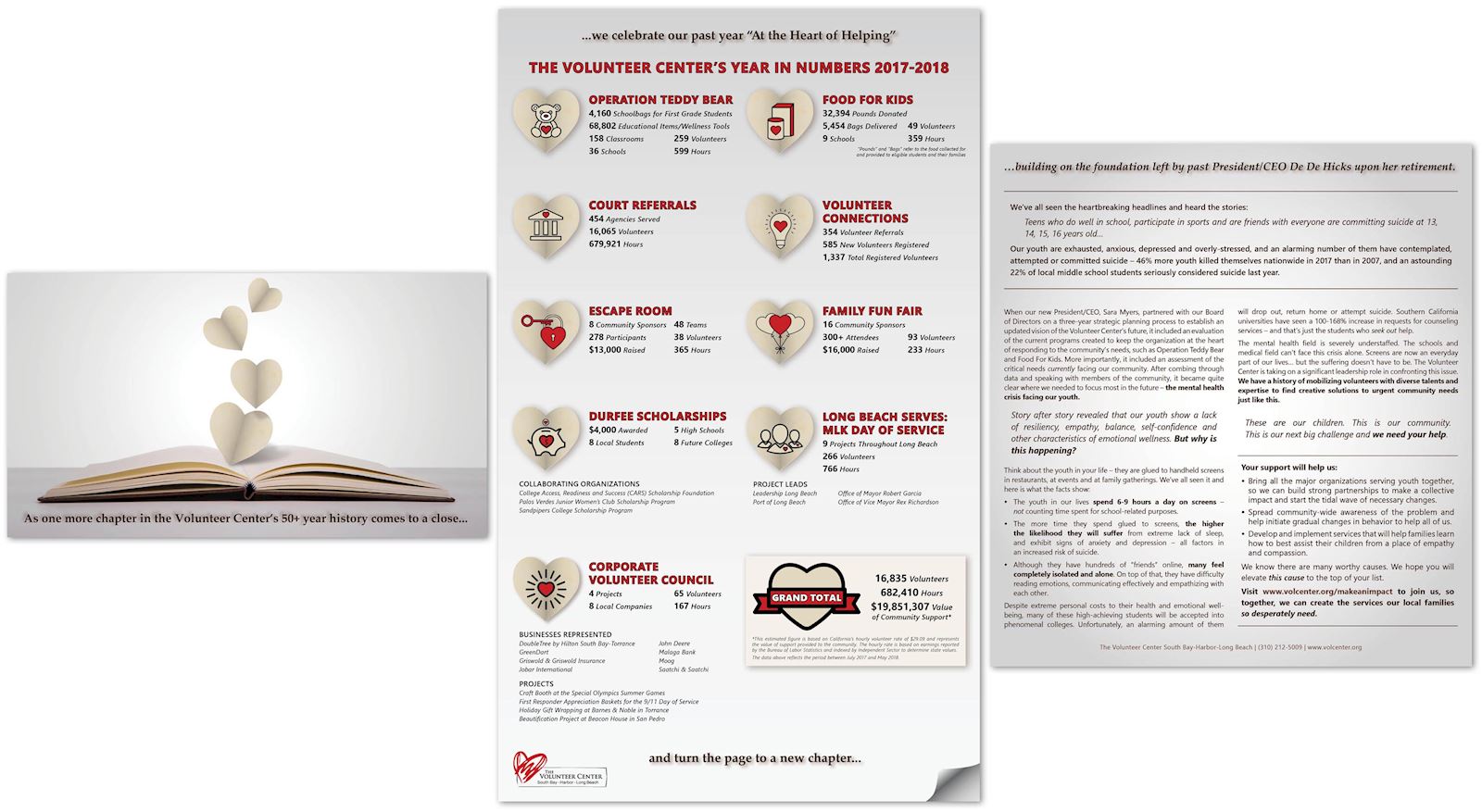 Click here to check out our Annual Report and learn more about the next inspiring chapter in the Volunteer Center's 50+ year history! After you read about our past and future in the Annual Report, we hope you'll join us in making an impact with a donation, so we can continue to meet the needs of our community and be "at the heart of helping" together.
---
Smart & Final Food Drive
Throughout September, you can support Food For Kids when you shop at Smart & Final in Torrance! Simply make a $5 or $10 donation at check out at one of the four Torrance Smart & Final stores (17500 Crenshaw Blvd, 21035 Hawthorne Blvd, 2775 Pacific Coast Highway or 21600 S Vermont Avenue). We are so grateful to the team at Smart & Final for their continued support of our programs!
---
Dental Supply Drive for Operation Teddy Bear
One of the most coveted items in our Operation Teddy Bear schoolbag is the toothbrush. It may seem hard for many of us to believe, but a majority of the students we serve through the program share a toothbrush with family members, if they have one at all. Since we want the students to focus on school, NOT on how they haven't brushed their teeth, we are conducting an Operation Teddy Bear Dental Supply Drive through September 28! Next time you're at the store, please consider picking up some single, individually-packaged toothbrushes and/or travel-sized toothpaste. Donations can be dropped off in the lobby of our office in Torrance (1230 Cravens Ave.) Monday through Friday between 8:30 a.m. and 4:00 p.m. We've also made it easy to support the Dental Supply Drive through Amazon.com by adding items to our new Wish List (see full details below).
---
Upcoming Community Wellness Events
The Volunteer Center is partnering on two upcoming events to promote youth and family wellness, including a focus on social and emotional health.
FALL 4 WELLNESS FAIR
The Torrance Unified School District is hosting Fall 4 Wellness - a Family Wellness Resource Fair - to promote a healthy Torrance community on Saturday, October 13, 11:00 a.m. - 2:00 p.m., on Torrance High School's Back Field. Join the District's Family Welcome & Enrollment Center, in partnership with the District Wellness Committee, Building Bridges Collaborative, City of Torrance, Torrance Council of PTAs and the Volunteer Center for a day full of healthy activities and resources to improve your and your family's overall health through exercise, nutrition and social/emotional health.
This year's Fall 4 Wellness theme coincides perfectly with the fall season for a fun-filled family event featuring a keynote speaker, healthy refreshments, free opportunity drawings, and fun family activities and resources related to health, exercise, nutrition, environmental issues, social and emotional health, and more! The Fair is free and open to the community. Parking will be available in the District lot on Plaza del Amo, and the field can be accessed from Plaza del Amo, across from the Family Welcome & Enrollment Center (2336 Plaza del Amo, Torrance, CA 90501).
TODAY'S YOUTH: SCREEN TIME AND MENTAL HEALTH
The Volunteer Center, Torrance Unified School District and South Bay Families Connected are proud to present Today's Youth: Screen Time and Mental Health, a free event featuring noted researcher and author Dr. Jean Twenge on Thursday, October 18, 6:30 - 8:00 p.m. at the Torrance High School Auditorium. Doors will open at 6:00 p.m. and youth wellness resources will be available in the auditorium's lobby.
Dr. Twenge is author of iGen: Why Today's Super-Connected Kids Are Growing Up Less Rebellious, More Tolerant, Less Happy-and Completely Unprepared for Adulthood, and her groundbreaking research on teens and screens has been covered in major print and television media. Parents, caregivers, teens (9th grade and above) and groups working with youth are invited to join us to learn more about what influences are shaping iGen, and how we can harness the positive trends while mitigating the negative ones. Copies of iGen will be available for purchase at the event. Books can also be ordered online here - 10% of all book sales through this link will be donated to help fund this event.
---
Board Member Shirley Starke-Wallace is An Angel!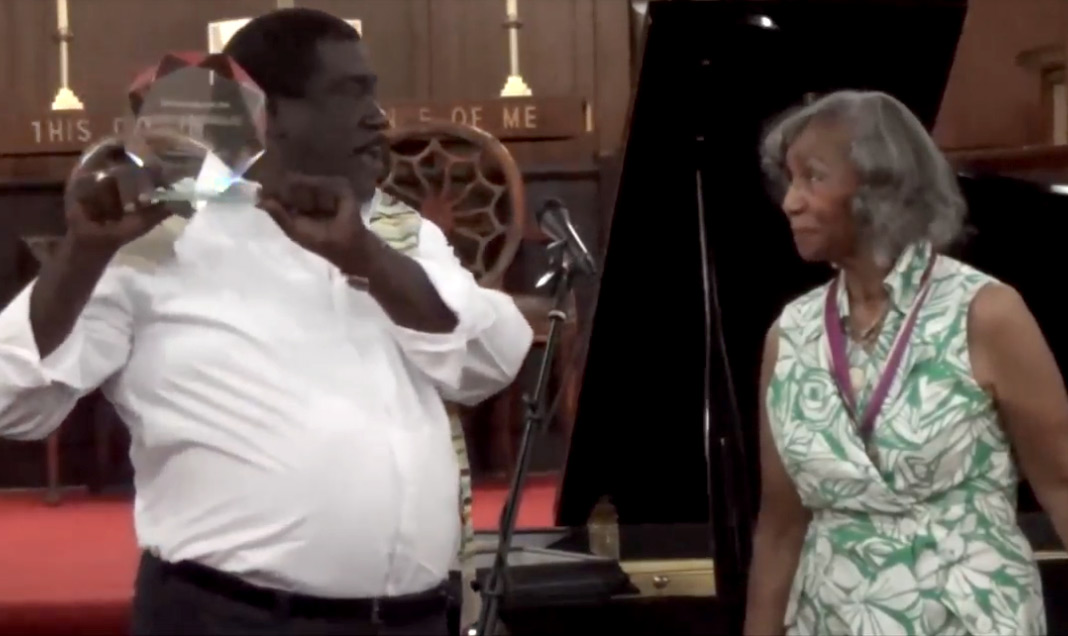 We are proud to announce that longtime Board Member and dedicated volunteer Shirley Starke-Wallace was recently honored with the 2018 Art Angel of the Year Award by the Friends of WGStill, the Sally Bell Mentor Group, and Mentors for Youth and Adults Worldwide for her efforts to bring Links to Art to students in Watts. Shirley coordinated the program with the Palos Verdes Chapter of The Links and the Palos Verdes Art Center, modeling it after Art at Your Fingertips.
Links to Art exposes underserved elementary school students to all aspect of the arts by bringing affordable visual arts education to the classrooms and helping every child feel comfortable using art as a means of expression. Thanks to Shirley's leadership, this program provides training to Links members, in collaboration with the Palos Verdes Art Center, so they can teach the students how to create each project. As a retired teacher, counselor and principal, it is no surprise that Shirley made sure the experience met the California State Visual and Performing Arts Standards.
During the event, a number of individuals shared remarks about Shirley and her impact in the community, including Supervisor Mark Ridley-Thomas and representatives from the City of Torrance Performing Arts Consortium, King/Drew Magnet High School for Math and Science, League of Allied Arts, Palos Verdes Chapter of The Links, and Watts Learning Center Charter Schools. You can watch a video of the program here.
---
You Fill Our Pantry Shelves, We'll Distribute Bags
We are so grateful for the support we've received as we prepared to distribute bags of food to eligible students and their families through Food For Kids at the start of the school year.
Alex and Ani at Del Amo Fashion Center held a food drive at their store during the month of August and collected 81 pounds of food!
Magaly Morales DeGroot and Dianne Bozler contributed our first two Amazon Wish List donations, including oatmeal, apple sauce, reusable bags and items for our Operation Teddy Bear Dental Supply Drive!
Robert and Frances Espinoza visited us after a trip to Sam's Club, donating 48 pounds of food!
HealthCare Partners Claims and Eligibility Department donated nearly 300 pounds of food, along with a donation of $70!
Journey of Faith in Manhattan Beach continues support of Food For Kids through their quarterly Pop-Up Pantry, and we are so grateful for their on-going support. Their latest delivery contained 278 already-packed bags and an additional 205 pounds of food, for a total donation of more than 2,150 pounds of food!
L3 Technologies held a food drive during the month of August and donated more than 400 pounds of food!
South Bay Mission Church donated more than 75 pounds of food!
Torrance Community Credit Union hosted a food drive for the second summer in a row. Credit Union members were extremely generous this year, donating more than they did last year - nearly 250 pounds of food was collected between June and August!
A South Bay Food Drive and Packing Party coordinated by South Bay Mommies and Daddies and Avenue Mama resulted in more than 500 pounds of food and 50+ packed bags. See a video of the Packing Party here.
We accept food pantry donations at our office in Torrance (1230 Cravens Ave.) Monday through Friday between 8:30 a.m. and 4:00 p.m., and we've made it easy to support Food For Kids through Amazon by creating a Wish List (see full details below). Click here for more information about how you can help, including a downloadable copy of our Shelf-Stable Shopping List. You can also learn about the latest Food For Kids donations from the community and more on our Facebook, Instagram and Twitter accounts!
---
More Ways to Help with Amazon.com
So many of us do our shopping online these days... if that sounds like you and you're shopping through Amazon.com, we've made it easy for you to support Food For Kids and the Operation Teddy Bear Dental Supply Drive by creating an Amazon.com Wish List! Skim the list here and consider adding something to your cart. These items will be sent directly to the Volunteer Center, and if you use AmazonSmile during check out, we will also benefit from the total purchase (click here for our AmazonSmile donation page or simply set us as the charity you support through this program).
---
Kids For Kids' Unique, Artistic & Creative Success
On a Sunday afternoon during the recent heat wave, a cool breeze ran through the back yard of Dr. Michele and Paula Del Vicario. Guests mingled on the lawn, enjoying music by Palos Verdes High School students, as a small army of colorful goats were on parade for all to enjoy. It was the perfect afternoon to celebrate the success of the Affinity Group's unique fundraiser, Kids For Kids, raising more than $20,000 for Operation Teddy Bear!
This project was the brilliant idea of co-chair Sharon Ryan, who headed up the endeavor with her daughter and co-chair, Jennifer Ryan Marshall. We are so thankful for their hard work in coordinating all the details of the project, including the 23 painted or otherwise artistically-created resin goat statues, each one a masterpiece completely unique and different from the next.
Our immense gratitude goes to our friends and neighbors at Destination: Art and the Torrance Artists' Guild for spearheading the goat-art process for a majority of the "kids!" David Wolfram, president of both groups, worked hard to help Sharon and Jennifer recruit many of the artists from their participating members and coordinate related details. We encourage you to visit Destination: Art - a nonprofit gallery in Downtown Torrance - and discover all the wonderful local talent they feature on a regular basis!
A big thank you to the members of the Affinity Group committee - Dianne Bozler, Virginia Butler, Anne Destabelle, Francine Gamble, De De Hicks, Joyce Kochanowski, Jacky Mason and Cherri Olson - who helped Sharon and Jennifer line up the program's sponsors and attended to all the details for this culminating reception with live and silent auctions. The live auction featured five of the "kid" creations, a stay at Terranea Resort, and a child's rocking chair hand-painted by one of the artists, while the silent auction featured more unique artwork. Special thanks to Dave Diestal, a friend of the Affinity Group, who served as auctioneer complete with witty repartee.
The afternoon featured remarks by the Volunteer Center's President/CEO Sara Myers and the Affinity Group's President, De De Hicks. Both spoke about the impact of Operation Teddy Bear, and De De also thanked the afternoon's hosts, Dr. Michele and Paula Del Vicario, along with everyone else who made the fundraiser a success.
We encourage you to visit kidsforkidsotb.org to see all 23 "kids" and learn about the artists who created them. The website also acknowledges the fundraiser's generous sponsors and everyone who made this fundraiser a success!
---
Providing Food For Kids On Summer Break
During the school year, we help children and their families at nine partner schools by providing them with bags of food to take home over the weekend. The students we serve receive breakfast and lunch through the Free and Reduced Meal Program during the school day, and then our Food For Kids program helps them with meals on Saturday and Sunday. Unfortunately, summertime creates a bigger challenge for the students who no longer have access to school-based programs.
Luckily, many of our fellow agencies provide a Summer Food Service Program (SFSP) that ensures that these same students continue to receive meals at SFSP sites when school is not in session. We recently met with one of these agencies, SBCC Thrive LA in Wilmington, and found they were a terrific match that would allow us to help fill this need by once again offering our support to a local SFSP program during the summer. We have partnered with them to provide 60 bags each week over seven weeks, benefitting the students participating in the SBCC's summer tutoring program. These students range from Kindergarten to 8th grade, representing schools in Torrance, San Pedro and Wilmington.
We need you to help us continue to feed students and families in need this summer! Click here to learn more about how you can support Food For Kids through food donations and/or food drives, and to download a copy of our Non-Perishable Food Shopping List.