Presenting our 2017-2018 Annual Report!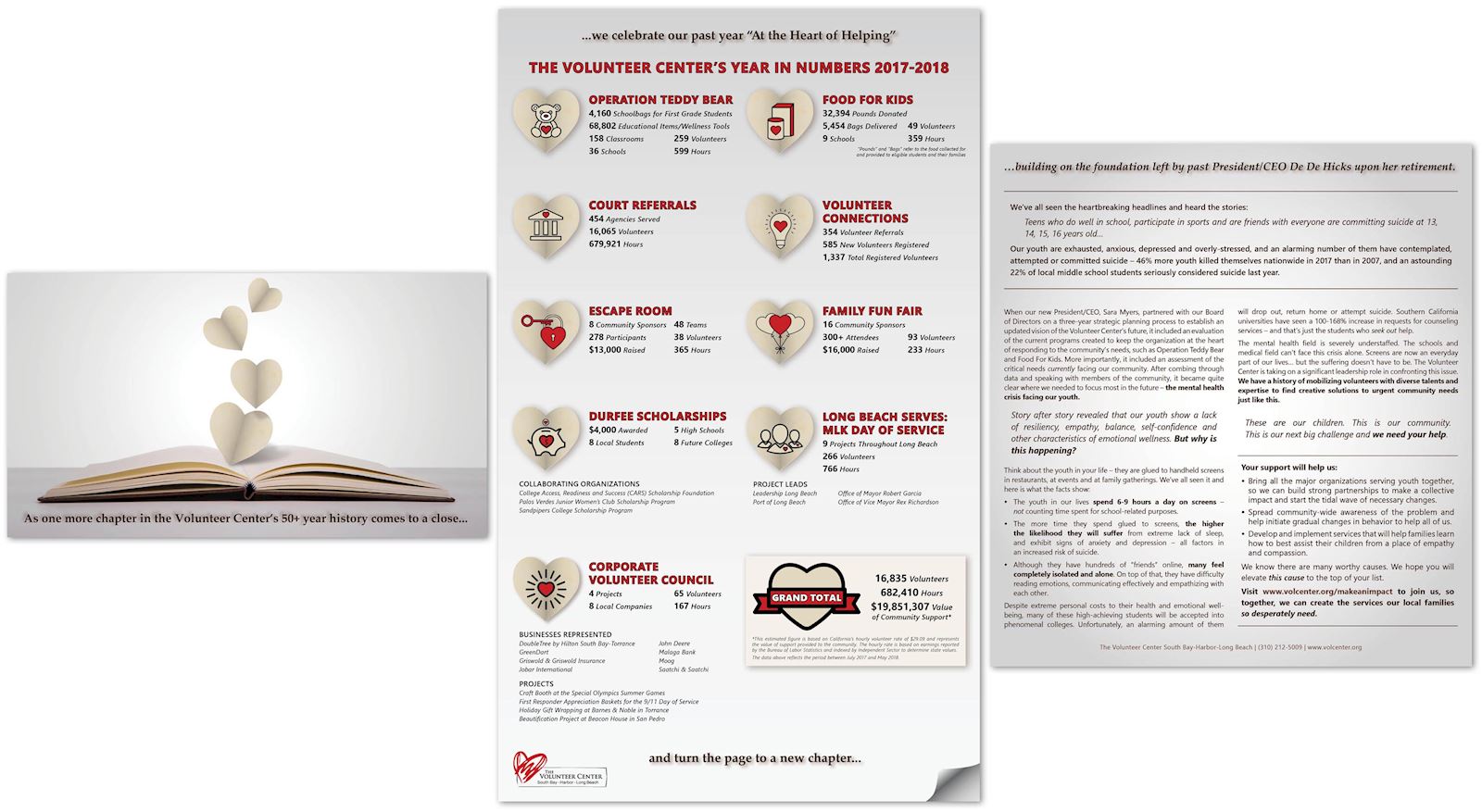 Click here to check out our Annual Report and learn more about the next chapter in the Volunteer Center's 50+ year history!
After you read about our past and future in the Annual Report, we hope you'll join us in making an impact with a donation, so we can continue to meet the needs of our community and be "at the heart of helping" together.
You can also learn more about our new, inspiring chapter with a focus on youth mental health by clicking here.
---
---
Another chance to solve the Mortuary Mystery!
We have a new record for our Escape Room and you only have until Saturday, July 28 to try to beat their time...
Gather your team of 6, book your session, and see if you can become the new record-holder before we close this limited engagement! Don't wait much longer - space is limited and advanced purchase is required.
Have a larger group? You can book multiple slots and reserve our Community Room for the perfect team-building activity! Click here to learn more, including an extensive list of frequently asked questions.
---
Kids For Kids' Unique, Artistic & Creative Success
On a Sunday afternoon during the recent heat wave, a cool breeze ran through the back yard of Dr. Michele and Paula Del Vicario. Guests mingled on the lawn, enjoying music by Palos Verdes High School students, as a small army of colorful goats were on parade for all to enjoy. It was the perfect afternoon to celebrate the success of the Affinity Group's unique fundraiser, Kids For Kids, raising more than $20,000 for Operation Teddy Bear!
This project was the brilliant idea of co-chair Sharon Ryan, who headed up the endeavor with her daughter and co-chair, Jennifer Ryan Marshall. We are so thankful for their hard work in coordinating all the details of the project, including the 23 painted or otherwise artistically-created resin goat statues, each one a masterpiece completely unique and different from the next.
Our immense gratitude goes to our friends and neighbors at Destination: Art and the Torrance Artists' Guild for spearheading the goat-art process for a majority of the "kids!" David Wolfram, president of both groups, worked hard to help Sharon and Jennifer recruit many of the artists from their participating members and coordinate related details. We encourage you to visit Destination: Art - a nonprofit gallery in Downtown Torrance - and discover all the wonderful local talent they feature on a regular basis!
A big thank you to the members of the Affinity Group committee - Dianne Bozler, Virginia Butler, Anne Destabelle, Francine Gamble, De De Hicks, Joyce Kochanowski, Jacky Mason and Cherri Olson - who helped Sharon and Jennifer line up the program's sponsors and attended to all the details for this culminating reception with live and silent auctions. The live auction featured five of the "kid" creations, a stay at Terranea Resort, and a child's rocking chair hand-painted by one of the artists, while the silent auction featured more unique artwork. Special thanks to Dave Diestal, a friend of the Affinity Group, who served as auctioneer complete with witty repartee.
The afternoon featured remarks by the Volunteer Center's President/CEO Sara Myers and the Affinity Group's President, De De Hicks. Both spoke about the impact of Operation Teddy Bear, and De De also thanked the afternoon's hosts, Dr. Michele and Paula Del Vicario, along with everyone else who made the fundraiser a success.
We encourage you to visit kidsforkidsotb.org to see all 23 "kids" and learn about the artists who created them. The website also acknowledges the fundraiser's generous sponsors and everyone who made this fundraiser a success!
---
Providing Food For Kids On Summer Break
During the school year, we help children and their families at nine partner schools by providing them with bags of food to take home over the weekend. The students we serve receive breakfast and lunch through the Free and Reduced Meal Program during the school day, and then our Food For Kids program helps them with meals on Saturday and Sunday. Unfortunately, summertime creates a bigger challenge for the students who no longer have access to school-based programs.
Luckily, many of our fellow agencies provide a Summer Food Service Program (SFSP) that ensures that these same students continue to receive meals at SFSP sites when school is not in session. We recently met with one of these agencies, SBCC Thrive LA in Wilmington, and found they were a terrific match that would allow us to help fill this need by once again offering our support to a local SFSP program during the summer. We have partnered with them to provide 60 bags each week over seven weeks, benefitting the students participating in the SBCC's summer tutoring program. These students range from Kindergarten to 8th grade, representing schools in Torrance, San Pedro and Wilmington.
We need you to help us continue to feed students and families in need this summer! Click here to learn more about how you can support Food For Kids through food donations and/or food drives, and to download a copy of our Non-Perishable Food Shopping List.
---
Eight Durfee Family Scholarships Awarded
The Volunteer Center recently awarded eight $500 Durfee Family Scholarships to local high school seniors to assist them with the cost of classes and materials during their first year of college, in collaboration with the College Access, Readiness and Success (CARS) Scholarship Foundation at Leuzinger High School, the Palos Verdes Junior Women's Club Scholarship Program and the Sandpipers College Scholarship Program.
In addition to strong academic performance, these students were selected for showing a continued passion for serving their community despite personal and family challenges:
CARS Scholarship Foundation
Ana Perez - Leuzinger High School/UCLA
Alexis Rodela - Leuzinger High School/Cal State Northridge
PV Junior Women's Club Scholarship Program
Katherine Cruz - Peninsula High School/LA Harbor College
Grace Gay - Chadwick/Syracuse University
Sandpipers College Scholarship Program
Emily Diaz - Hawthorne High School/UC Santa Barbara
Kyndall Dowell - Leuzinger High School/UC Berkeley
Stevie Schlosser - South High School/Point Loma Nazarene University
Udochi Okori - Hawthorne High School/Kalamazoo College
The Durfee Family Scholarships were established in 1998 thanks to a generous endowment gift made by the late Ev Durfee, a past Volunteer Center Board Member and longtime supporter. We wish all of our scholarship recipients success as they embrace their bright futures ahead!
---
Operation Teddy Bear Volunteers-in-Action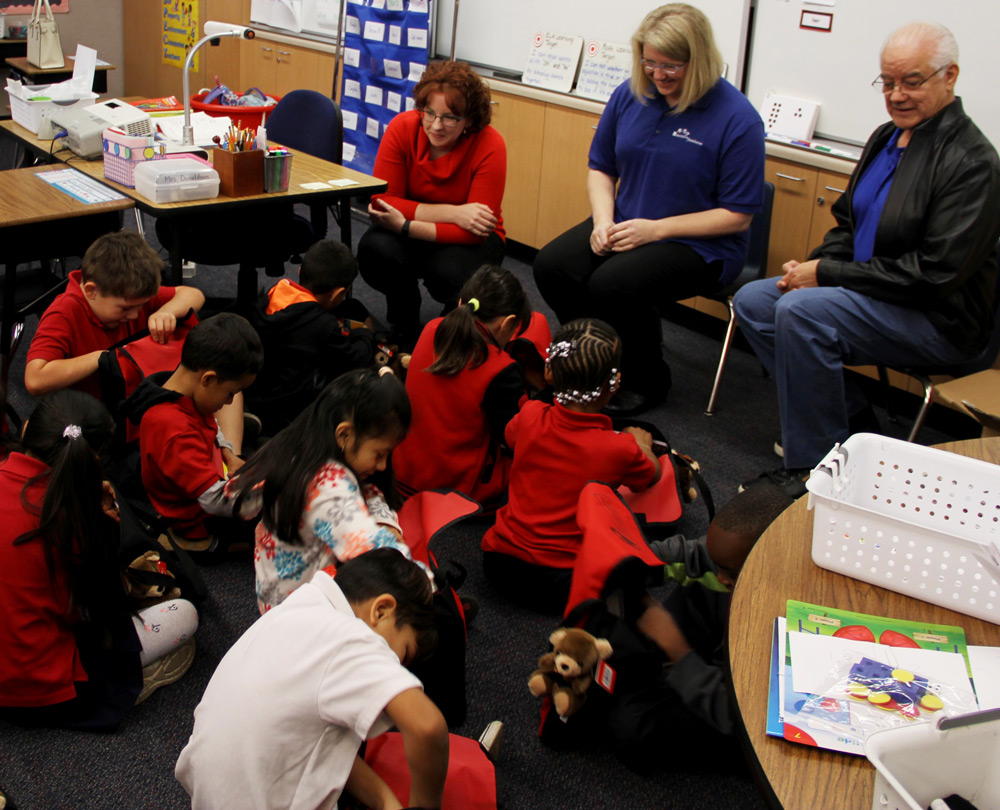 We are truly grateful to the community of volunteers, donors and sponsors that make Operation Teddy Bear possible each year. Thanks to their support, we provided more than 4,000 underserved first-graders at local elementary schools with a kind gift during the 2017 holiday season - a brightly-colored schoolbag filled with educational materials, including reading and coloring books, writing journals, a learning clock, a toothbrush, pencils, crayons, and of course, a teddy bear. Click here to learn more about these Operation Teddy Bear volunteers-in-action!
---
Long Beach Serves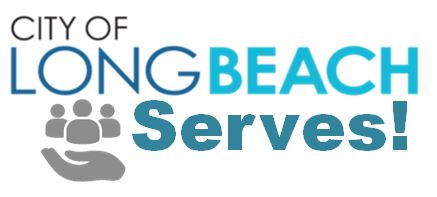 We are proud to be a part of a citywide effort to promote volunteerism in Long Beach. Residents are encouraged to give back and donate time to helping the nonprofits in Long Beach and share their experiences with the hashtag #LBServes.
---