---
New Youth Mental Health Focus
Three years ago, when we began our strategic planning process to identify the community's current needs, we never imagined the severe crisis we would find. Many of you have shared stories about the youth you know, the heart-wrenching pain they are facing, and how their suffering is affecting both their families and the community.
While there are many factors contributing to the rise in anxiety, stress, panic, depression and suicide in our youth, we are focusing on the biggest issue identified by our community: excessive screen time and social media addiction. Click here to learn more about our new youth mental health focus, including how we enlisted the community's input, the feedback we heard loud-and-clear, and our progress.
We are committed to compassionately supporting local youth and families through new services to increase empathy and resilience, just as we have through our legacy programs. Click here to join our email list and stay up-to-date on our progress!
---
Discussing Our New Focus on NEWSBREAK LIVE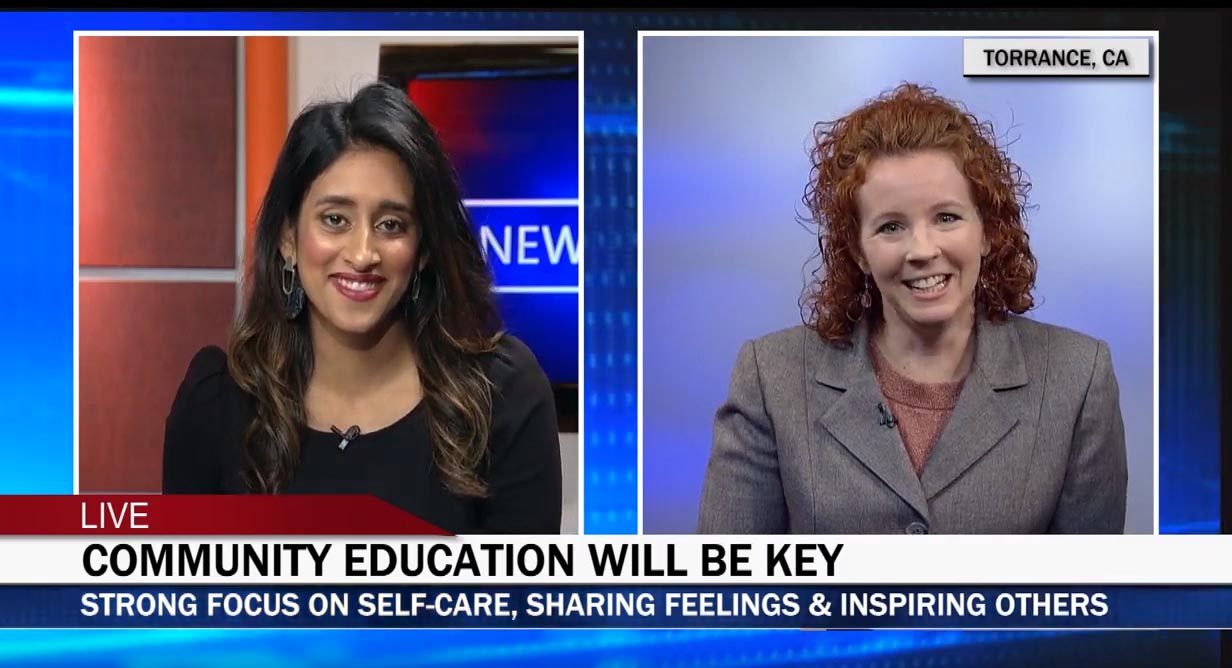 Check out the February 5 episode of Torrance Citi CABLE's NEWSBREAK LIVE to hear President/CEO Sara Myers discuss our new youth mental health focus, including the research, community input, plans to help families address screen time and social media addiction, and helpful resources we can all use now.
Click here to learn more about our new focus and click here find helpful resources. Many thanks to Hibah Samad and her team for the opportunity to talk about this work and our community-based approach!
---
Featured Kindness Opportunities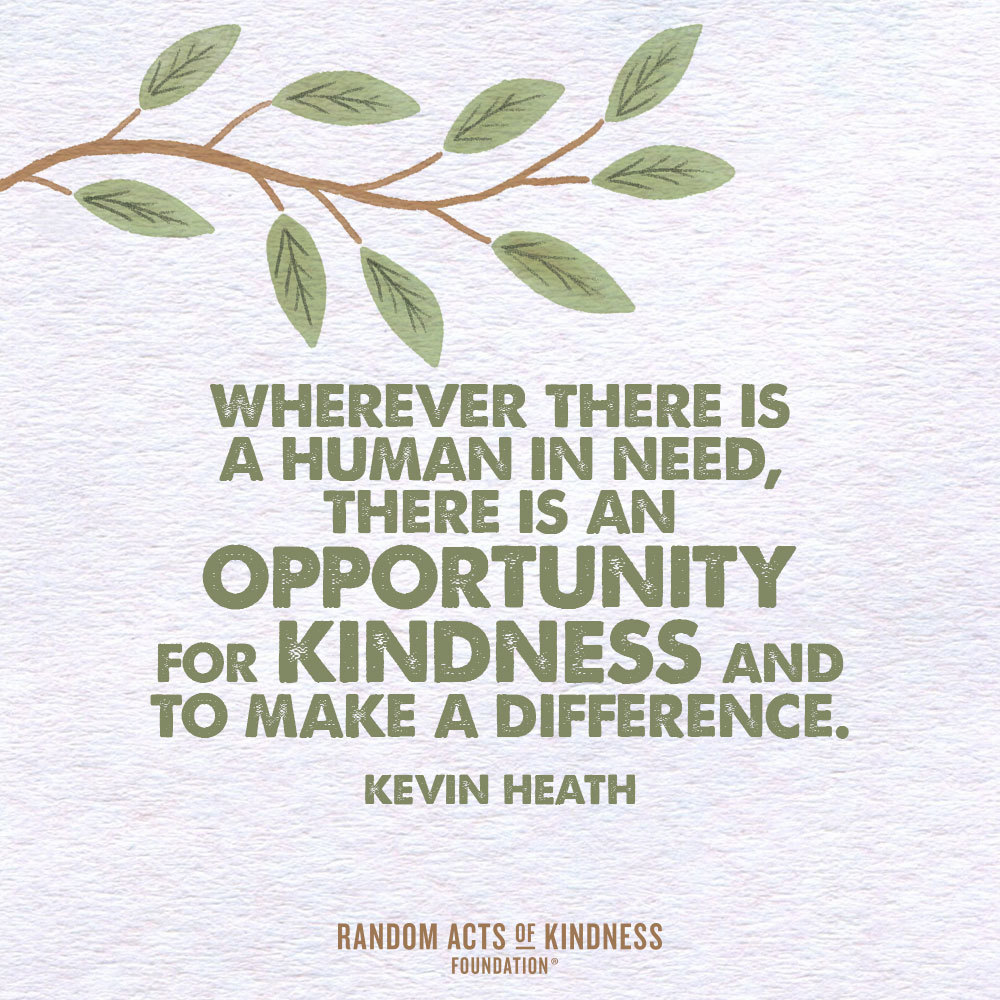 Mark Twain said, "The best way to cheer yourself up is to cheer someone else up," and our friends at Action For Happiness took that to heart when they created Friendly February. Click here for their calendar of ways to promote kindness and connect with others each day this month!
This Sunday is also Random Acts of Kindness Day, which is a great opportunity to find ways to do something nice for someone - or yourself! If you're looking for creative ideas for Sunday or any time, click here for a collection of kindness ideas from the Random Acts of Kindness Foundation.
If you're looking for something to do with younger children, click here to check out this month's Kindness Project from South Bay Mommies and Daddies: Heart Bookmarks. It even includes prompts to start a conversation about spreading kindness in the community while working on the project!
---
Celebrating Operation Teddy Bear Together
Another year of Operation Teddy Bear is in the books, and it truly would not have been possible without our family of volunteers, donors and sponsors. Together, we provided more than 4,000 local, underserved first grade students with our signature schoolbag filled with books, educational supplies and wellness tools, as well as more than 150 first grade teachers with appreciation kits. Volunteers also inspired the students at the 36 schools they visited during a lesson in kindness, compassion, volunteering and identifying emotions before distributing their surprise gift. The students' reactions to the surprise are often quite boisterous and joyous. Volunteers also love watching the excitement build like in this video with volunteers from Kinecta Federal Credit Union.
There were a few new additions this year. They included a volunteer-made "rekenrek" to assist each first-grader with concepts of math and counting (and calm fidgety fingers), an engineering construction kit to help the students learn to build two and three dimensional shapes, and inserts in a writing journal showing sentence-starters and sight words, all prepared by volunteers from Keenan & Associates. Each teddy bear also had a tag on it to remind the students what they were taught during the lesson: When you feel nervous or afraid, give this teddy bear a big hug and take a deep breath to help you feel better. Watch volunteers from the Port of Los Angeles demonstrate in this video.
We are grateful for the enthusiastic and hard-working volunteers who took the time to distribute the schoolbags and visit with the students, including representatives from our Affinity Group, Bank of America, Beacon House, California Water Service, GreenVetsLA, John Deere, Keenan & Associates, Kinecta Federal Credit Union, Los Angeles Trial Lawyers' Charities, Rudolph J. and Daphne A. Munzer Foundation, Nonprofit Partnership, Port of Los Angeles, Rotary Club of Manhattan Beach, Sandpipers, Simon Law Group, South Bay Junior Women's Club, St. Anthony High School, Valero, Watson Land Company, as well as several individual volunteers. We also want to once again thank our major sponsors and in-kind donors for joining us "at the heart of helping" to make this program a reality! Click here to learn more about Operation Teddy Bear, including a complete list of our sponsors.
---
More Kind Donations of Food
We are so grateful for the loving support our local community continues to pour out for our Food For Kids program!
Brownie Troop 6025 from Hermosa View Elementary School coordinated a school-wide food drive during the Great Kindness Challenge. They also brought the nearly 400 pounds of food to our food pantry, where they sorted it, packed 50 bags, and learned how those bags will help other kids their age - a wonderful lesson in empathy!
The Canna Causes Foundation hosted their 4th Annual "Food 4 Hope" drive, resulting in a donation of approximately 100 pounds of food!
The Dudes' Brewing Company in Torrance hosted a food drive, collecting and donating 60 pounds of food. They also held a special fundraiser during the Super Bowl and donated the proceeds to us!
Journey of Faith in Manhattan Beach held their quarterly Pop-up Pantry, a one-day collection and packing event, at Ralphs on Hawthorne Blvd. in Redondo Beach. The resulting donation consisted of a whopping 344 already-packed bags, plus an additional 638.5 pounds of food for a total donation of more than 4,650 pounds of food - their largest delivery in more than a year!
The youth group at St. James Armenian Apostolic Church in Los Angeles hosted a holiday food drive, collecting and donating more than 200 pounds of food!
You can learn about the latest Food For Kids donations and see other updates when you follow us on Facebook, Instagram and Twitter! For more information about how you too can help, including a downloadable copy of our Shelf-Stable Shopping List, click here. We've also made it easy to support Food For Kids through our Amazon.com Wish List.
---
Jean Twenge Discusses Screen Time & Mental Health
We recently held our first major community event focused on youth mental health - an evening with nationally-renowned author and psychology professor Dr. Jean Twenge, in partnership with Torrance Unified School District and South Bay Families Connected. Dr. Twenge delivered an engaging presentation, including eye-opening data from her research on "iGen" and practical tips to counter the effects of screens on teens, which were in line with the services we are currently developing - a Parent Education Course, the reinvention of our popular Teen Program, and a Community-wide Awareness Campaign.
Before the presentation, we hosted a Special Reception for community leaders and those who have played an integral role in our work over the past year. It was truly gratifying to hear Dr. Twenge - who we have quoted in countless conversations - confirm that we are headed in the right direction. Click here to learn more about what we're focusing on, why and the services we're developing. Click here to see more photos from the recent event on Facebook.
---
Kathleen Terry Honored for Going Above & Beyond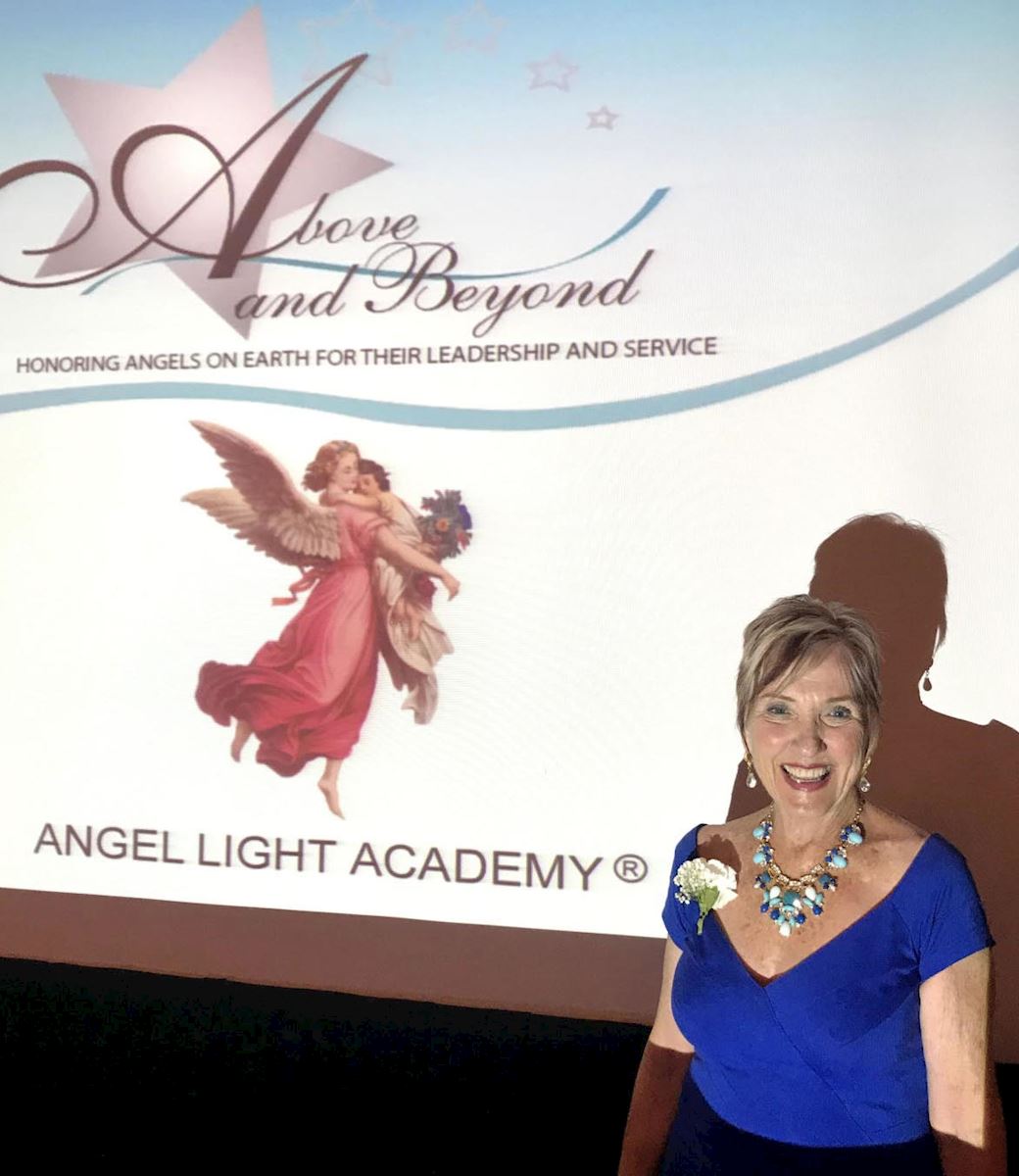 We are proud to announce that our longtime Board Member and dedicated volunteer Kathleen Terry was honored for "Excellence in Community Leadership and Service" by the Angel Light Academy Leadership Training Institute at their recent Above and Beyond Coastal Gala. Established in 2009, the event serves as a recognition program for the "doers" in local communities, and each of the 12 honorees were nominated by their peers for demonstrating that they consistently go above and beyond.
Kathleen was nominated for this honor in recognition for her work with Leadership Manhattan Beach. In addition, she has spent nearly 20 years as a South Bay community leader with such organizations as the Crown Jewel Club, Leadership Redondo Beach, the PS I Love You Foundation and the Rotary Club of Manhattan Beach, where she previously served as President.
---
Presenting our 2017-2018 Annual Report!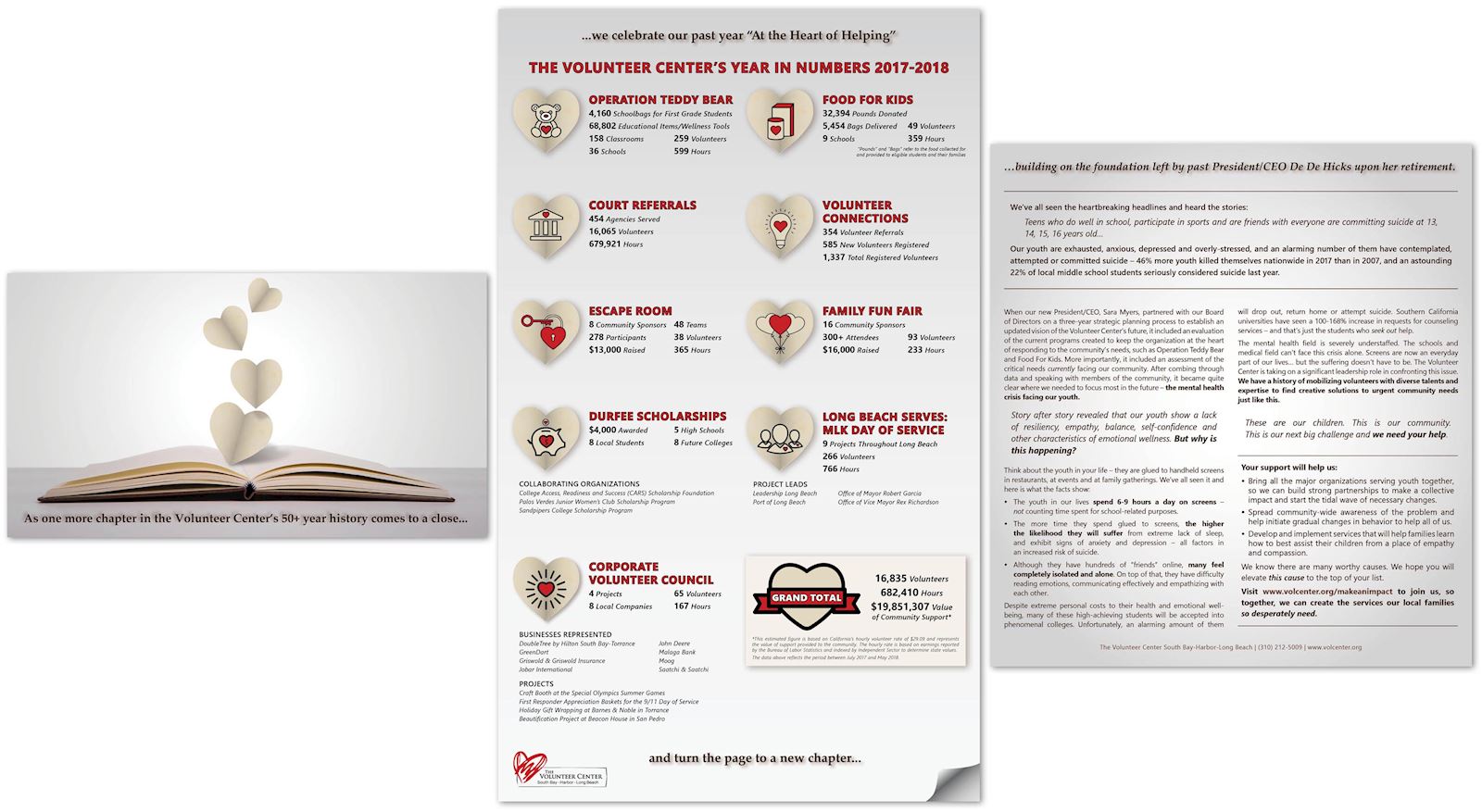 Click here to check out our Annual Report and learn more about the next inspiring chapter in the Volunteer Center's 50+ year history! After you read about our past and future in the Annual Report, we hope you'll join us in making an impact with a donation, so we can continue to meet the needs of our community and be "at the heart of helping" together.
Click here to learn more about our new youth mental health focus.
---
The Volunteer Center is a participant of the UCommunity - UPrinting Sponsorship Program.