---
New Youth Mental Health Focus
Three years ago, when we began our strategic planning process to identify the community's current needs, we never imagined the severe crisis we would find. Many of you have shared stories about the youth you know, the heart-wrenching pain they are facing, and how their suffering is affecting both their families and the community.
While there are many factors contributing to the rise in anxiety, stress, panic, depression and suicide in our youth, we are focusing on the biggest issue identified by our community: excessive screen time and social media addiction. Click here to learn more about our new youth mental health focus, including how we enlisted the community's input, the feedback we heard loud-and-clear, and our progress.
We are committed to compassionately supporting local youth and families through new services to increase empathy and resilience, just as we have through our legacy programs. Click here to join our email list and stay up-to-date on our progress!
---
High School Seniors: Apply for a Durfee Scholarship!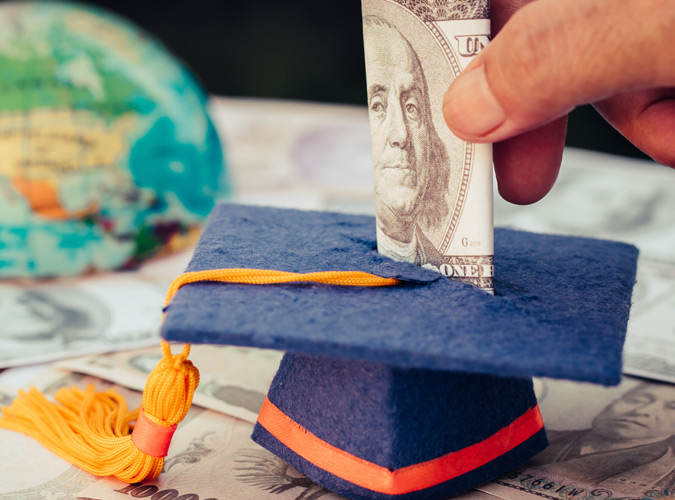 Each year, the Volunteer Center awards five Durfee Family Scholarships to local high school seniors to assist them with the cost of classes and materials during their first year of college. Recipients are chosen in recognition of their ability to overcome personal challenges, while still dedicating time to making a positive contribution to their community. Students accepted to universities, community colleges and technical schools in California are given priority, but all high school seniors in the South Bay, Harbor and Long Beach areas are encouraged to apply. Click here to download the application form, which includes detailed instructions on how to apply. Scholarship applications are due by May 1.
---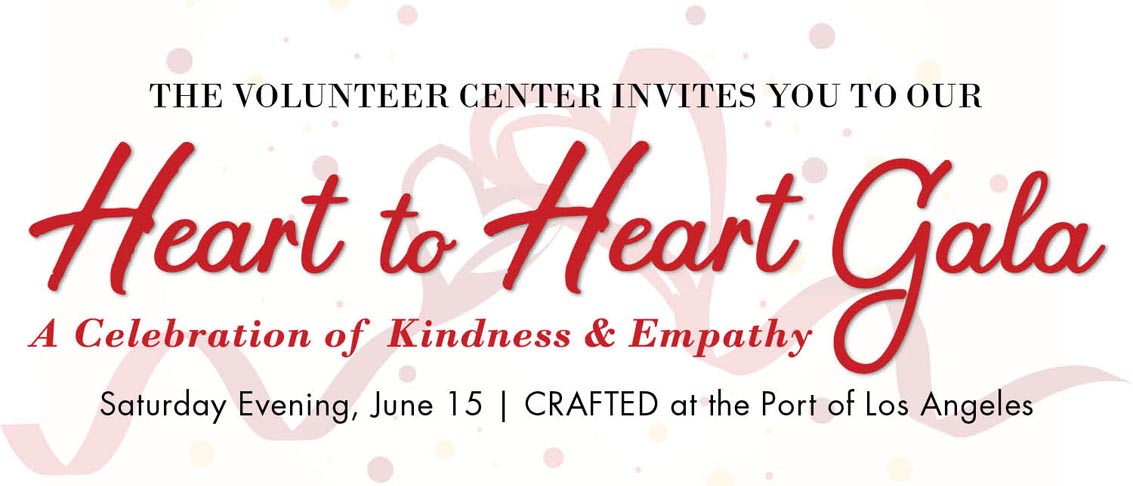 Join us for an evening celebrating kindness, empathy, compassion and mindfulness on Saturday, June 15 at CRAFTED at the Port of Los Angeles. The Heart to Heart Gala will feature dinner, drinks, entertainment, dancing, live/silent auctions and games of chance, as well as some unique moments to really connect with each other - all benefitting our new mission and programs encourging and supporting the social and emotional wellness of local youth and their families. Click here to learn more about sponsorship or in-kind donation opportunities.
---
A Very Happy National Volunteer Week!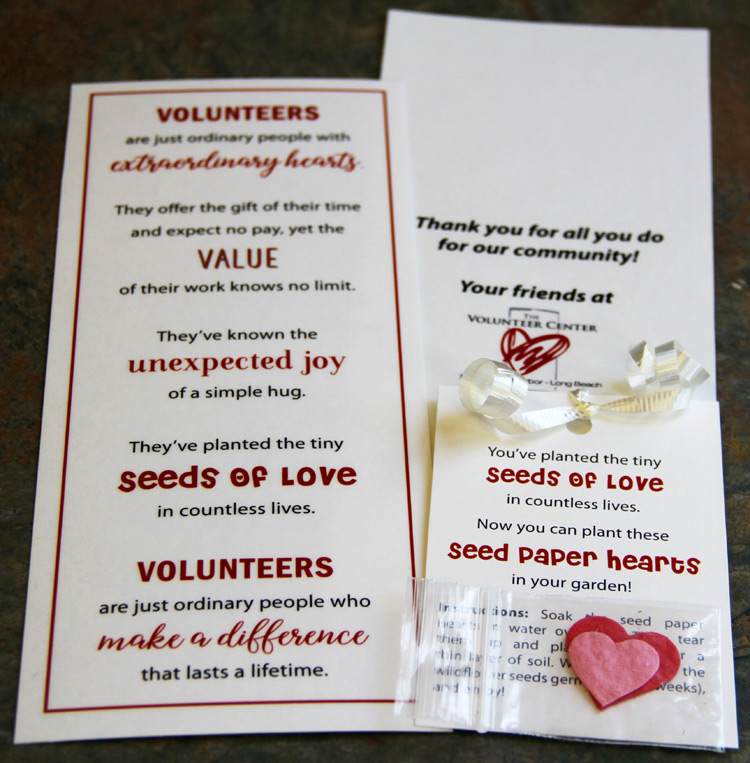 National Volunteer Week is always the perfect time to publicly thank all of our wonderful volunteers! We are extremely grateful for all the hours they dedicate to us, whether they're the members of our Board of Directors and Affinity Group, the faces we see weekly through Food For Kids, or those who help us with various aspects of Operation Teddy Bear during the fall and winter months.
Throughout the week, we've been highlighting some of our volunteers on social media, and we've given many of them a token of our appreciation in recognition of the way they touch so many lives in our community with their kindness: a special bookmark highlighting their true value, along with seed paper hearts in recognition of the "seeds of love" they've planted in countless lives.
---
They Came, They Saw, They Accessorized
The members of our Affinity Group spent National Volunteer Week preparing for and hosting the Spring Bling Jewelry and Accessories Sale. This fantastic FUNdraiser featured a treasure trove of earrings, necklaces, bracelets, rings, watches, scarves and handbags. Community members joined us throughout the afternoon to schmooze, shop and bid on silent auction items, with proceeds benefitting Operation Teddy Bear. We are extremely grateful to the ladies of Affinity Group for all they have done and continue to do to support the Volunteer Center!
---
Joining Together in Remembrance, Hope & Support
We proudly joined together with the American Foundation for Suicide Prevention (AFSP) and the South Bay Association of School Psychologists last month to sponsor and participate in the first ever Out of the Darkness South Bay Campus Walk at Torrance High School. More than 200 community members representing 45 teams walked together in remembrance, hope and support of suicide prevention and mental health. The South Bay Campus Walk surpassed its fundraising goal of $10,000 by more than $5,000, which will help fund AFSP's educational programs and services in our community.
The morning began with a resource fair and an opening ceremony featuring remarks by Congressman Ted Lieu, Torrance Unified School District (TUSD) Board Member Betty Lieu, Assemblymember Al Muratsuchi, Dr. Mimi Hoang, a suicide survivor and someone affected by suicide. During a bead ceremony, participants held up the bead necklaces in various colors to indicate their personal reasons for supporting the walk, which also allowed them to connect with others who shared similar experiences. After the one mile walk around Torrance High School, the event closed with remarks by Clear Recovery Center's Howard Baker, Torrance Mayor Pat Furey, and the closing song, "Lean On Me," performed by Dalia Rodriguez.
Volunteer Center staff members were honored to walk with more than 40 other community members on Team Lucas in memory of Lucas Smith, the South High teen who died by suicide last summer. The team was led by his best friend Luke Antaky - one of the participants of our youth input panel - and Team Lucas earned the honor of carrying the banner at the front of the walk for raising the most funds. Click here to see more photos from the Campus Walk on Facebook, and click here to watch Betty Lieu's remarks about what TUSD is doing to help with the rise in anxiety, depression and suicide of our youth.
---
Kind Hearts, Full Shelves
We are so grateful to our community members who volunteer such compassion and generosity toward the families we serve by donating shelf-stable food to our Food For Kids program!
The members of the Beta Iota Chapter of the Delta Kappa Gamma in Long Beach, an honor society of women educators, held another food drive benefitting Food For Kids. They collected and donated 192 pounds of food - 50+ more pounds than last year.
The team at CBRE in El Segundo collected and donated 169 pounds of food through their CBRE Cares efforts.
The 4th graders in Girl Scout Troop 2635 at Arlington Elementary School in Torrance collected and donated 85 pounds of food.
The families of Girl Scout Troops 8825 and 70483, and Cub Scout Pack 955 at Mira Catalina Elementary School in Rancho Palos Verdes collected and donated 726 pounds of food. During their visit, they also learned how their kindness supports other kids their age.
The Moms Club of Torrance SE held a food drive at Ralphs in South Torrance, collecting and donating 411 pounds of food.
The team at Simms Restaurant Group in Manhattan Beach returned to donate 98 pounds of food.
You can learn about the latest Food For Kids donations and see other updates when you follow us on Facebook, Instagram and Twitter! For more information about how you too can help, including a downloadable copy of our Shelf-Stable Shopping List, click here. We've also made it easy to support Food For Kids through our Amazon.com Wish List.
---
Thinking Outside the Cookie Box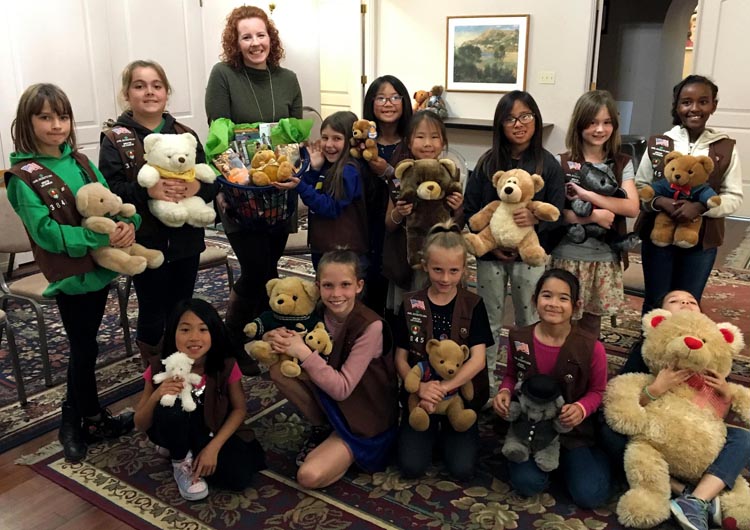 The kind, compassionate and energetic members of Torrance's Girl Scout Troop 3845 visited us at the beginning of March to present a basket of donated cookies for our food pantry and a generous check following a successful Girl Scout Cookie season. During their visit, we showed the girls how the Volunteer Center helps local elementary school students their age.
First, we introduced the girls to Food For Kids by taking a tour of the pantry and reading a book from our kindness-themed book list ("Maddie's Fridge" by Lois Brandt). Then, we looked at the different items in the Operation Teddy Bear schoolbag and talked about why we provide them to the first graders, followed by a discussion about our feelings and ways we can be kind. We ended on a very empathetic, comforting note as we hugged teddy bears and practiced taking deep breaths. We are so grateful to have such a generous community of youth, and we love when we can have conversations about kindness, compassion and social-emotional wellness!
---
Visions of Unity Celebrates 20 Years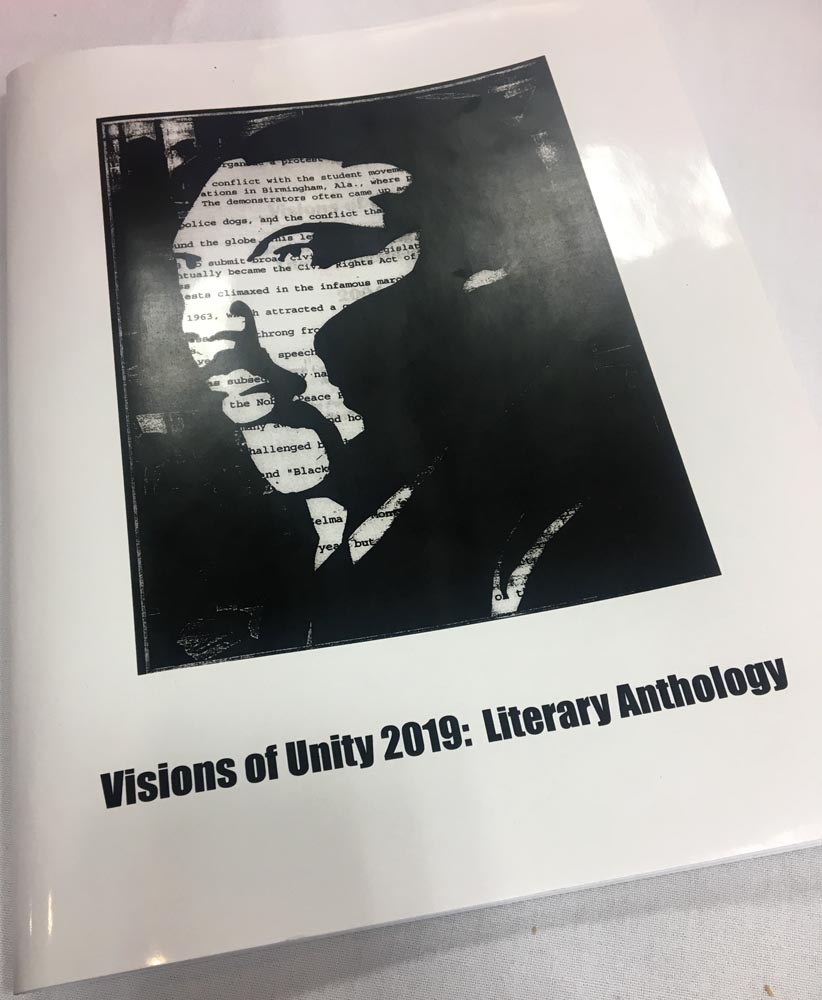 Students, families and community members gathered at Torrance Memorial's Conference Center earlier this week to celebrate the 20th Anniversary of the Visions of Unity Contest. Nearly 50 Torrance high school students were honored for their original short stories, essays, poetry, fine art, photography and sculpture celebrating diversity, promoting education and understanding, and cultivating a sense of belonging for the diverse population of Torrance. The award-winning art work was on display during the event, and after the awards were presented, the winning literature submissions were read aloud by the student authors. As Co-Founder and Contest Coordinator Lea Ann King so aptly shared during her remarks, "This is the future of our world. We are listening to them."
The Volunteer Center is proud provide fiscal sponsorship for this event and join the other partners in our community who make this student arts and literature competition possible each year: The Human Relations Forum of Torrance, Torrance Memorial Medical Center, Torrance Unified School District, League of Women Voters of Torrance Area, and Palos Verdes Chapter LINKS, Inc. The Visions of Unity Committee also includes three of our Board Members: Jean Adelsman, Lea Ann King and Shirley Starke-Wallace. Learn more in this video produced by Torrance CitiCable and at visionsofunity.com.
---
WE RISE Poetry Contest
The LA County Department of Mental Health is currently accepting creative, original poems that address mental health and wellbeing for the WE RISE Poetry Contest, part of a campaign to transform our mental health care system using art and community building in Los Angeles.
Entries are due May 1. They will be judged on poetic merit by a panel of poets and peers, and honorees will be invited to a WE RISE reception in Downtown Los Angeles. Click here for guidelines and complete details.
---
Discussing Our New Focus on NEWSBREAK LIVE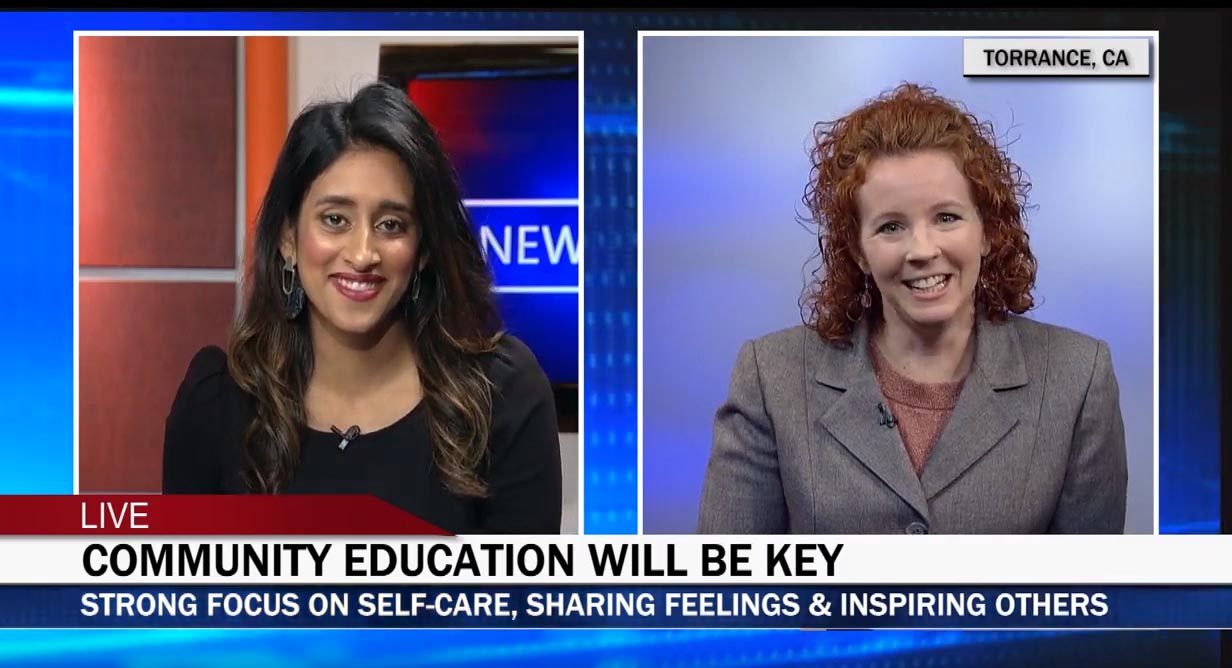 Check out the February 5 episode of Torrance Citi CABLE's NEWSBREAK LIVE to hear President/CEO Sara Myers discuss our new youth mental health focus, including the research, community input, plans to help families address screen time and social media addiction, and helpful resources we can all use now.
Click here to learn more about our new focus and click here find helpful resources. Many thanks to Hibah Samad and her team for the opportunity to talk about this work and our community-based approach!
---
Celebrating Operation Teddy Bear Together
Another year of Operation Teddy Bear is in the books, and it truly would not have been possible without our family of volunteers, donors and sponsors. Together, we provided more than 4,000 local, underserved first grade students with our signature schoolbag filled with books, educational supplies and wellness tools, as well as more than 150 first grade teachers with appreciation kits. Volunteers also inspired the students at the 36 schools they visited during a lesson in kindness, compassion, volunteering and identifying emotions before distributing their surprise gift. The students' reactions to the surprise are often quite boisterous and joyous. Volunteers also love watching the excitement build like in this video with volunteers from Kinecta Federal Credit Union.
There were a few new additions this year. They included a volunteer-made "rekenrek" to assist each first-grader with concepts of math and counting (and calm fidgety fingers), an engineering construction kit to help the students learn to build two and three dimensional shapes, and inserts in a writing journal showing sentence-starters and sight words, all prepared by volunteers from Keenan & Associates. Each teddy bear also had a tag on it to remind the students what they were taught during the lesson: When you feel nervous or afraid, give this teddy bear a big hug and take a deep breath to help you feel better. Watch volunteers from the Port of Los Angeles demonstrate in this video.
We are grateful for the enthusiastic and hard-working volunteers who took the time to distribute the schoolbags and visit with the students, including representatives from our Affinity Group, Bank of America, Beacon House, California Water Service, GreenVetsLA, John Deere, Keenan & Associates, Kinecta Federal Credit Union, Los Angeles Trial Lawyers' Charities, Rudolph J. and Daphne A. Munzer Foundation, Nonprofit Partnership, Port of Los Angeles, Rotary Club of Manhattan Beach, Sandpipers, Simon Law Group, South Bay Junior Women's Club, St. Anthony High School, Valero, Watson Land Company, as well as several individual volunteers. We also want to once again thank our major sponsors and in-kind donors for joining us "at the heart of helping" to make this program a reality! Click here to learn more about Operation Teddy Bear, including a complete list of our sponsors.
---
Presenting our 2017-2018 Annual Report!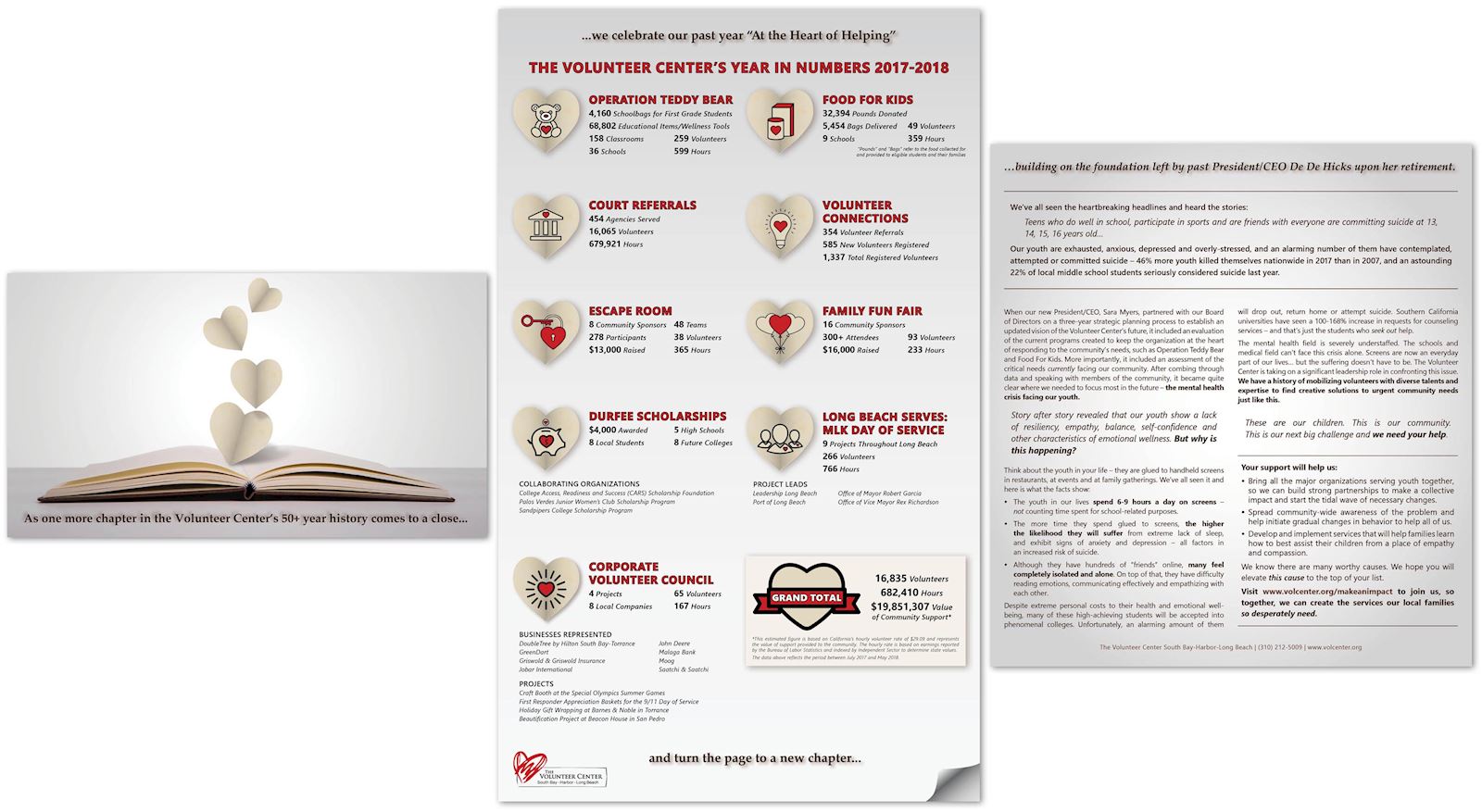 Click here to check out our Annual Report and learn more about the next inspiring chapter in the Volunteer Center's 50+ year history! After you read about our past and future in the Annual Report, we hope you'll join us in making an impact with a donation, so we can continue to meet the needs of our community and be "at the heart of helping" together.
Click here to learn more about our new youth mental health focus.
---
The Volunteer Center is a participant of the UCommunity - UPrinting Sponsorship Program.