---
New Youth Mental Health Focus
Three years ago, when we began our strategic planning process to identify the community's current needs, we never imagined the severe crisis we would find. Many of you have shared stories about the youth you know, the heart-wrenching pain they are facing, and how their suffering is affecting both their families and the community.
While there are many factors contributing to youth mental health crisis, we are focusing on the top issues identified by our community: excessive screen time and social media addiction, combined with the inescapable pressure to be perfect at all costs. Click here to learn more about our new youth mental health focus, including how we enlisted the community's input, the feedback we heard, and our progress.
We are committed to compassionately supporting local youth and families through new services to increase empathy and resilience, just as we have through our legacy programs. Stay up-to-date on our progress by joining our general email list and/or interest lists for the Teen Program and Parent Education.
Find Helpful Resources | Learn about our Community-wide Education
---
The Affinity Group's Jewelry & Accessories Sale
The members of our Affinity Group invite you to start your holiday shopping early while supporting a good cause at their Jewelry & Accessories Sale on Thursday, November 14, 5:00 - 7:00 p.m., at the Volunteer Center (1230 Cravens Ave., Torrance).
Enjoy refreshments while you shop an assortment of new or previously-worn necklaces, earrings, bracelets, rings, handbags, scarves and more - all generously donated by members of the community! Proceeds benefit Operation Teddy Bear and the Volunteer Center's other programs supporting youth and families.
---
Help Urban Plates Open Their Newest Location!
Take a break from the busy holiday season to connect with family and friends and practice kindness on Saturday, November 23!
Your lunch is free, since you're helping Urban Plates prepare for the Grand Opening of their Manhattan Beach location, but donations are suggested. Donations benefit the Volunteer Center!
How to Register for the Donation-based Lunch – Required
Click here to visit the sign-up page and follow the steps below.
Click Register and select your arrival time frame:
11:00 - 11:30 a.m. | 11:30 a.m. - 12:00 p.m. | 12:00 - 12:30 p.m.
12:30 - 1:00 p.m. | 1:00 - 1:30 p.m. | 1:30 - 2:00 p.m. | 2:30 - 3:00 p.m.
Select the total number of people attending and click Register.
Please note: The 2:00 - 2:30 p.m. session is reserved for some of the families we serve.
---
Local News Feature
Our new focus and the programs we're developing to help with the youth mental health crisis were recently featured in the Daily Breeze and Long Beach Press-Telegram!
In addition to our President/CEO Sara Myers, the article also includes interviews with local parent and Torrance Council of PTAs Board Member Nanette Nolan; California State University, Dominguez Hills Professor Nancy Cheever; Mental Health America of Los Angeles' President and CEO Christina Miller; and local student Luke Antaky who participated in our teen focus group and spoke at our recent Heart to Heart Gala. The article also shares details and insights about the great work Torrance Unified School District is doing at the school level, including the recent screening of the documentary "LIKE."
---
L.A. Parent Magazine Feature
L.A. Parent Magazine editor Christina Elston recently interviewed President/CEO Sara Myers about our new focus on Youth Mental Health, the connection to screen time, and compassionate steps parents can take to begin addressing the issue. Click here to read the article.
---
Getting Ready for Operation Teddy Bear
Operation Teddy Bear has been one of our most popular programs for years... 25 years to be exact! Our sponsors love supporting the program, because it means their employees and members get to participate in our heart-warming volunteer opportunities.
We added two new items to the schoolbag last year based on teacher feedback: a Rekenrek Counter to assist the first graders with counting and a STEAM Engineering Kit to help them learn to build two- and three-dimensional shapes. Our friends at Keenan & Associates assembled these items last year as their Impact Day project, and after we saw how popular they were, we knew we had to find a way to include them again this year.
Over the past few weeks, these items were assembled by hard-working volunteers from our Affinity Group, Bank of America, Beacon House, California Water Service, John Deere, Kinecta, Moog, Rotary Club of Manhattan Beach, Sandpipers, Sun Chlorella, Torrance Refining Company and Valero. An extra special shout out to our friends at Saatchi & Saatchi and Colorgraphics for helping us cut the many sheets of craft foam for the Rekenreks!
---
Sorting Food, Stocking Shelves, Filling Bags
Food For Kids wouldn't be possible without generous donations from our community or our dedicated weekly volunteers who keep the program running so smoothly.
We recently hosted a kick-off party to acknowledge the hard work of our Food For Kids volunteers and celebrate a new year of helping local families in need! Volunteers and staff enjoyed breakfast and conversation together before deliveries were loaded and taken to our partner schools.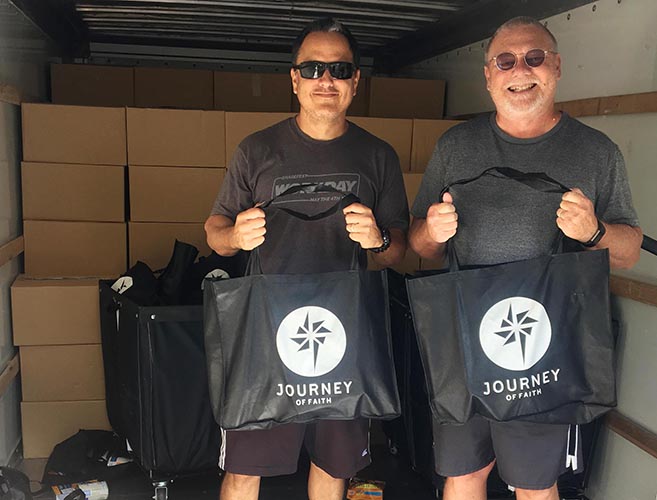 Our friends at Journey of Faith always go above-and-beyond to keep our shelves stocked by hosting a Pop-Up Pantry multiple times a year. Their recent donation contained 449 already-packed bags, plus an additional 366 pounds of food. Click here to see a video of the amazing volunteers hard at work alongside our staff member Jon as they move more than 4,450 pounds of food into the pantry!
We are currently in greatest need of veggies, pasta sauce and jelly (preferably not in glass containers). You can bring donations by our Torrance Office (1230 Cravens Ave.) Monday through Friday between 8:30 a.m. and 4:00 p.m. and leave them in the box in the lobby. Please contact us in advance to make arrangements to drop off donations from a food drive or other large collection. You can also purchase items from our Amazon Wish List and choose to have them shipped directly to us during check out!
Click here to learn more about Food For Kids, including an updated copy of our Shelf-Stable Shopping List, and learn about the latest Food For Kids donations by following us on Facebook, Instagram and Twitter!
---
Increasing Awareness and Helping Local Families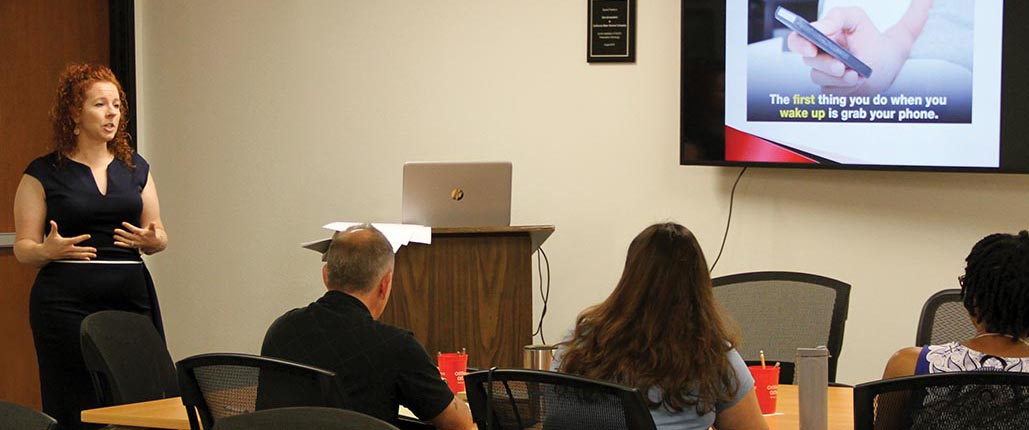 President/CEO Sara Myers presented Connected to Screens, Disconnected from Life: Helping Our Community Refocus on Improving Their Mental Health to members of the Torrance Area Chamber of Commerce in early September at the inaugural session of the Chamber's Wellness Plus series. The presentation covered details that we've learned through our research on the mental health crisis, including how screen time and social media addiction are contributing to the issue. Sara also shared suggestions to help the attendees address screen usage with their families and improve the mental, social and emotional wellness of the youth in their lives.
"Sara's presentation focusing on crucial issues facing today's families was informative, inspiring and thought-provoking," said Donna Duperon, the Chamber's President and CEO. "From depression to peer pressure and screen time to communication skills, our chamber members were educated on the issues and were able to take away valuable information to help them day-to-day."
We are also available to provide this training presentation to local companies who invest in on-going health and wellness enrichment for their employees. Please contact Liz Reinhardt, Director of Fund Development and Marketing, at events@volcenter.org or (310) 212-5009 for details and pricing.
---
The Impact of Screen Time and Social Media

More than 1,500 students and parents joined the Torrance Unified School District and Torrance Council of PTAs at four screenings of the documentary LIKE during the first week of school. Similar to how we listened to the community's needs with our new focus, the school district hosted this event after hearing the students' concerns about the stress and anxiety caused by social media. Dr. Kati Krumpe, the school district's Chief Academic Officer, opened the event by dedicating it to the students. She also said, "We hope today's screening starts a conversation about ways we can work together to help our students deal with the many challenges facing them today."
Following the documentary, a four-person panel responded to questions from the audience. Each panel included two high school students, a mental health practitioner, and our President/CEO Sara Myers discussing things such as finding more balance, leading by example, creating buy-in as a family, open communication, and what parents can do from the students' perspective.
Nannette Nolan from the Torrance Council of PTAs said that it was also "a great opportunity to help parents bridge that divide... [and] understand what students are really facing" in the world today. Click here to watch Torrance CitiCable's coverage of the LIKE documentary screening and the panel discussion that followed, including interviews with Sara Myers and parent/Board Member Roseanney Liu.
---
Helping One Another Over a Delicious Meal
We were so glad to see so many familiar faces stop by to help Urban Plates prepare for the Grand Opening of their new Torrance location last week! It was equally wonderful to watch so many people have engaging, screen-free conversations around the table while enjoying their donation-based, pre-opening meals.
We also joined with local community representatives at a ribbon-cutting event as we officially welcomed Urban Plates "to the Boulevard" (to quote Torrance Mayor Patrick Furey!). In addition to Mayor Furey, Torrance City Council Members George Chen, Mike Griffiths and Geoff Rizzo; Torrance Area Chamber of Commerce's President and CEO Donna Duperon; and field representatives for both Assemblymember Al Muratsuchi and Senator Ben Allen welcomed and congratulated the Urban Plates team.
---
The Affinity Group's Commitment to Kindness
Members of the Affinity Group work together throughout the year on fundraisers and projects that support the efforts of the Volunteer Center. The group was originally founded in 2005 to help Operation Teddy Bear with both financial and volunteer contributions, and they have also embraced other Volunteer Center programs over the years with kindness and enthusiasm. We feel extremely lucky to have such a wonderful group of women supporting us "at the heart of helping," and are grateful to them for recently providing annual contributions toward both Operation Teddy Bear and the new Youth Mental Health programs!
---
Empowering Young Women in Long Beach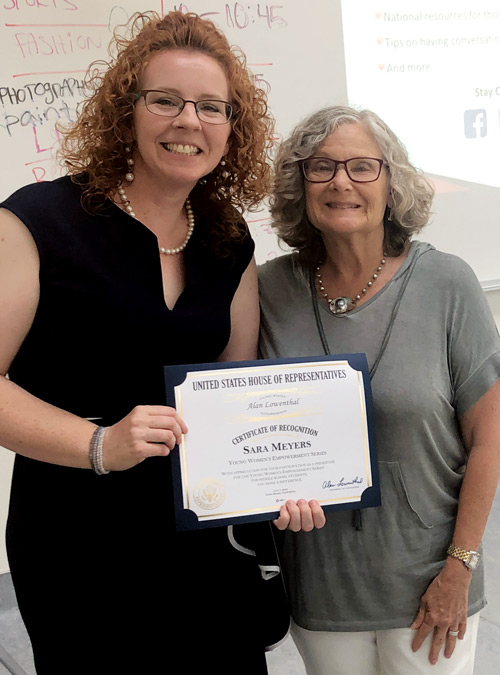 President/CEO Sara Myers spoke with sixth and seventh grade girls about the impact of screen time and social media on their mental health in early July. The girls shared their struggles around the pressure to look perfect online, how screen time is affecting their sleep habits, and asked questions about identifying anxiety and depression. The presentation was part of Congressman Lowenthal's Women's Empowerment Series and was presented through Long Beach's city-wide WRAP (Winners Reaching Amazing Potential) Program. At the conclusion of the presentation, Sara received a Certificate of Recognition from Helene Ansel on behalf of Congressman Lowenthal in recognition of her efforts.
---
An Evening of Heartwarming Moments
Nearly 200 members of the community joined us for an evening celebrating kindness, empathy, compassion and mindfulness at our Heart to Heart Gala on Saturday, June 15. As guests arrived to the expansive space inside CRAFTED at the Port of Los Angeles, we invited them to take their chances on the silent auction and other games, giving them the opportunity to go home with a variety of fun-filled items, experiences, trips, bottles of wine, and baskets filled with something for everyone - all supporting our new Youth Mental Health programs. Guests could also celebrate the evening's theme - and share it widely - by taking a photo at the "Kindness & Empathy Photo Booth," learn more about our programs, and see the display of recent honors from the City of Torrance, Supervisor Janice Hahn, Assemblymember Al Muratsuchi and Congressman Ted Lieu.
As everyone took their seats for dinner, current Board Chair Lynne Neuman and incoming Board Chair Brenda Williams welcomed guests and invited them to join in a meaningful moment and enjoy the feeling of being unplugged, centered and connected. They also publicly honored the five local high school graduates selected to receive Durfee Family Scholarships (see more below) and thanked the event's major sponsors. President/CEO Sara Myers took the podium to talk about the organization's history and future, as she described the planned programs that will help youth, families and the community look up from devices, reconnect, and practice more kindness toward themselves and others, followed by local teens Luke Antaky and William Brandt sharing their thoughts on the new teen program.
Auctioneer John Kunkle hosted a lively and exciting live auction featuring five exciting packages and a bidding war for a Havana Nights-themed party in a private home. Then, you could hear a pin drop as Jason Reid shared how he lost his son to suicide in March 2018, one week after he turned 14. Jason spoke about his passionate vision to end teen suicide by the year 2030, and his support for the Volunteer Center's work and new programs. Community members were also encouraged to pledge their support for our new programs, which many did quite generously. Finally, Dr. Vernon Williams revealed that Steve and Khryste Griswold won the popular 52-Card Draw prize - a trip to San Diego - before we invited all the guests to the dance floor.
The Heart to Heart Gala was generously sponsored by Torrance Refining Company; ActivePDF, Inc.; California Water Service; Chevron; Griswold & Griswold Insurance Agency; Torrance Memorial; Continental Development Corporation; The South Bay Bar Association; Torrance Community Credit Union; The Hans and Dianne Bozler Trust; Steven A. Kovary, CPA and Company; and the Friends & Family of Sara Myers. Click here for complete details, including a list of auction donors, wine donors and additional supporters. Click here for videos of the evening's remarks.
---
Five Durfee Family Scholarships Awarded
Every year, the Volunteer Center awards Durfee Family Scholarships to local high school seniors to assist them with the cost of classes, books and materials during their first year of college. The scholarship fund was established in 1988 thanks to a generous endowment gift made by the late Ev Durfee, who was a longtime supporter and member of the Volunteer Center's Board of Directors.
After reviewing applications from dozens of dedicated, deserving and resilient college-bound students, the following five students were selected to receive $1,000 Durfee Scholarships in recognition of their commitment to their academic endeavors, while dedicating time to serving their communities. Each recipient also maintained a positive attitude while overcoming adversity. We were proud to honor each of them at the Heart to Heart Gala, and we wish all them success as they embrace their bright futures ahead!
Jazmin Cuevas is graduating from Phineas Banning High School. She will attend the University of California, Los Angeles, where she plans to study sociology and become a teacher.
Karla Diego is graduating from Hawthorne High School. She will attend the University of California, Los Angeles, where she plans to study English.
Erika Morales is graduating from North Torrance High School. She will attend California State University, Fullerton, where she plans to study nursing science.
Janilka Nettle-Salazar is graduating from San Pedro High School. She will attend California State University, Long Beach, where she plans to study biology as a pre-med student.
Julianna Pelayo is graduating from Leuzinger High School. She will attend California State University, Long Beach, where she plans to study environmental engineering.
---
The Volunteer Center is a participant of the UCommunity - UPrinting Sponsorship Program.