Please Note: The Court Referred Community Service Offices are CLOSED until further notice, and all HAM classes are POSTPONED until further notice. Click here for details.
All guests must wear masks and practice social distancing when visiting the Volunteer Center. In addition, we ask that you do not enter the building if you are experiencing symptoms of respiratory illness, including fever or cough.
---
Our New Focus and How We're Engaging Hearts and Minds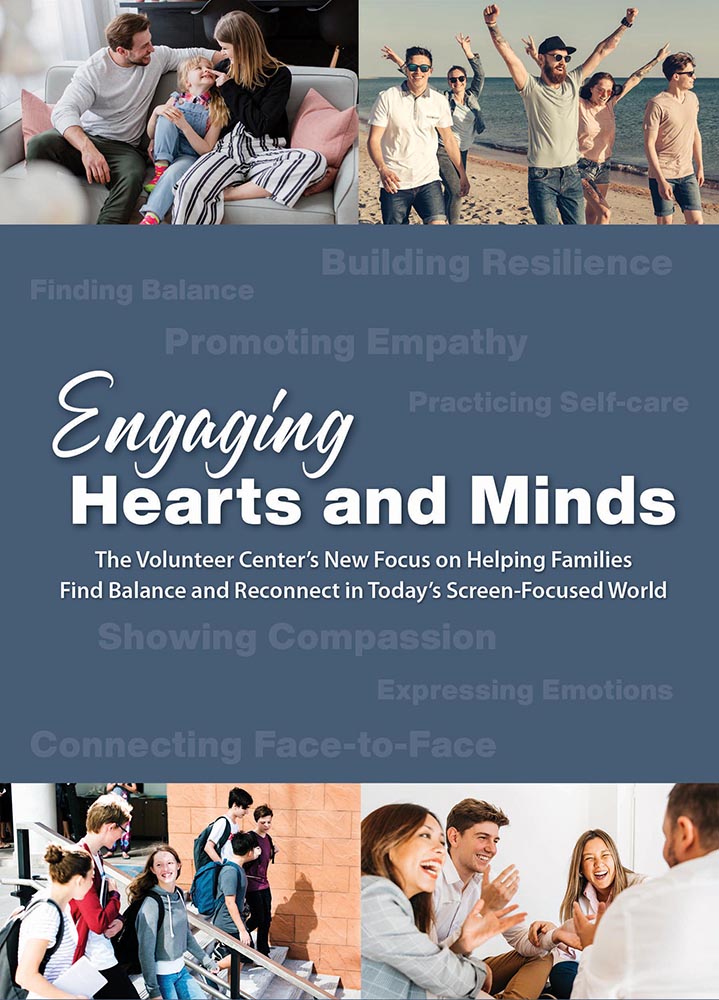 Three years ago, when we began our strategic planning process to identify the community's current needs, we never imagined the severe crisis we would find. Many of you have shared stories about the youth you know, the heart-wrenching pain they are facing, and how their suffering is affecting both their families and the community.
While there are many factors contributing to youth mental health crisis, we are focusing on the top issues identified by our community: excessive screen time and social media addiction, combined with the inescapable pressure to be perfect at all costs. Click here to learn more about our new focus, including how we enlisted the community's input, the feedback we heard, and our progress.
We are now working on turning all of that information and experience into programs for local youth and families with the help of mental health practitioners. We've also updated our existing programs to focus on building empathy and identifying feelings. We're calling this all-encompassing approach Engaging Hearts and Minds and you can learn more here.
Stay up-to-date on our progress by joining our general email list and/or interest lists for the Teen and Parent Education programs.
Find Helpful Resources | Learn about our Community-wide Education
---
Student Scholarship & Contest News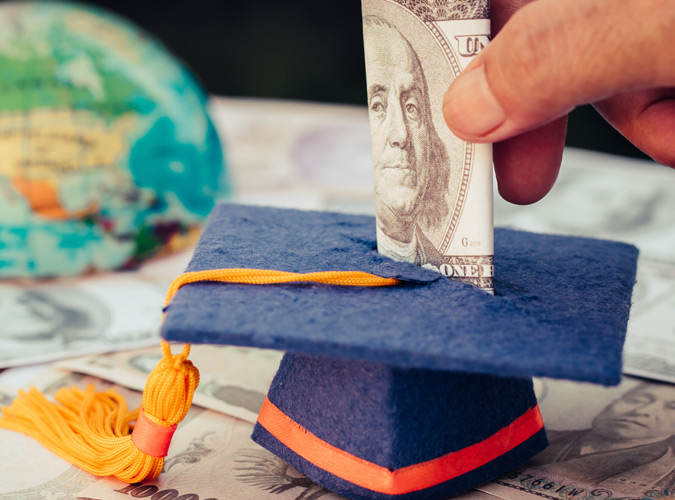 Do you know a high school senior in the South Bay, Long Beach or Harbor area who overcame personal challenges while still finding time to make a positive contribution to their community? Encourage them to apply for our annual Durfee Family Scholarship! Five local high school seniors will be selected to receive a scholarship to assist them with their first year of college. Click here to download the application form, which includes detailed instructions on how to apply, and please note that the application deadline has been extended to Monday, June 15!
South Bay students can also win one of three prizes as part of Torrance Unified School District's Stop the Stigma Campaign 2020 Student Poster and Video Contest! The poster or video submission should illustrate, interpret and emphasize the theme of Mental Health Awareness Month - to reduce the stigma of accessing mental health services and promote wellness. Students are encouraged to focus either generally on wellness, reducing stigma about mental health, or on a high risk group. The contest is open to all open to all South Bay students and entries are due by Sunday, May 31. Click here and then click on Mental Health Awareness Month for complete details.
---
Food For Kids Funding and Beyond
When schools closed and we began making special arrangements with school staff so we could continue to help local families in need, we also saw an increased need for our weekly bags of food as a result of the COVID-19 crisis. That's when we began reaching out to our partners and supporters like you to help us meet the needs of those families - and you did!
We are thrilled to announce that our friends at Bank of America are also helping us as we continue to meet that need with a $15,000 grant for Food For Kids! In sharing the news, Raul A. Anaya, Bank of America Market President for Greater Los Angeles, said: "The Coronavirus has created new challenges for kids and families ranging from greater food insecurity to physical and behavioral health needs, which makes organizations like Volunteer Center so important to support."
Photo taken last year prior to COVID-19: Bank of America's Small Business Banking Team for the South Bay and Long Beach with their dental supply donation for Operation Teddy Bear.
We have also received support for Food For Kids from the Kroger Foundation Co., in partnership with Ralph's operating division, and the Sempra Energy Foundation's COVID-19 Nonprofit Hardship Fund.
We are extremely grateful for these new opportunities to join together and make a difference in our community, but it is really your support that allows us to continue to fulfill our mission. As nearly every nonprofit organization struggles with the impact of COVID-19, we are more grateful than ever for each and every one of our donors and supporters.
We recently updated the donor page on our website to recognize the generous gifts we've received throughout the 2019-2020 fiscal year. Click here to look it over and make sure we acknowledged you correctly - please email us and let us know if any corrections need to be made! You can also join this growing list (or move up a level!) by making a gift to support our programs, new focus or greatest need.
---
Support of Food For Kids Continues
We are grateful to the members of our community who continue to help us keep our pantry shelves stocked with donations to our Food For Kids program!
The Fram Girls G05 SOSA Soccer Team hosted a food drive resulting in more than 500 pounds of food, and they contributed 27 encouragement cards for the families we serve as well!
The Holt Family returned with a new donation - nearly 100 pounds, including many of the items we need most: breakfast foods, canned veggies, sauce and jelly in non-breakable containers!
Our friends at Journey of Faith have been scheduling weekly drop-offs in lieu of their usual quarterly Spring donation, due to social distancing requirements, and they've still managed to deliver nearly 1,500 pounds of food so far!
Board Member Roseanney Liu donated nearly 150 pounds of our most-needed items as well!
Shari Markus-Kennel donated more than 50 pounds of food!
Food For Kids volunteers Sheila Millman, Joe Millman and Leslie Back coordinated financial and food donations through Hadassah Socal L'Dor V'Dor Chapter and Congregation Ner Tamid's Sisterhood and Tikun Olam Committee. They dropped off 225 pounds of food and more than $1,300 in donations for Food For Kids!
Our friends at Sandpipers have also stepped up to help us keep our pantry stocked. Their members have been scheduling weekly drop-offs, donating nearly 200 pounds of food so far. Special thanks to our friend and Sandpipers member Laura Stotland of South Bay Mommies and Daddies for giving us and Sandpipers' efforts a special shout out on social media!
We are still accepting non-perishable food donations during this time. However, along with requiring masks and social distancing, we also require appointments to drop off your donations. Click here for complete details on our temporary food donation procedures, our Shelf-Stable Food Shopping List and more!
---
Celebrating Torrance Volunteers & Community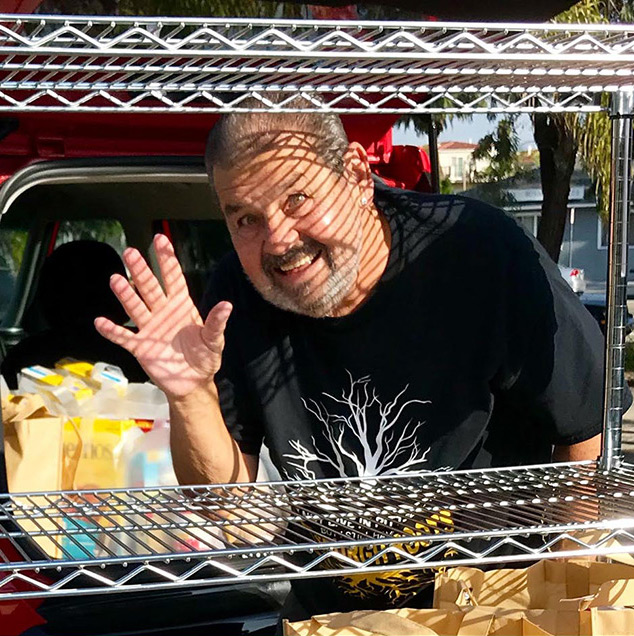 We are proud to congratulate our friend and extremely dedicated volunteer, Bob Habel, for receiving one of this year's Older American Awards from the City of Torrance and the Commission on Aging and Community Services. The award is given annually to Torrance volunteers who go above-and-beyond to help in the community, and that certainly describes Bob!
The City of Torrance is also putting together a series of Public Service Announcements (PSAs) highlighting Torrance Cares Connections in our community. Our staff and Food For Kids volunteers were thrilled to take part, showing how we "take care of those in need." Click here to watch the first PSA and see if you can find us. Hint: Look for the big, red heart!
We are so grateful for everything that our Food For Kids volunteers do to help us serve families in need through our partner schools. While our older volunteers are remaining safe in their homes right now, we look forward to the day we can see their smiling faces in our pantry once again!
---
Apply for our new Teen Program, Connecting IRL
We are accepting applications for our NEW Teen Program, Connecting IRL (In Real Life)! If you know a teen who is struggling with screen time and wants a safe space to connect with others in real life, where they can share their thoughts and feelings, encourage them to apply for this new, first-of-its-kind program for high school sophomores, juniors and seniors.
Taught by Evan Papadakis, LCSW - a local, licensed mental health professional - the program will be held on five Saturdays, 2:00-4:00 p.m., this Spring* (except the first session, ending at 4:30 p.m.) at the Volunteer Center in Torrance.
To apply, interested teens should complete the online application for one of the limited openings.
We understand that it's difficult to consider various programs and events right now, in light of COVID-19 and the uncertainty of in-person activities in the near future.
If you know a teen who would be interested in participating in the program, please encourage them to apply. Applying does not obligate teens to participate. However, it does give them priority consideration, and they will be the first to know when the new dates are scheduled.
Click here for complete details, a link to the online application, and a list of FAQs that include details about our COVID-related modifications.
---
More Screenings of the Documentary LIKE

We recently partnered with the CARS Foundation to present a screening of the documentary LIKE, followed by a discussion panel at Leuzinger High School. More than 100 students, parents and school staff - 98% of whom reported owning a cell phone/smartphone - attended the event to learn more about the impact of screen time and social media on our lives.

The panel, moderated by President/CEO Sara Myers, featured high school student Roberto Hernandez, parent Henry Martinez, District Social Worker Kevin Brown, Social Work Intern Kelly Lovejoy, and Associate Principal Jose Varela. Student Roberto Hernandez said the film portrayed the issue well. He admitted that he uses his phone before bed and has noticed how it affects his ability to get enough sleep. Associate Principal Jose Varela said the film definitely hit home, since he's the father of a teenager, and he shared that a vast majority of the conflicts at the school are caused by something someone said or saw on social media.
UPCOMING SCREENINGS
The planned Long Beach and Torrance screenings of the documentary LIKE - originally scheduled for April 29 and May 8 - have been postponed due to the suspension of community activities and school district closures. We will continue to update you about the screenings as details evolve.
---
Celebrating Community Support with Urban Plates
Earlier this month, our friends at Urban Plates presented members of our Board and staff with a check for $9,000 - the total donations contributed through our community partnership during the trio of pre-opening events in Torrance, Manhattan Beach and Long Beach!
This feel-good story and donation was made possible by YOU - our wonderful community - who joined us "at the heart of helping" as we welcomed Urban Plates to the community! Your donations support our programs, and at the same time, you helped their teams prepare for the three restaurant openings. Special thanks to everyone at Urban Plates for selecting us for this partnership, and helping more local families enjoy healthy meals and conversations around the table. You can see coverage of the recent check presentation on last week's episode of Torrance Citi CABLE's This Week in Torrance.
---
Honored with a Service Award from TCPTA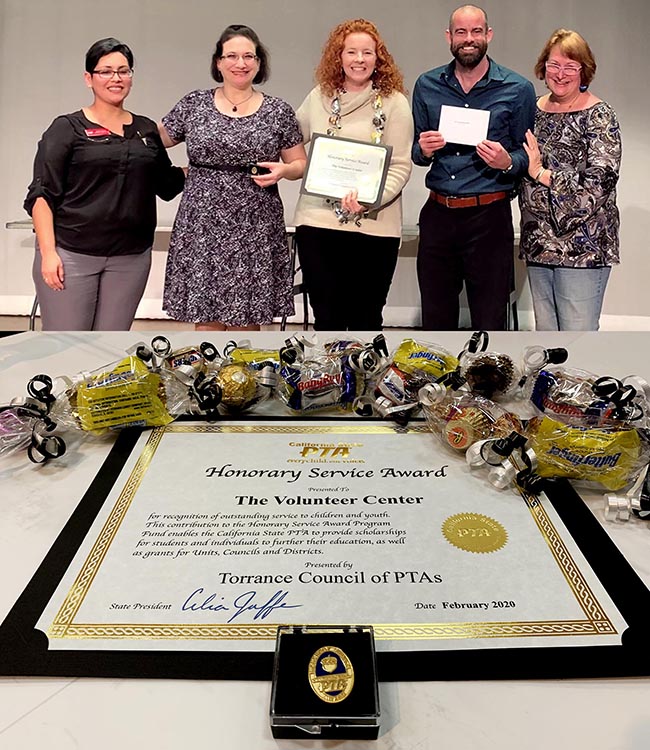 The Torrance Council of PTAs announced that the Volunteer Center was selected as one of this year's Honorary Service Award recipients at their February meeting. All of the recipients, including our wonderful community partners at Journey of Faith, will be celebrated at the Honorary Service Awards Dinner in March.
Council President Denise Spellman shared: "The Volunteer Center epitomizes this special award and serves as an inspiration for all you have accomplished in and around the South Bay. We are thrilled to honor your 50 years of devoted service to those in need and excited to see what your latest projects (mental health awareness and screen time education) will yield."
This award is the highest honor given by the PTA organization, recognizing an individual or organization for outstanding service to the students and families in the community - in pursuit of better things for all of us - according to Honorary Service Award Chair, Nannette Nolan, who was also featured in the Daily Breeze/Press Telegram article on our new focus last fall. We are honored to join the distinguished list of recipients, which reads like a 'Who's Who' of Torrance, and we are grateful to Council Board Member Cindy Shields for nominating us!
---
Operation Teddy Bear's 25th Anniversary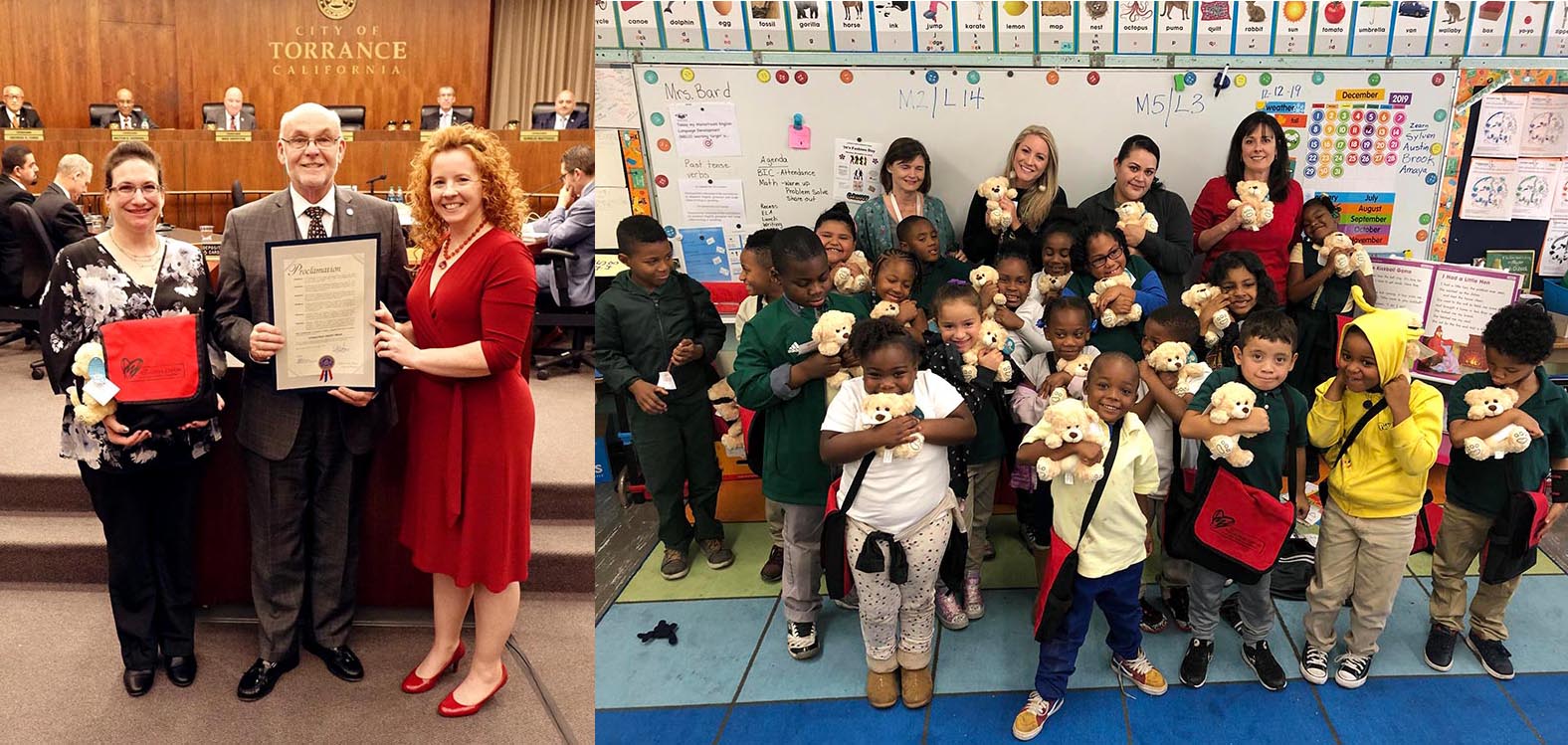 We recently celebrated Operation Teddy Bear's 25th Anniversary at a Torrance City Council Meeting, where Mayor Pat Furey presented the Volunteer Center with a proclamation honoring this momentous occasion, the program's impact and our continued service to the community (thanks to so many of you)!

President/CEO Sara Myers thanked the City for their ongoing support and specifically acknowledged the Economic Development Department for the way they support and connect businesses in Torrance, which also led to a beautiful example of the community-wide effort and impact that makes Operation Teddy Bear possible.

Thanks to a new relationship with the Sares Regis Group, all of this year's Operation Teddy Bear preparation and packing activities took place in a fantastic, donated warehouse space conveniently located in Torrance - right up the road from the Volunteer Center. Members of the Sares Regis team also volunteered at our packing event, visited schools to help teach our signature lesson in kindness and identifying emotions, and distributed the bags they helped pack!
---
Lessons in Empathy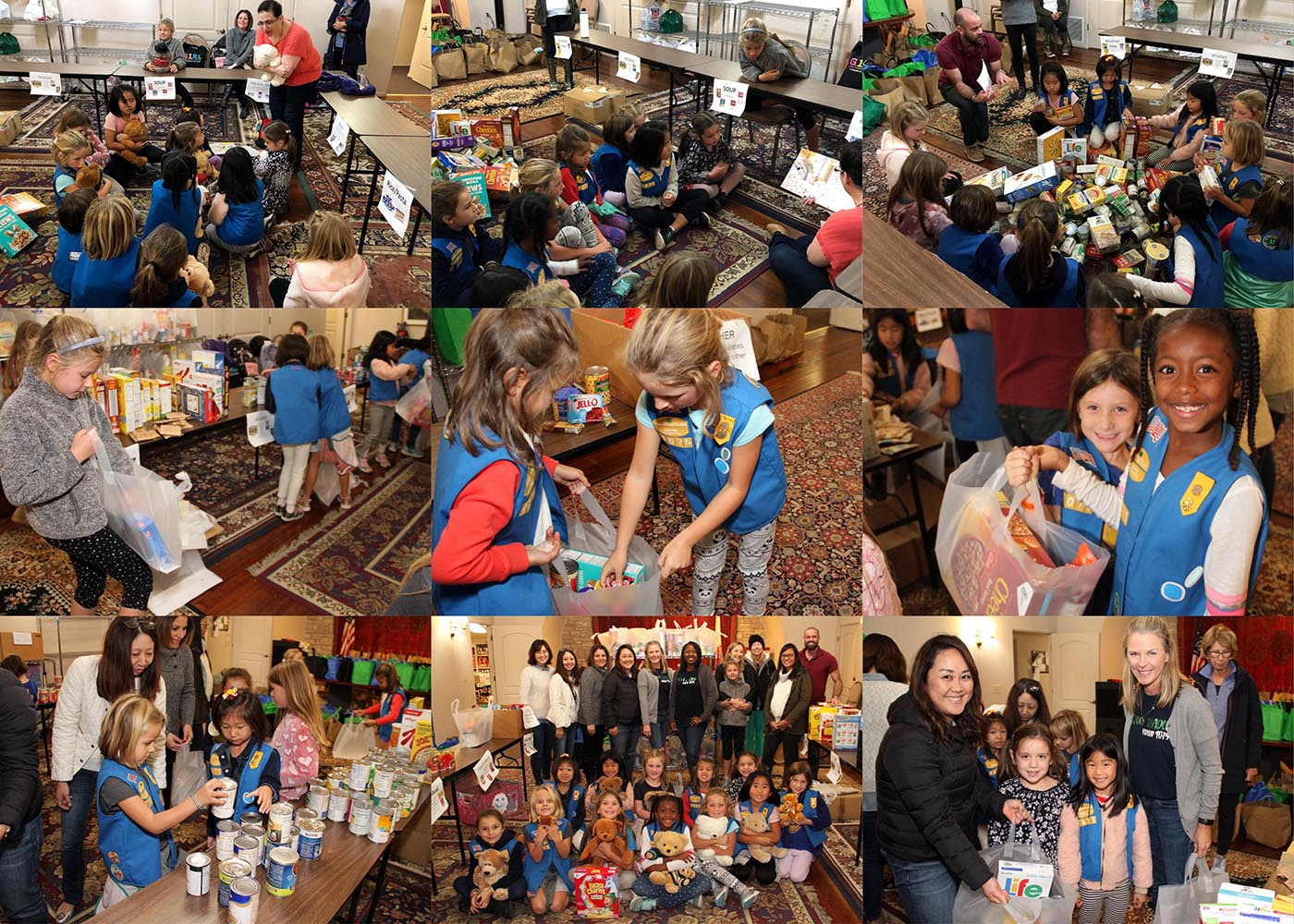 We recently hosted a group of Daisy Scouts from Torrance's Girl Scout Troop 9075 to participate in a new addition to our popular volunteer-driven programs aimed at increasing empathy and resilience in local youth. When the troop visited the Volunteer Center, we talked with the first graders about how we help local students their age through Operation Teddy Bear, which included a hands-on demonstration of one of the program's in-class exercises - hugging bears, taking deep breaths and talking about our feelings!

We then introduced them to Food For Kids by reading "Maddie's Fridge" by Lois Brandt, taking a tour of the pantry, talking about how it feels to be hungry, and relating those feelings to the families we help through the program. The visit ended with another hands-on activity - packing bags of food, and an opportunity for the girls to pick out what went into each bag in order to create meals for the families we serve.

The girls and their moms (and one grandmother!) helped us pack 75 bags, and everyone left with a greater sense of empathy, understanding and tools they can use to calm their worries. It was a truly heart-warming experience for everyone involved!
---
Local News Feature
Our new focus and the programs we're developing to help with the youth mental health crisis were recently featured in the Daily Breeze and Long Beach Press-Telegram!
In addition to our President/CEO Sara Myers, the article also includes interviews with local parent and Torrance Council of PTAs Board Member Nanette Nolan; California State University, Dominguez Hills Professor Nancy Cheever; Mental Health America of Los Angeles' President and CEO Christina Miller; and local student Luke Antaky who participated in our teen focus group and spoke at our recent Heart to Heart Gala. The article also shares details and insights about the great work Torrance Unified School District is doing at the school level, including the recent screening of the documentary "LIKE."
---
L.A. Parent Magazine Feature
L.A. Parent Magazine editor Christina Elston recently interviewed President/CEO Sara Myers about our new focus on Youth Mental Health, the connection to screen time, and compassionate steps parents can take to begin addressing the issue. Click here to read the article.
---
An Evening of Heartwarming Moments
Nearly 200 members of the community joined us for an evening celebrating kindness, empathy, compassion and mindfulness at our Heart to Heart Gala on Saturday, June 15. As guests arrived to the expansive space inside CRAFTED at the Port of Los Angeles, we invited them to take their chances on the silent auction and other games, giving them the opportunity to go home with a variety of fun-filled items, experiences, trips, bottles of wine, and baskets filled with something for everyone - all supporting our new Youth Mental Health programs. Guests could also celebrate the evening's theme - and share it widely - by taking a photo at the "Kindness & Empathy Photo Booth," learn more about our programs, and see the display of recent honors from the City of Torrance, Supervisor Janice Hahn, Assemblymember Al Muratsuchi and Congressman Ted Lieu.
As everyone took their seats for dinner, current Board Chair Lynne Neuman and incoming Board Chair Brenda Williams welcomed guests and invited them to join in a meaningful moment and enjoy the feeling of being unplugged, centered and connected. They also publicly honored the five local high school graduates selected to receive Durfee Family Scholarships (see more below) and thanked the event's major sponsors. President/CEO Sara Myers took the podium to talk about the organization's history and future, as she described the planned programs that will help youth, families and the community look up from devices, reconnect, and practice more kindness toward themselves and others, followed by local teens Luke Antaky and William Brandt sharing their thoughts on the new teen program.
Auctioneer John Kunkle hosted a lively and exciting live auction featuring five exciting packages and a bidding war for a Havana Nights-themed party in a private home. Then, you could hear a pin drop as Jason Reid shared how he lost his son to suicide in March 2018, one week after he turned 14. Jason spoke about his passionate vision to end teen suicide by the year 2030, and his support for the Volunteer Center's work and new programs. Community members were also encouraged to pledge their support for our new programs, which many did quite generously. Finally, Dr. Vernon Williams revealed that Steve and Khryste Griswold won the popular 52-Card Draw prize - a trip to San Diego - before we invited all the guests to the dance floor.
The Heart to Heart Gala was generously sponsored by Torrance Refining Company; ActivePDF, Inc.; California Water Service; Chevron; Griswold & Griswold Insurance Agency; Torrance Memorial; Continental Development Corporation; The South Bay Bar Association; Torrance Community Credit Union; The Hans and Dianne Bozler Trust; Steven A. Kovary, CPA and Company; and the Friends & Family of Sara Myers. Click here for complete details, including a list of auction donors, wine donors and additional supporters. Click here for videos of the evening's remarks.
---
The Volunteer Center is a participant of the UCommunity - UPrinting Sponsorship Program.