Please Note: The Court Referred Community Service Offices are now open with limited resources.
Hospital and Morgue (HAM) Program Update: Hospital classes have resumed with limited availability, but the Morgue portion of the program is still postponed until further notice. Click here for more information.
All guests must wear masks and practice social distancing when visiting the Volunteer Center. Plexiglas barriers have been added for everyone's safety. In addition, we ask that you do not enter the building if you are experiencing symptoms of respiratory illness, including fever or cough.
---
Our New Focus and How We're Engaging Hearts and Minds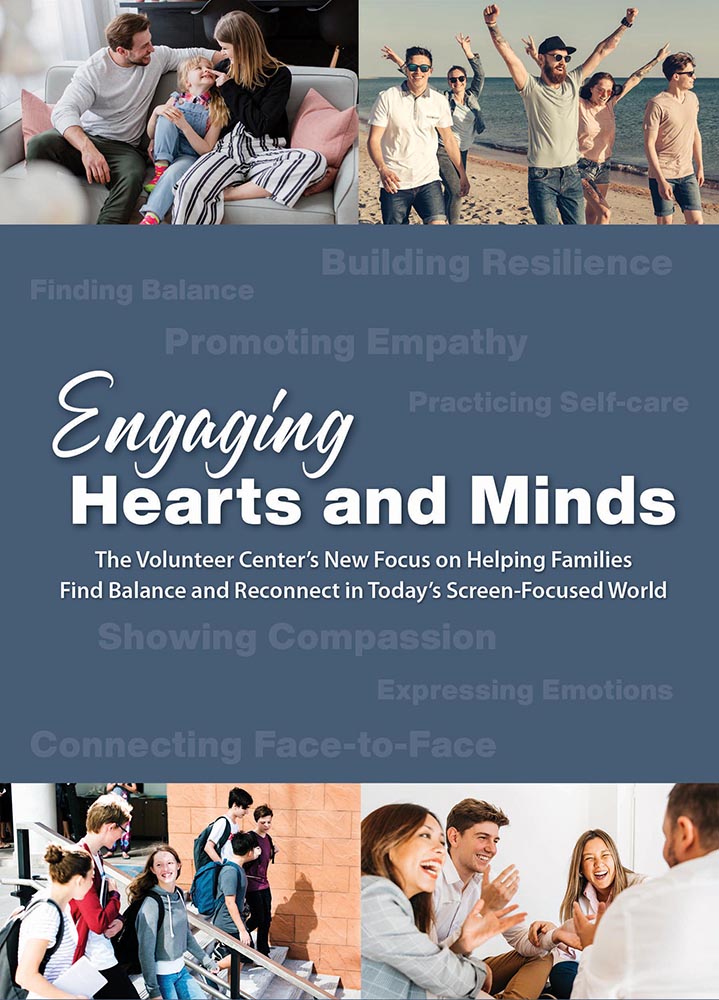 Three years ago, when we began our strategic planning process to identify the community's current needs, we never imagined the severe crisis we would find. Many of you have shared stories about the youth you know, the heart-wrenching pain they are facing, and how their suffering is affecting both their families and the community.
While there are many factors contributing to youth mental health crisis, we are focusing on the top issues identified by our community: excessive screen time and social media addiction, combined with the inescapable pressure to be perfect at all costs. Click here to learn more about our new focus, including how we enlisted the community's input, the feedback we heard, and our progress.
We are now working on turning all of that information and experience into programs for local youth and families with the help of mental health practitioners. We've also updated our existing programs to focus on building empathy and identifying feelings. We're calling this all-encompassing approach Engaging Hearts and Minds and you can learn more here.
Stay up-to-date on our progress by joining our general email list and/or interest lists for the Teen and Parent Education programs.
Find Helpful Resources | Learn about our Community-wide Education
---
New Downtown Torrance Partnerships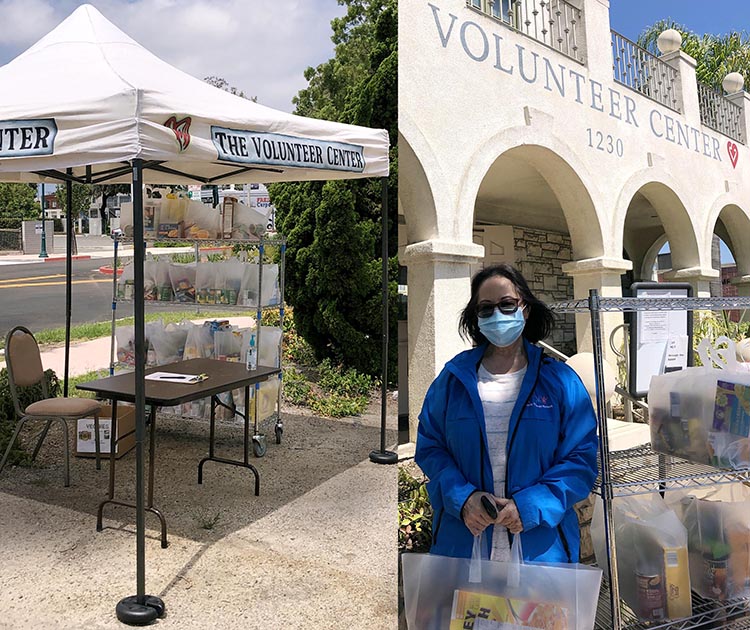 We are excited to announce new program partnerships to help local youth and families!
We recently began working with our friends and Downtown Torrance neighbors at Pediatric Therapy Network (PTN) to help feed families in their programs through Food For Kids. PTN has identified the families who need extra support, and each week, these families visit a special drive-thru to pick up weekend meals with the help of PTN's Charlene Nishimura and her husband Chris!
"We are so thankful to the Volunteer Center for providing our families with much needed food donations through their Food For Kids Program," PTN's CEO, Terri Nishimura, shared. "The Volunteer Center is working with our Early Head Start and our Early Intervention Program, Leaps and Bounds. These programs serve our youngest clients - newborns, babies and toddlers. This is especially helpful during these challenging times and also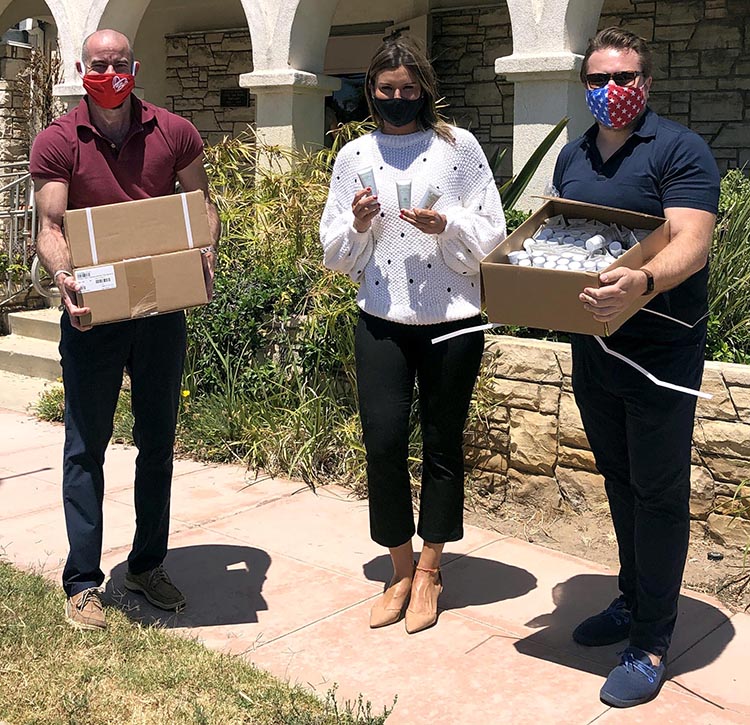 because many older children are getting meals from their schools but the families with babies and toddlers may not be. Thanks to the Volunteer Center, 30 families a week do not have to worry about missing a meal. We are very thankful to the support and generosity of our neighbor and friends at the Volunteer Center."
Another Downtown Torrance neighbor, Sunrider International, recently offered us boxes of their Kandesn® Hand Cleansing Gel to help the youth and families we serve. We are so grateful for their generosity - to us and the other the local nonprofits they supported with this kind act - as well as the work they do to keep communities healthy and safe!
---
Helping Families Learn Together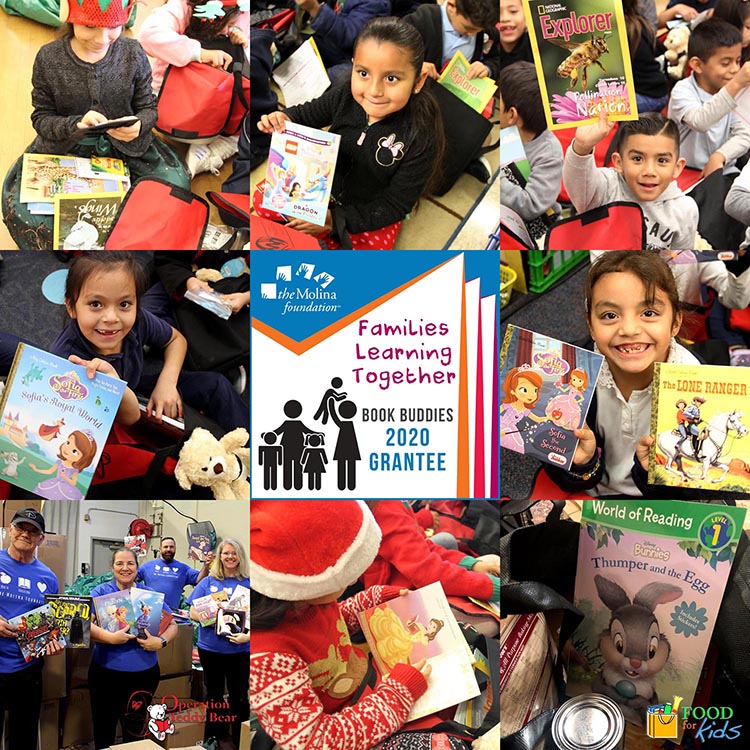 Our friends at the Molina Foundation have played a huge role in helping us promote literacy through Operation Teddy Bear for the past 15 years, and now we can add support for Food For Kids to this partnership! They've provided National Geographic Explorer Magazines for BOTH of our programs as part of their Book Buddies 2020 program, "Families Learning Together," in addition our annual book grant for Operation Teddy Bear!
This year's Book Buddies efforts are designed to help the families we serve connect through reading and learning during the summer and back-to-school season as the COVID-19 pandemic continues. They have provided more than 1.5 million books and magazines nationwide to community partners like us!
The photos above show last year's Operation Teddy Bear school visits, including the National Geographic Explorer Magazines we obtained through the magazine's partnership with First Book... we simply paid for shipping. This year, thanks to a generous grant provided to the Molina Foundation, the shipping fees for everything in our book/magazine grant have been covered - allowing us to make a greater impact together - and we are so grateful!
---
Welcoming New Board Members
We are thrilled to announce that seven community members joined our Board of Directors at the beginning of our new fiscal year in July! Each one brings both a wealth of expertise and a strong background of community support:
Eliana Ayala, Kinecta Federal Credit Union
Heather Black Goyan, Retired Real Estate Professional
Paula Cox-Marshall, Retired TV and Radio Account Executive
Betty C. Lieu, Esq., Torrance Unified School District
Renee Moilanen, Environmental Consultant
Sandy Mukai-Kim, Human Resources Professional
Diane Strickfaden, City of Redondo Beach
Click here for a list of all our dedicated and compassionate board members. We are so grateful to our board for supporting everything we do to increase empathy and resilience in local youth and families!
---
Families Feeding Families

We are grateful to the members of our community who are essential in helping us feed local families-in-need with donations to our Food For Kids program!
Risa Auger of Torrance donated a much-needed case of canned vegetables!
Girl Troop 70755 of Manhattan Beach donated 16 pounds of food along with a financial contribution of $250. We were also thrilled to learn that since the troop's leader works for Hulu, the $250 donation was matched dollar-for-dollar by the LA-based media company!
Cara Greene, Michele Inaba, and Ryan and Mason Kramer - all members of H.O.P.E. (Helping our Planet Everyday) - arranged appointments to drop off a total of 175 pounds of food they collected!
Our friends at Journey of Faith contributed nearly 400 pounds of food and some helping hands in the pantry - in a socially-distant manner!
Staff Member Liz Reinhardt and her family donated 60 pounds of food.
In their continuing effort to keep our pantry stocked, the wonderful Sandpipers members contributed another 300 pounds of food in the last month, including lots of canned veggies!
The student members of South Bay Food Initiative returned to donate another 342 pounds of food!
We are currently accepting much-needed food donations by appointment only to ensure everyone's safety. Click here to learn about our temporary donation procedures, download our non-perishable food Shopping List, find a link to our Amazon Wish List to have donations shipped directly to us, and more!
---
Channeling Our Inner Superhero
Some people wear their hearts on their sleeves... right now, we're wearing ours on our faces.
Our goal at the Volunteer Center is to instill empathy and resilience in youth and families. Empathy - the ability to understand and feel what another person is experiencing from within their frame of reference - is really just the capacity to place oneself in another's position. Add resilience to that - the ability to recover quickly from difficulties (or uncomfortable situations) - and the entire act of wearing a mask requires both empathy and resilience.
We must set ourselves aside, and instead, imagine how hospitalized COVID-19 patients feel; how our essential workers feel; how our seniors feel; how our doctors and nurses feel; how our teachers feel; and how our fellow high-risk colleagues, friends and family feel. Then, when we truly understand and listen to their experiences and fears, the only compassionate thing to do is to respond with kindness and gratitude by putting on a mask and maintaining social distance.
It's not an act for us. We do it to protect THEM and to show THEM that we are thankful that they take care of us when we're sick, save our lives, deliver items to our home, keep our offices and medical centers clean, keep our banks running, teach and care for our children, keep us safe, and help us keep food on our table.
Let's teach our children that real super heroes have big hearts and always wear masks. Join us and mask up. In doing so, you are literally saving lives... just like a real superhero!
Need to help your kids adapt to wearing masks? Check out these tips from BIAS Behavioral Interventions and Solutions. We obviously love the idea of putting a mask on a teddy bear!
Like the heart mask pictured above? We'd love your feedback!
Complete this survey to help us think about how we might encourage people to wear their hearts on their faces, and embrace one of the many ways to show kindness, empathy and resilience!
---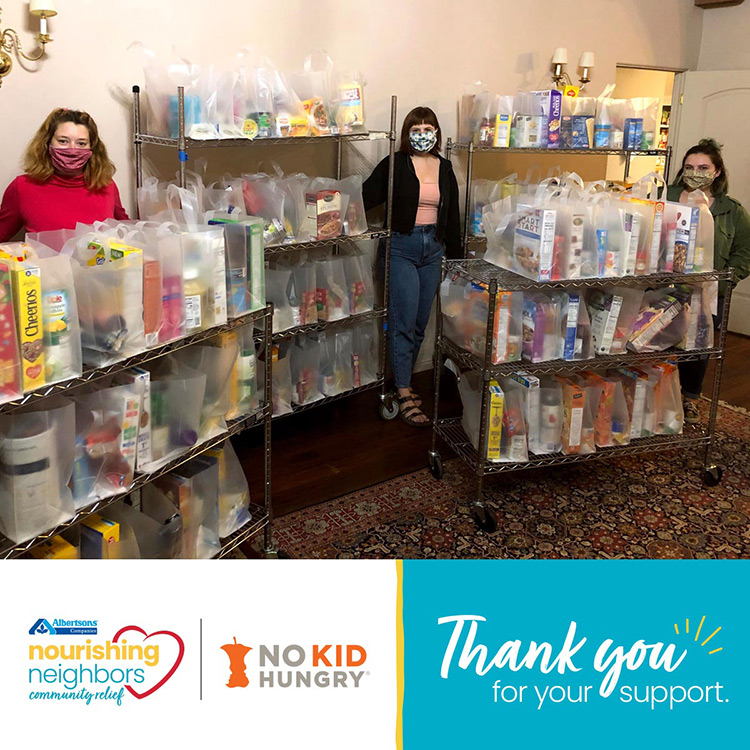 New Community Partnerships
We are so grateful when companies and organizations join us "at the heart of helping" to support youth and families in the local community! We recently received a generous grant from No Kid Hungry and the Albertsons Companies Foundation in support of Food For Kids, making us part of the "Nourishing Neighbors" family. A national campaign focused on ending childhood hunger, No Kid Hungry was launched in 2010 by Share Our Strength, a nonprofit with a long history of successfully investing in local nonprofits and helping find the best approaches to eradicating poverty and hunger, and we are proud to be one of their newest program partners!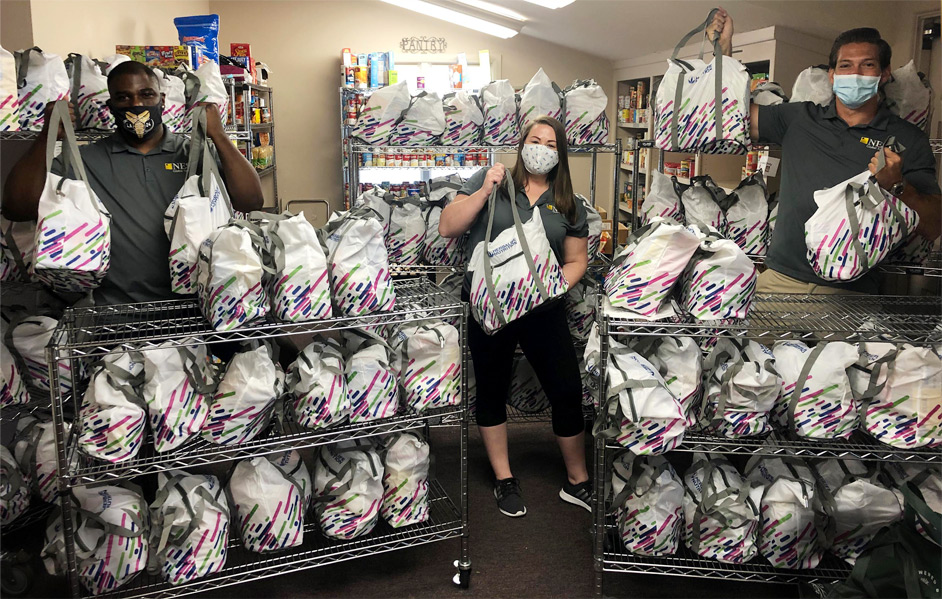 We are also excited to welcome the West Coast team at NES Global Talent as our newest Corporate Sponsor for Operation Teddy Bear! Members of the team had an opportunity to join us, while maintaining social distance, as they learned more about our work and helped us pack bags for our weekly Food For Kids distributions, and we look forward to additional opportunities to make a difference together in the coming year. Click here to learn more about Operation Teddy Bear sponsorship opportunities.
---
Help Us Receive a Matching Grant
Do you have a Donor Advised Fund? If so, you could help us win a matching grant of up to $25,000! Every grant we receive from a Donor Advised Fund or Community Foundation - together with a commitment to #HalfMyDAF - increases our chances of being among the 150 nonprofits selected at the end of September.
Simply make a grant contribution to us through your Donor Advised Fund, which will help us as we support local youth and families, and then click here to complete the #HalfMyDAF commitment form and attach the grant confirmation before September 30.
#HalfMyDAF was created to encourage people with DAFs to make grants now, so that nonprofits can do their jobs as they work harder than ever through the uncertainties created by COVID-19. Click here to learn more.
---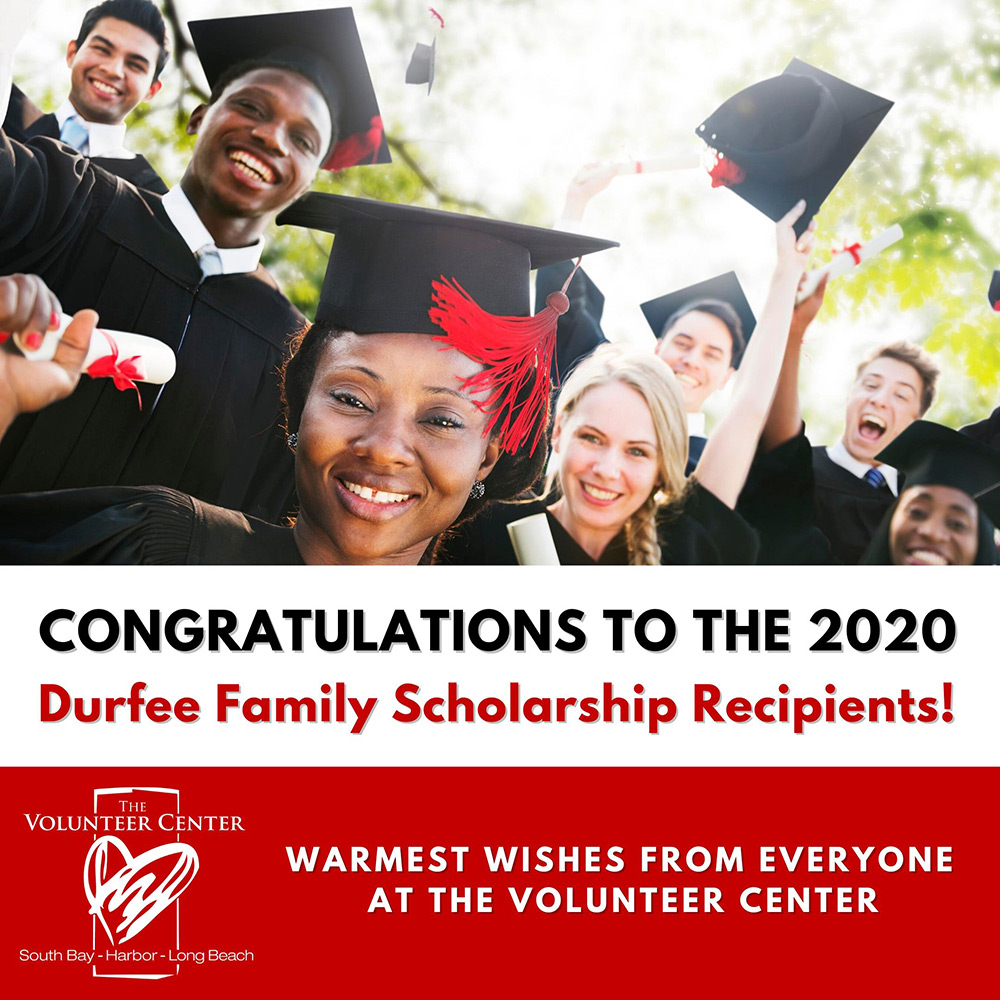 Durfee Scholarship Recipients
We are delighted to share that nine dedicated and resilient college-bound students, listed below, recently received Durfee Family Scholarships! These local teens will each receive a $1,000-2,000 scholarship in recognition of their commitment to their academic endeavors, while dedicating time to serving their communities and maintaining a positive attitude, while overcoming adversity.
The Volunteer Center awards Durfee Family Scholarships to local high school seniors each year to assist them with their first year of college. The scholarship fund was established in 1988 thanks to a generous endowment gift made by the late Ev Durfee, who was a longtime supporter and member of our Board of Directors.
We wish this year's Durfee Family Scholarship recipients - and the entire Class of 2020 - our heartfelt congratulations and warmest wishes as they embrace their bright futures ahead!
Brianna Baker graduated from Redondo Union High School and will be attending the University of California, Irvine.
Stephanie Bautista graduated from Leuzinger High School and will be attending Mount Saint Mary's University.
Kailah Cathey graduated from Leuzinger High School and will be attending Howard University.
Mia Elliott graduated from Chadwick School and will be attending the University of California, Los Angeles.
Jalen Fisher graduated from Bishop Montgomery High School and will be attending the University of California, Riverside.
Julia Hsieh graduated from South Torrance High School and will be attending University of California, Berkeley.
Irene Kim graduated from North Torrance High School and will be attending the University of California, Los Angeles.
Savannah Torella graduated from Port of Los Angeles High School and will be attending the University of California, Los Angeles.
Anh Tran graduated from Leuzinger High School and will be attending the University of California, San Diego.
---
Emotions, Questions, Empathy and Kindness
It's been difficult for us to figure out what to post about what's going on right now, so we looked to one of our heroes - Mr. Rogers. Learn the story behind the images to the right here.
To our neighbors throughout the South Bay, Harbor and Long Beach communities, we know you are feeling a variety of emotions right now and your children may be asking questions, so we've gathered a few resources to help you.
We encourage you to focus on empathy and kindness in any conversation you may have, because as Mr. Rogers also said, "In times of stress, the best thing we can do for each other is to listen with our ears and our hearts and to be assured that our questions are just as important as our answers."
Anti-Racist Resources from the Greater Good Science Center, including past pieces that explore the potential to reduce prejudice in society and in ourselves
---
Making Strides with Your Support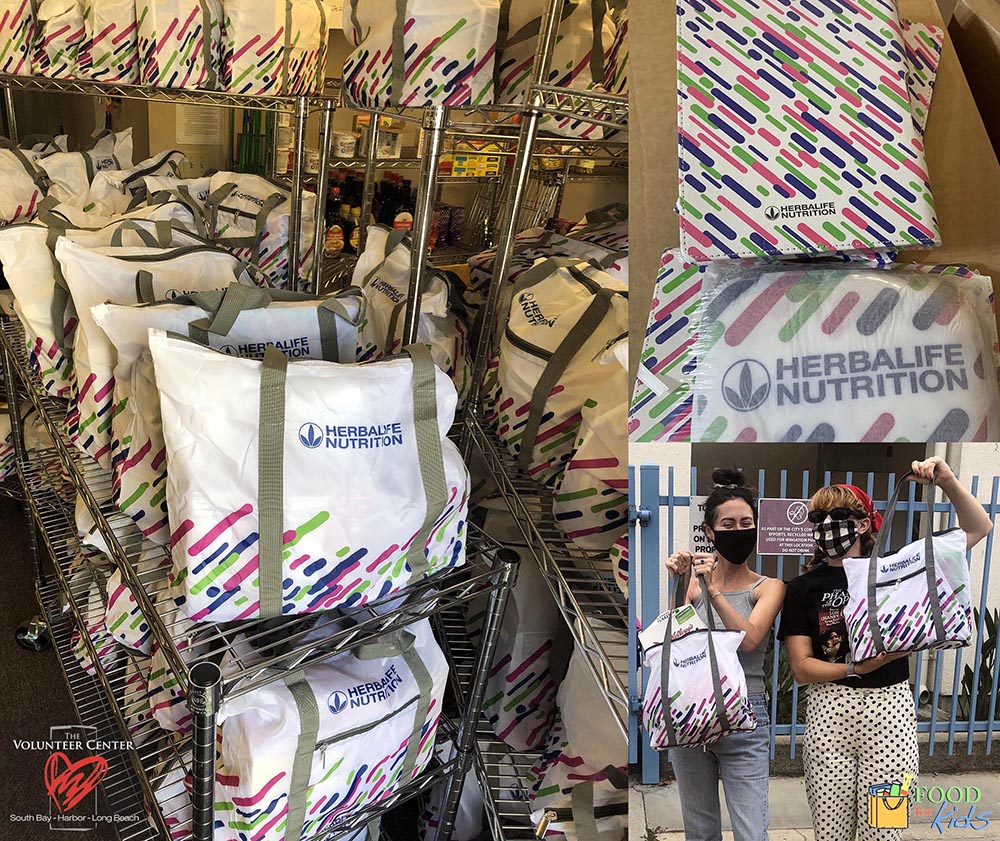 As you can imagine, being able to help families-in-need right now - thanks to the continued generosity of our community - has definitely been a bright spot for us.
We truly couldn't have done it without you, so we wanted to take a moment to thank each and every one of you who has made generous donations over the past few months. This includes a few local organizations we have yet to acknowledge for supporting our efforts: Girl Scout Troop 70755, Hermosa Beach Kiwanis Club, Hermosa Friends Foundation and South Bay Junior Woman's Club - we thank you!
We are also grateful for the renewed support of a number of our major sponsors, including our friends at Chevron, Port of Long Beach, Torrance Memorial, and the Rudolph J. and Daphne A. Munzer Foundation. This year, the Munzer Foundation took COVID-19 and the immediate needs of their community partners into account when they made their funding decisions. We applaud the initiative they've shown in providing support where it's needed most!
In the midst of all of this, we're excited to share that our second year as a Casa Herbalife partner is now underway! In addition to generous grant funding for Food For Kids, this partnership connects us with an amazing group of people from Herbalife Nutrition and the Herbalife Nutrition Foundation who are so supportive of the local community, especially when it comes to childhood nutrition. As an added bonus, some of the families we serve will receive food in the wonderful, reusable Herbalife bags pictured above, as well as coordinating notebooks, which we hope they will use to write about their feelings and emotions.
---
Kind Acts: Providing Masks and More
We love seeing examples of kindness and compassion in our community everywhere we turn, and we continue to see them daily! A huge thank you to our friends at the Molina Foundation and SCORE Sports in Wilmington for donating reusable face masks for the families we serve through Food For Kids. When we began distributing the masks with our weekly bags of food, some of the families told us that they already had masks, so they would rather leave the donated masks for the families who truly need them... kindness and compassion abound - right when we need it most!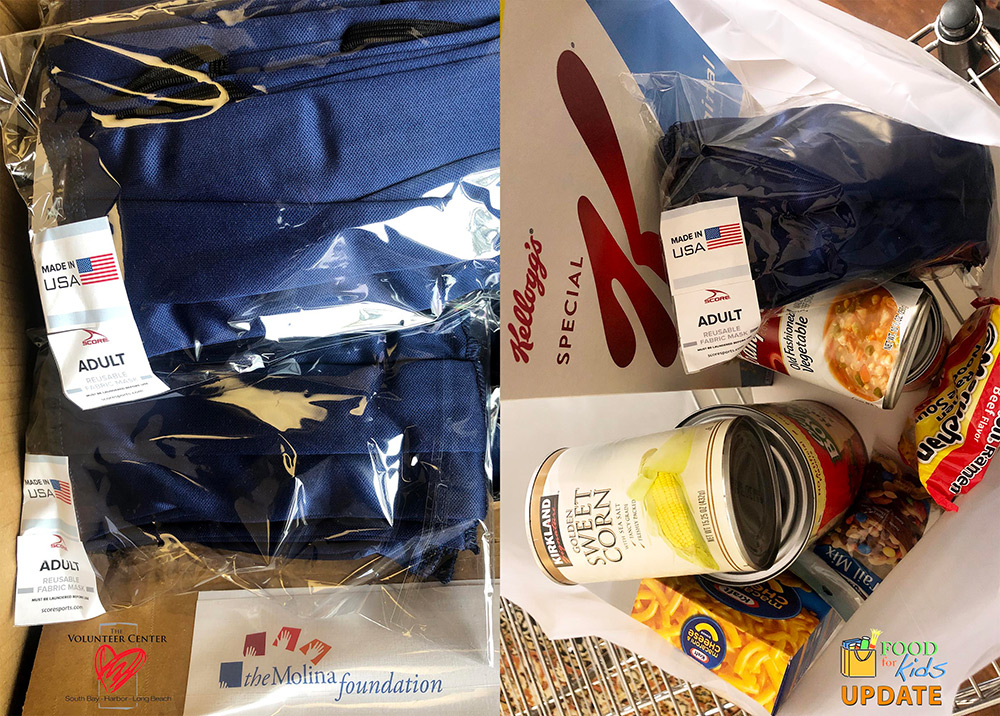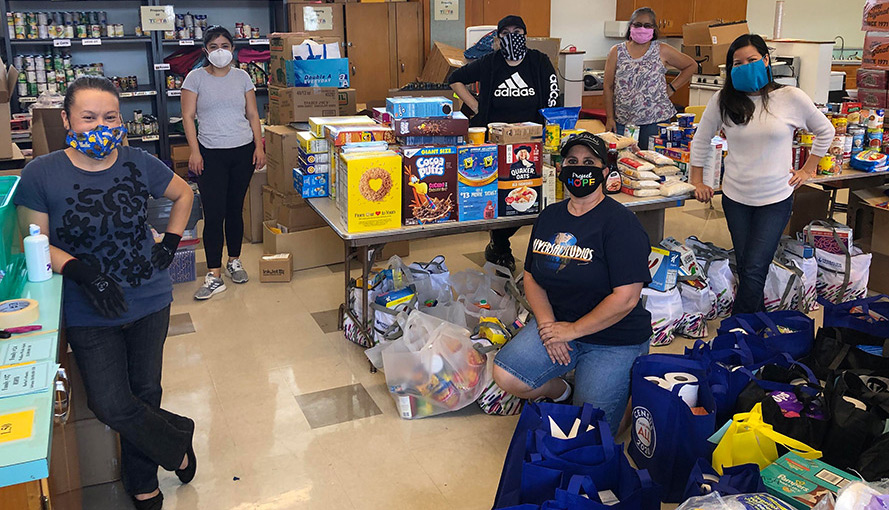 We were also delighted to be able to once again join Torrance Unified School District's Building Bridges Collaborative and Torrance Council of PTAs' Project Hope as they prepared and provided supply boxes filled with non-perishable food, school supplies and hygiene products to the district's homeless families earlier this month. We contributed another 30 bags of food and the helping hands of our volunteers, plus we passed along some of the Herbalife bags and notebooks, as well as some of the donated masks, showing that making a difference together is at the heart of what we do!
---
Honored with TPCTA's Annual Service Award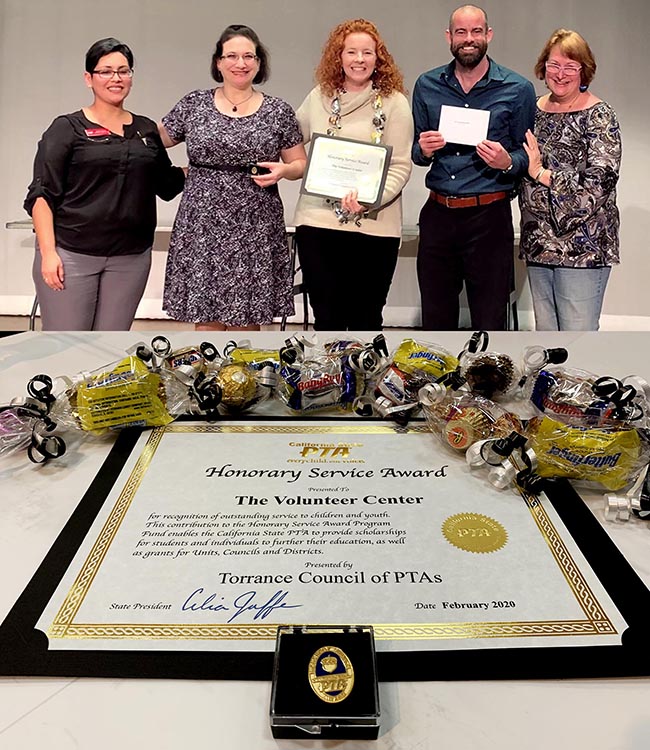 We are excited to share that we were selected as one of this year's Torrance Council of PTAs Honorary Service Award recipients, which was announced at their February meeting! Council President Denise Spellman said, "The Volunteer Center epitomizes this special award and serves as an inspiration for all you have accomplished in and around the South Bay. We are thrilled to honor your 50 years of devoted service to those in need and excited to see what your latest projects (mental health awareness and screen time education) will yield."
The Council had planned to celebrate the recipients - including our wonderful community partners at Journey of Faith - at the Honorary Service Awards Dinner in March. Instead, we had a socially-distant visit from Council Board Member Cindy Shields in the Spring. She delivered some of the items we would've received at the dinner, including beautiful artwork by student Zoe Y.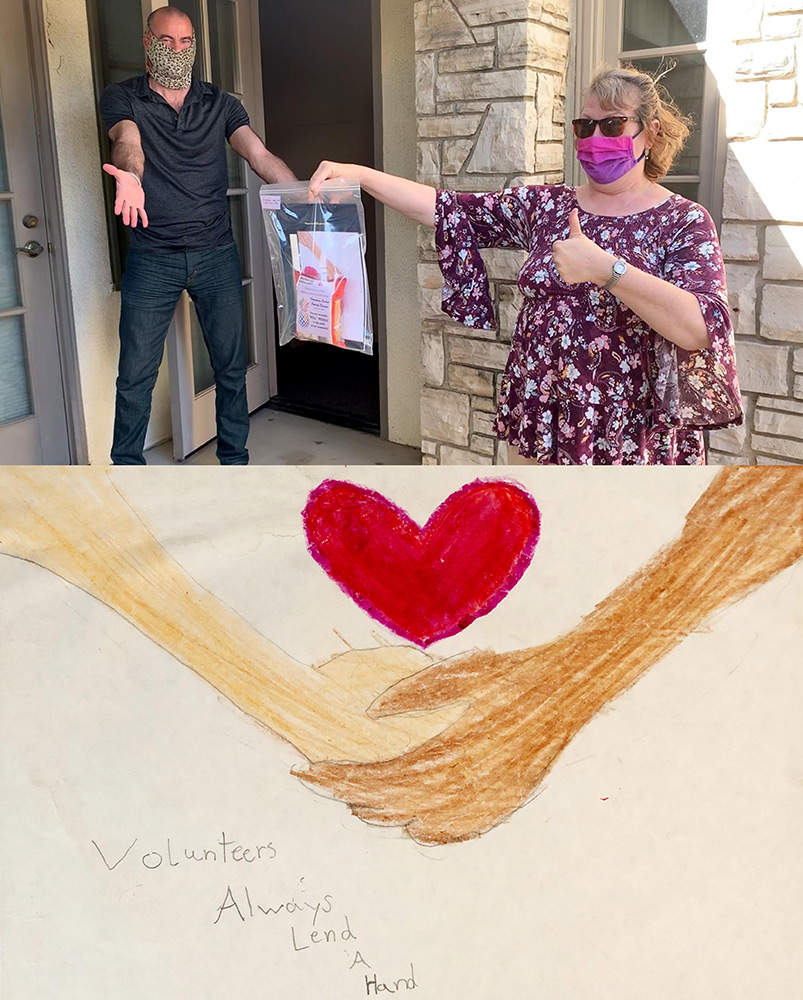 (pictured), which was going to be part of our table's centerpiece at the event, as well as Certificates of Recognition from Congressman Ted Lieu, Senator Ben Allen, the City of Torrance, and the Torrance Unified School District Board of Education.
This award is the highest honor given by the PTA organization, recognizing an individual or organization for outstanding service to the students and families in the community - in pursuit of better things for all of us - according to Honorary Service Award Chair, Nannette Nolan, who was also featured in the Daily Breeze/Press Telegram article on our new focus last fall. We are honored to join the distinguished list of recipients, which reads like a 'Who's Who' of Torrance, and we are grateful to Cindy Shields for nominating us. We look forward to many more years of working together to help the students and families in our community!
---
Food For Kids Funding and Beyond
When schools closed and we began making special arrangements with school staff so we could continue to help local families in need, we also saw an increased need for our weekly bags of food as a result of the COVID-19 crisis. That's when we began reaching out to our partners and supporters like you to help us meet the needs of those families - and you did!
We are thrilled to announce that our friends at Bank of America are also helping us as we continue to meet that need with a $15,000 grant for Food For Kids! In sharing the news, Raul A. Anaya, Bank of America Market President for Greater Los Angeles, said: "The Coronavirus has created new challenges for kids and families ranging from greater food insecurity to physical and behavioral health needs, which makes organizations like Volunteer Center so important to support."
Photo taken last year prior to COVID-19: Bank of America's Small Business Banking Team for the South Bay and Long Beach with their dental supply donation for Operation Teddy Bear.
We have also received support for Food For Kids from the Kroger Foundation Co., in partnership with Ralph's operating division, and the Sempra Energy Foundation's COVID-19 Nonprofit Hardship Fund.
We are extremely grateful for these new opportunities to join together and make a difference in our community, but it is really your support that allows us to continue to fulfill our mission. As nearly every nonprofit organization struggles with the impact of COVID-19, we are more grateful than ever for each and every one of our donors and supporters.
We recently updated the donor page on our website to recognize the generous gifts we've received throughout the 2019-2020 fiscal year. Click here to look it over and make sure we acknowledged you correctly - please email us and let us know if any corrections need to be made! You can also join this growing list (or move up a level!) by making a gift to support our programs, new focus or greatest need.
---
Celebrating Community Support with Urban Plates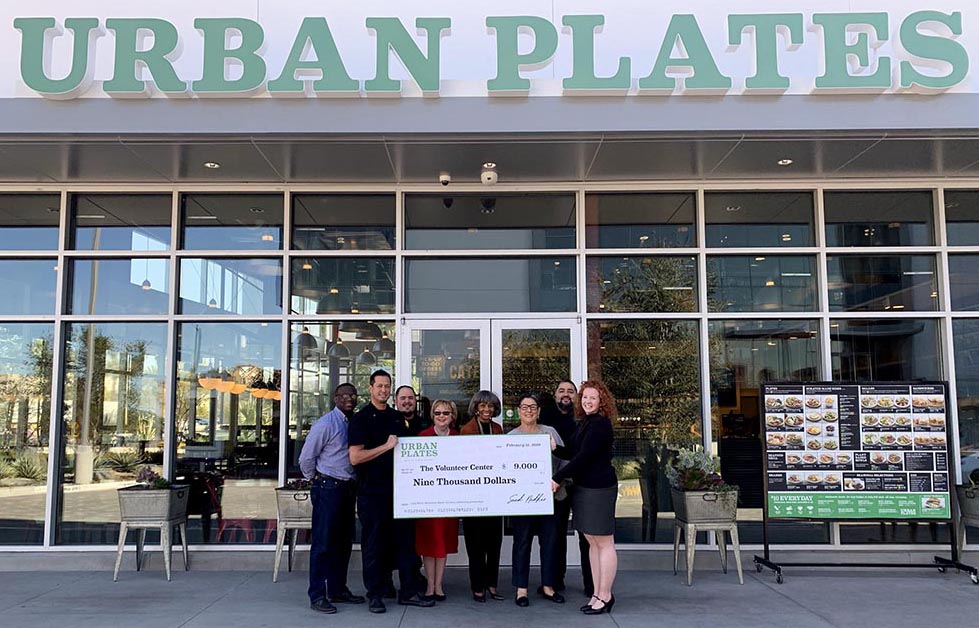 Earlier this year, our friends at Urban Plates presented members of our Board and staff with a check for $9,000 - the total donations contributed through our community partnership during the trio of pre-opening events in Torrance, Manhattan Beach and Long Beach!
This feel-good story and donation was made possible by YOU - our wonderful community - who joined us "at the heart of helping" as we welcomed Urban Plates to the community! Your donations support our programs, and at the same time, you helped their teams prepare for the three restaurant openings. Special thanks to everyone at Urban Plates for selecting us for this partnership, and helping more local families enjoy healthy meals and conversations around the table. You can see coverage of the recent check presentation on last week's episode of Torrance Citi CABLE's This Week in Torrance.
---
Operation Teddy Bear's 25th Anniversary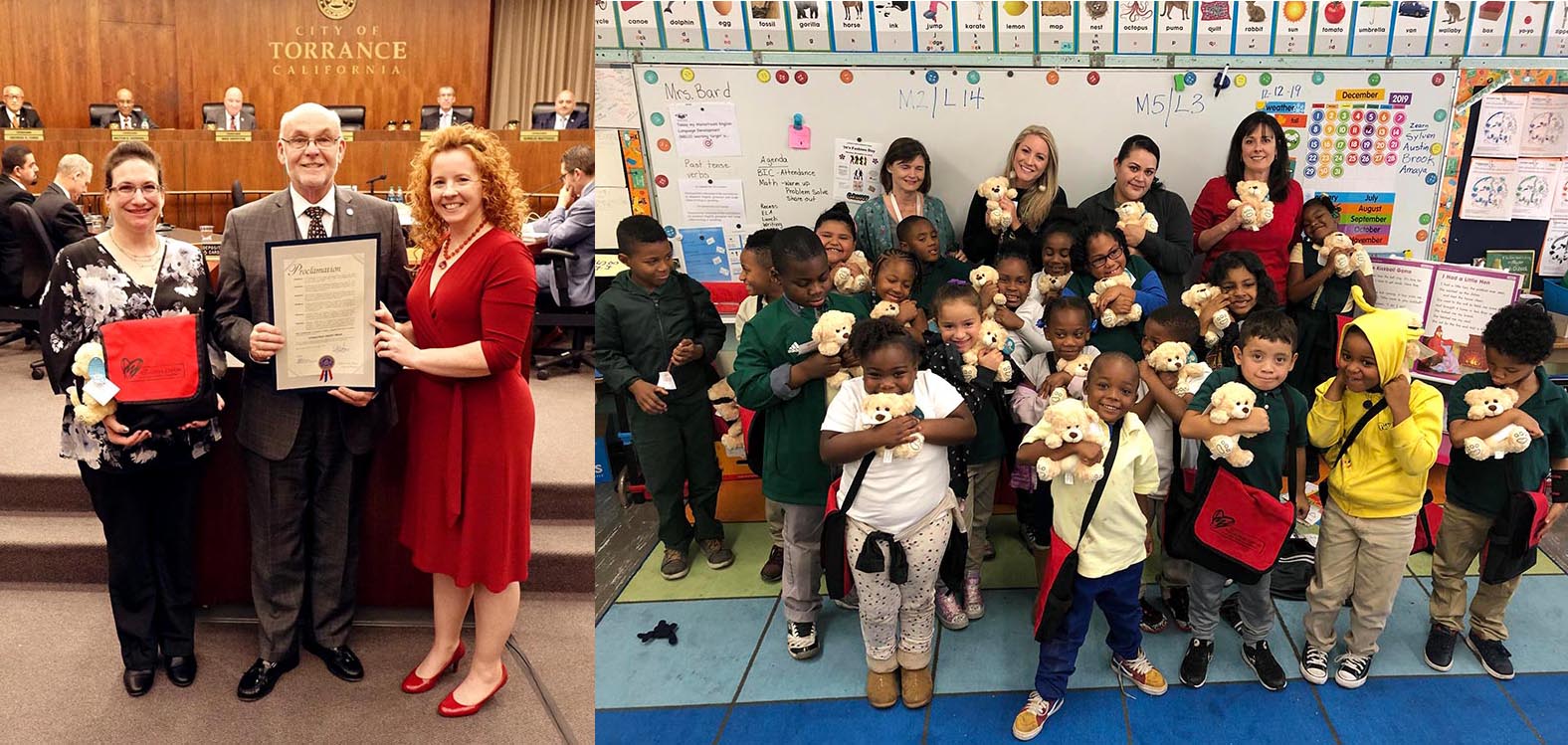 We recently celebrated Operation Teddy Bear's 25th Anniversary at a Torrance City Council Meeting, where Mayor Pat Furey presented the Volunteer Center with a proclamation honoring this momentous occasion, the program's impact and our continued service to the community (thanks to so many of you)!

President/CEO Sara Myers thanked the City for their ongoing support and specifically acknowledged the Economic Development Department for the way they support and connect businesses in Torrance, which also led to a beautiful example of the community-wide effort and impact that makes Operation Teddy Bear possible.

Thanks to a new relationship with the Sares Regis Group, all of this year's Operation Teddy Bear preparation and packing activities took place in a fantastic, donated warehouse space conveniently located in Torrance - right up the road from the Volunteer Center. Members of the Sares Regis team also volunteered at our packing event, visited schools to help teach our signature lesson in kindness and identifying emotions, and distributed the bags they helped pack!
---
Lessons in Empathy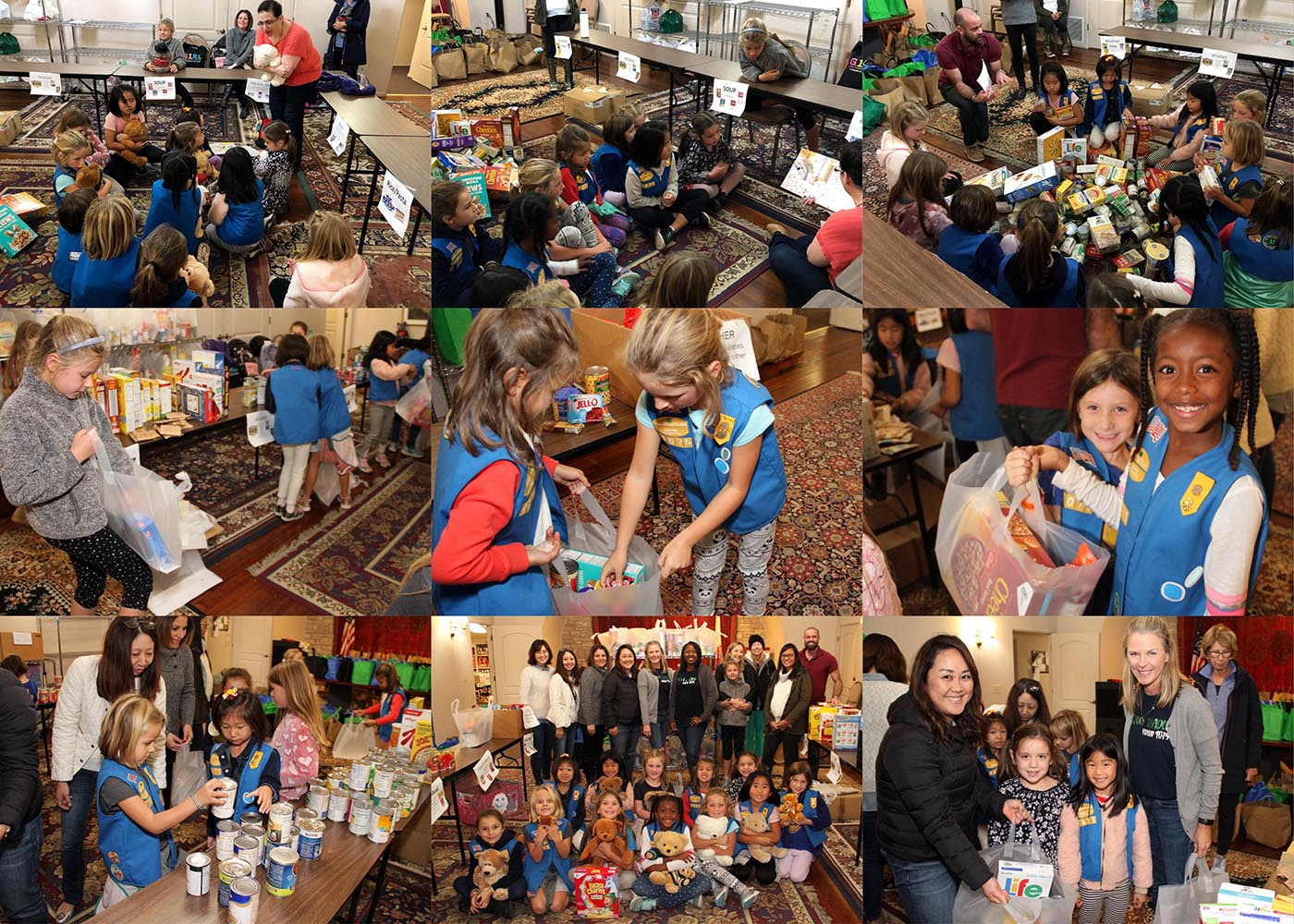 We recently hosted a group of Daisy Scouts from Torrance's Girl Scout Troop 9075 to participate in a new addition to our popular volunteer-driven programs aimed at increasing empathy and resilience in local youth. When the troop visited the Volunteer Center, we talked with the first graders about how we help local students their age through Operation Teddy Bear, which included a hands-on demonstration of one of the program's in-class exercises - hugging bears, taking deep breaths and talking about our feelings!

We then introduced them to Food For Kids by reading "Maddie's Fridge" by Lois Brandt, taking a tour of the pantry, talking about how it feels to be hungry, and relating those feelings to the families we help through the program. The visit ended with another hands-on activity - packing bags of food, and an opportunity for the girls to pick out what went into each bag in order to create meals for the families we serve.

The girls and their moms (and one grandmother!) helped us pack 75 bags, and everyone left with a greater sense of empathy, understanding and tools they can use to calm their worries. It was a truly heart-warming experience for everyone involved!
---
Local News Feature
Our new focus and the programs we're developing to help with the youth mental health crisis were recently featured in the Daily Breeze and Long Beach Press-Telegram!
In addition to our President/CEO Sara Myers, the article also includes interviews with local parent and Torrance Council of PTAs Board Member Nanette Nolan; California State University, Dominguez Hills Professor Nancy Cheever; Mental Health America of Los Angeles' President and CEO Christina Miller; and local student Luke Antaky who participated in our teen focus group and spoke at our recent Heart to Heart Gala. The article also shares details and insights about the great work Torrance Unified School District is doing at the school level, including the recent screening of the documentary "LIKE."
---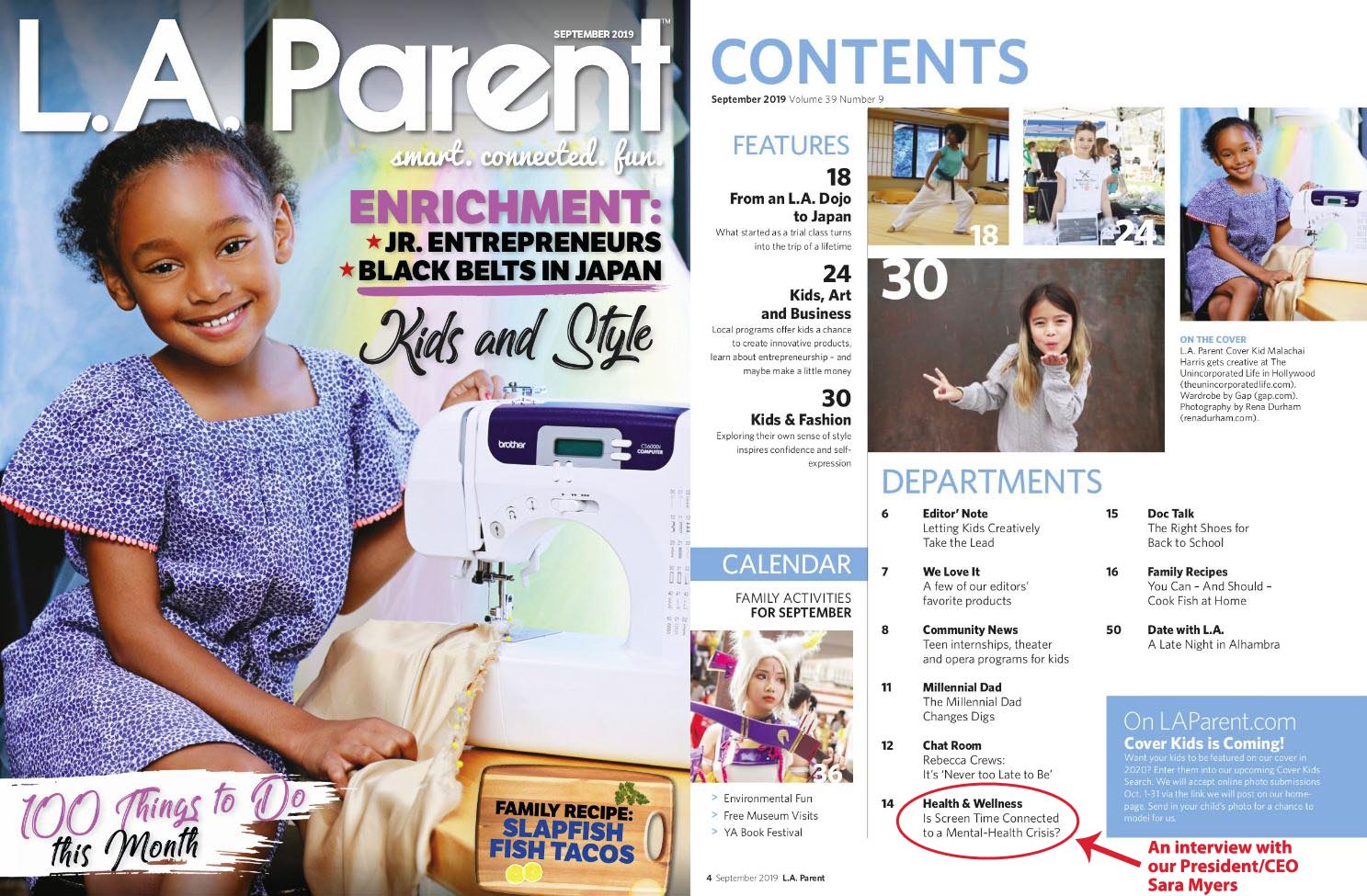 L.A. Parent Magazine Feature
L.A. Parent Magazine editor Christina Elston recently interviewed President/CEO Sara Myers about our new focus on Youth Mental Health, the connection to screen time, and compassionate steps parents can take to begin addressing the issue. Click here to read the article.
---
An Evening of Heartwarming Moments
Nearly 200 members of the community joined us for an evening celebrating kindness, empathy, compassion and mindfulness at our Heart to Heart Gala on Saturday, June 15. As guests arrived to the expansive space inside CRAFTED at the Port of Los Angeles, we invited them to take their chances on the silent auction and other games, giving them the opportunity to go home with a variety of fun-filled items, experiences, trips, bottles of wine, and baskets filled with something for everyone - all supporting our new Youth Mental Health programs. Guests could also celebrate the evening's theme - and share it widely - by taking a photo at the "Kindness & Empathy Photo Booth," learn more about our programs, and see the display of recent honors from the City of Torrance, Supervisor Janice Hahn, Assemblymember Al Muratsuchi and Congressman Ted Lieu.
As everyone took their seats for dinner, current Board Chair Lynne Neuman and incoming Board Chair Brenda Williams welcomed guests and invited them to join in a meaningful moment and enjoy the feeling of being unplugged, centered and connected. They also publicly honored the five local high school graduates selected to receive Durfee Family Scholarships (see more below) and thanked the event's major sponsors. President/CEO Sara Myers took the podium to talk about the organization's history and future, as she described the planned programs that will help youth, families and the community look up from devices, reconnect, and practice more kindness toward themselves and others, followed by local teens Luke Antaky and William Brandt sharing their thoughts on the new teen program.
Auctioneer John Kunkle hosted a lively and exciting live auction featuring five exciting packages and a bidding war for a Havana Nights-themed party in a private home. Then, you could hear a pin drop as Jason Reid shared how he lost his son to suicide in March 2018, one week after he turned 14. Jason spoke about his passionate vision to end teen suicide by the year 2030, and his support for the Volunteer Center's work and new programs. Community members were also encouraged to pledge their support for our new programs, which many did quite generously. Finally, Dr. Vernon Williams revealed that Steve and Khryste Griswold won the popular 52-Card Draw prize - a trip to San Diego - before we invited all the guests to the dance floor.
The Heart to Heart Gala was generously sponsored by Torrance Refining Company; ActivePDF, Inc.; California Water Service; Chevron; Griswold & Griswold Insurance Agency; Torrance Memorial; Continental Development Corporation; The South Bay Bar Association; Torrance Community Credit Union; The Hans and Dianne Bozler Trust; Steven A. Kovary, CPA and Company; and the Friends & Family of Sara Myers. Click here for complete details, including a list of auction donors, wine donors and additional supporters. Click here for videos of the evening's remarks.
---
The Volunteer Center is a participant of the UCommunity - UPrinting Sponsorship Program.