Please Note: The Court Referred Community Service Offices are closed, and we plan to reopen on 4/16/20. Click here for details.
---
Our New Focus and How We're Engaging Hearts and Minds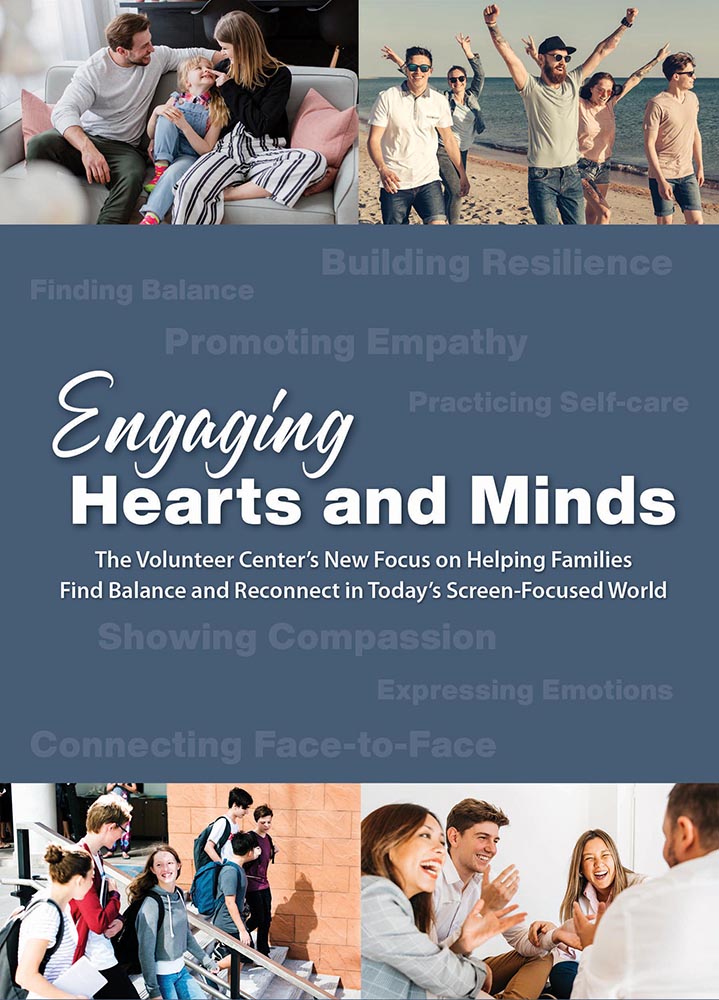 Three years ago, when we began our strategic planning process to identify the community's current needs, we never imagined the severe crisis we would find. Many of you have shared stories about the youth you know, the heart-wrenching pain they are facing, and how their suffering is affecting both their families and the community.
While there are many factors contributing to youth mental health crisis, we are focusing on the top issues identified by our community: excessive screen time and social media addiction, combined with the inescapable pressure to be perfect at all costs. Click here to learn more about our new focus, including how we enlisted the community's input, the feedback we heard, and our progress.
We are now working on turning all of that information and experience into programs for local youth and families with the help of mental health practitioners. We've also updated our existing programs to focus on building empathy and identifying feelings. We're calling this all-encompassing approach Engaging Hearts and Minds and you can learn more here.
Stay up-to-date on our progress by joining our general email list and/or interest lists for the Teen and Parent Education programs.
Find Helpful Resources | Learn about our Community-wide Education
---
Apply for our new Teen Program, Connecting IRL
We are accepting applications for our NEW Teen Program, Connecting IRL (In Real Life)! If you know a teen who is struggling with screen time and wants a safe space to connect with others in real life, where they can share their thoughts and feelings, encourage them to apply for this new, first-of-its-kind program for high school sophomores, juniors and seniors.
Taught by Evan Papadakis, LCSW - a local, licensed mental health professional - the program will be held on five Saturdays, 2:00-4:00 p.m., this Spring* (except the first session, ending at 4:30 p.m.) at the Volunteer Center in Torrance.
To apply, interested teens should complete the online application by 5:00 p.m. on Friday, April 10 for one of the limited openings.
As with all organizations, we are carefully monitoring the rapidly-evolving COVID-19 situation to make decisions that protect the health and wellness of all participants, and we plan to continue the program with modifications. *Interested teens should apply for the program with the understanding that the dates will be rescheduled as soon as possible.
We are excited to offer this new program to interested teens to teach them alternate methods of connecting with others in a safe space, as well as coping tools they can use. We sincerely believe that the timing for this program's content is more valuable than ever, since many are spending long hours on screens and facing a variety of emotions with school closures and cancelled activities.
Click here for complete details, a link to the online application, and a list of FAQs that include details about our COVID-related modifications.
---
Food For Kids Update
We have been communicating with our Food For Kids partner schools to explore the best ways to continue to support families during the school closures, and we are happy to report that we have been able to deliver bags of food to multiple sites to help local families in need during this challenging time.
As you can imagine, many people cautiously stocked their own pantries over the past two weeks, so both our food and financial donations have ceased. We are still accepting donations - by appointment only - as long as our office in Torrance remains open.
For now, if you would like to donate food, please follow these temporary procedures to ensure your safety and the safety of our staff
If you are healthy and in a low-risk age group, please email programs@volcenter.org to make a drop-off appointment. (Please allow 24-48 hours for a response and note that we are not open on weekends.)
At your designated drop-off time, you can drive up to the ramp adjacent to our parking lot, and our staff will work with you to help you remain six feet away as you unload your donation.
We would also truly appreciate financial donations to help us continue this program and serve local families in need during this challenging time. Click here to make a donation.
Click here to learn more about Food For Kids, including an updated copy of our Shelf-Stable Shopping List, and learn about the latest Food For Kids donations by following us on Facebook, Instagram and Twitter.
---
More Screenings of the Documentary LIKE

We recently partnered with the CARS Foundation to present a screening of the documentary LIKE, followed by a discussion panel at Leuzinger High School. More than 100 students, parents and school staff - 98% of whom reported owning a cell phone/smartphone - attended the event to learn more about the impact of screen time and social media on our lives.

The panel, moderated by President/CEO Sara Myers, featured high school student Roberto Hernandez, parent Henry Martinez, District Social Worker Kevin Brown, Social Work Intern Kelly Lovejoy, and Associate Principal Jose Varela. Student Roberto Hernandez said the film portrayed the issue well. He admitted that he uses his phone before bed and has noticed how it affects his ability to get enough sleep. Associate Principal Jose Varela said the film definitely hit home, since he's the father of a teenager, and he shared that a vast majority of the conflicts at the school are caused by something someone said or saw on social media.
SAVE THE DATES!
We are hosting two upcoming screenings of the documentary LIKE followed by panel discussions:
Friday, May 8 in Torrance, in partnership with the Torrance-South Bay YMCA
The screening in Long Beach, in partnership with the Junior League of Long Beach, has been POSTPONED.
We hope you'll join us to learn more, reflect on your own habits, and consider changes you can make for yourself and your family - stay tuned for more details!
Please note: Originally scheduled for April 29, the planned Long Beach screening of the documentary LIKE - followed by a panel discussion - has been postponed due to the suspension of community activities and school district closures. We will continue to update you about this screening as details evolve, as well as the status and any changes to our other planned screening in Torrance on May 8.
---
Celebrating Community Support with Urban Plates
Earlier this month, our friends at Urban Plates presented members of our Board and staff with a check for $9,000 - the total donations contributed through our community partnership during the trio of pre-opening events in Torrance, Manhattan Beach and Long Beach!
This feel-good story and donation was made possible by YOU - our wonderful community - who joined us "at the heart of helping" as we welcomed Urban Plates to the community! Your donations support our programs, and at the same time, you helped their teams prepare for the three restaurant openings. Special thanks to everyone at Urban Plates for selecting us for this partnership, and helping more local families enjoy healthy meals and conversations around the table. You can see coverage of the recent check presentation on last week's episode of Torrance Citi CABLE's This Week in Torrance.
---
Honored with a Service Award from TCPTA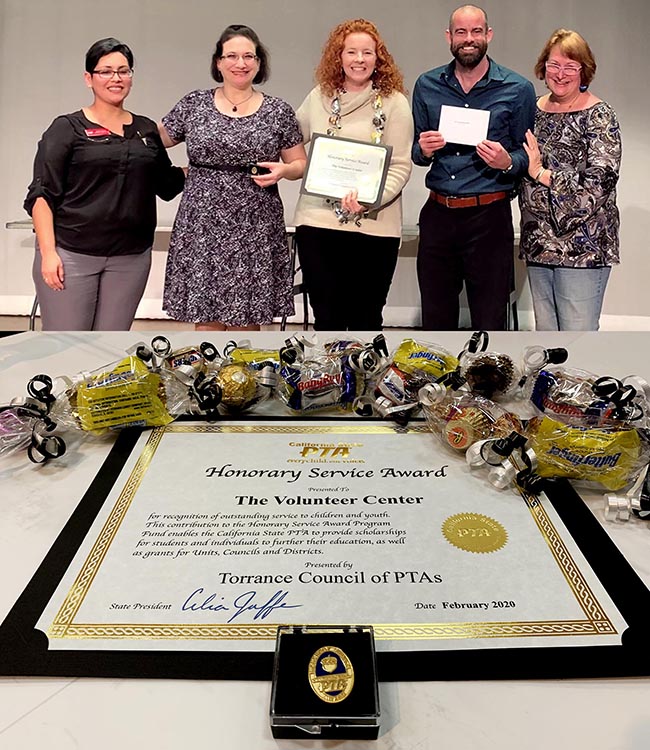 The Torrance Council of PTAs announced that the Volunteer Center was selected as one of this year's Honorary Service Award recipients at their February meeting. All of the recipients, including our wonderful community partners at Journey of Faith, will be celebrated at the Honorary Service Awards Dinner in March.
Council President Denise Spellman shared: "The Volunteer Center epitomizes this special award and serves as an inspiration for all you have accomplished in and around the South Bay. We are thrilled to honor your 50 years of devoted service to those in need and excited to see what your latest projects (mental health awareness and screen time education) will yield."
This award is the highest honor given by the PTA organization, recognizing an individual or organization for outstanding service to the students and families in the community - in pursuit of better things for all of us - according to Honorary Service Award Chair, Nannette Nolan, who was also featured in the Daily Breeze/Press Telegram article on our new focus last fall. We are honored to join the distinguished list of recipients, which reads like a 'Who's Who' of Torrance, and we are grateful to Council Board Member Cindy Shields for nominating us!
---
A Record-Breaking Food Donation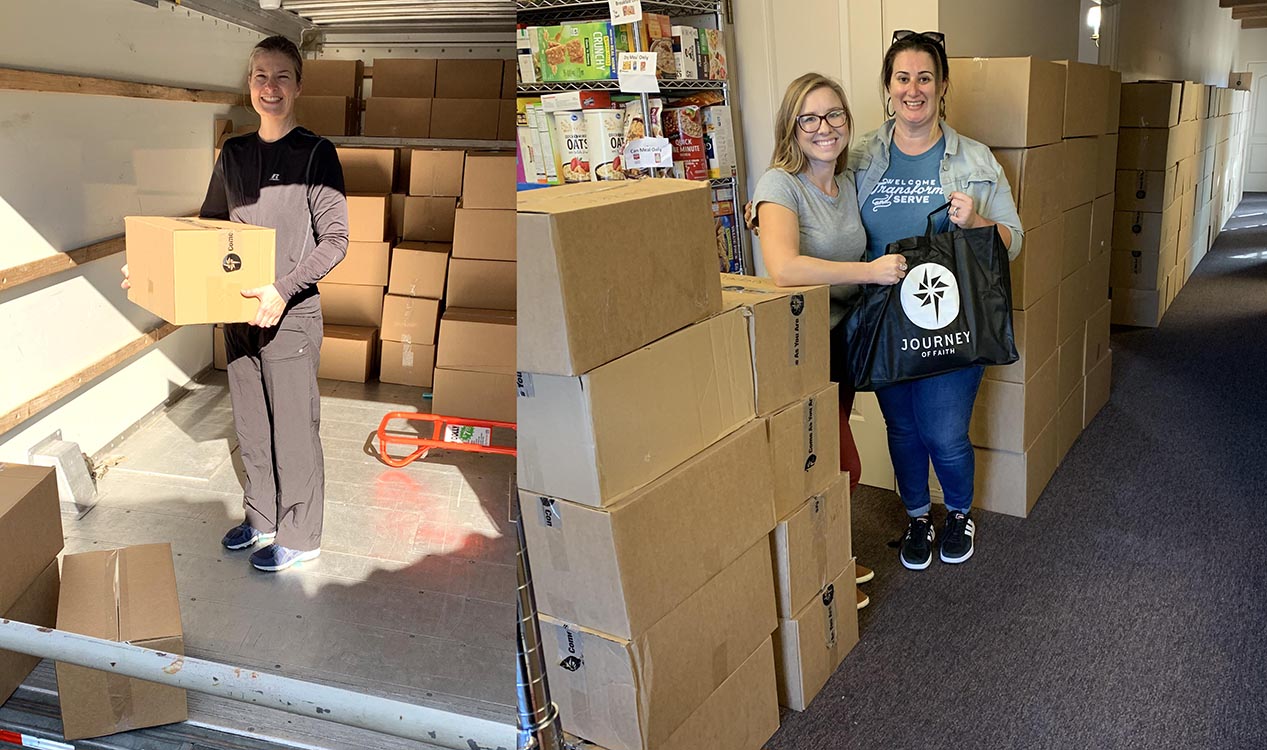 There are many reasons why our friends at Journey of Faith are wonderful partners in the community. One in particular is how they demonstrate such compassion for others when they join us "at the heart of helping" by hosting their Pop-up Pantry benefiting Food For Kids three times a year.
They recently dropped off their ninth food donation since they began supporting us, which is cause for celebration itself. Then we started counting the bags and weighing the food they brought over in TWO trucks... and found that this most recent donation also marks their largest donation to date!
Their members collected, sorted and packed 489 bags of food, plus they brought us an additional 1,106 pounds of food, making the total donation more than 6,200 pounds of food for the families we serve! We are beyond grateful to the families who were part of this generous donation and monumental accomplishment!!!
---
Heart-warming Moments in our Community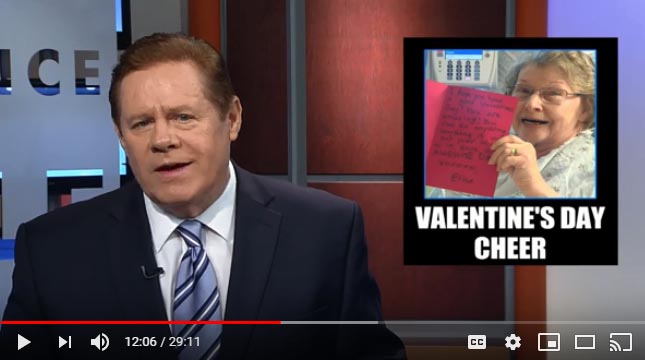 Thank you to everyone who created cards for the recent Valentine's Day Kindness Project led by South Bay Mommies and Daddies. The second annual card drive was a huge success, resulting in nearly twice as many cards as last year - more than 1,600 cards were created for patients at Providence Little Company of Mary and Torrance Memorial!
We were proud to partner on this project once again, giving parents a wonderful way to teach "a lesson in kindness that can be learned at any age," combined with an opportunity to have conversations about kindness and empathy. Learn more and see reactions from the community, including a patient who received one of the cards, on last week's episode of Torrance Citi CABLE's This Week in Torrance.
---
Operation Teddy Bear's 25th Anniversary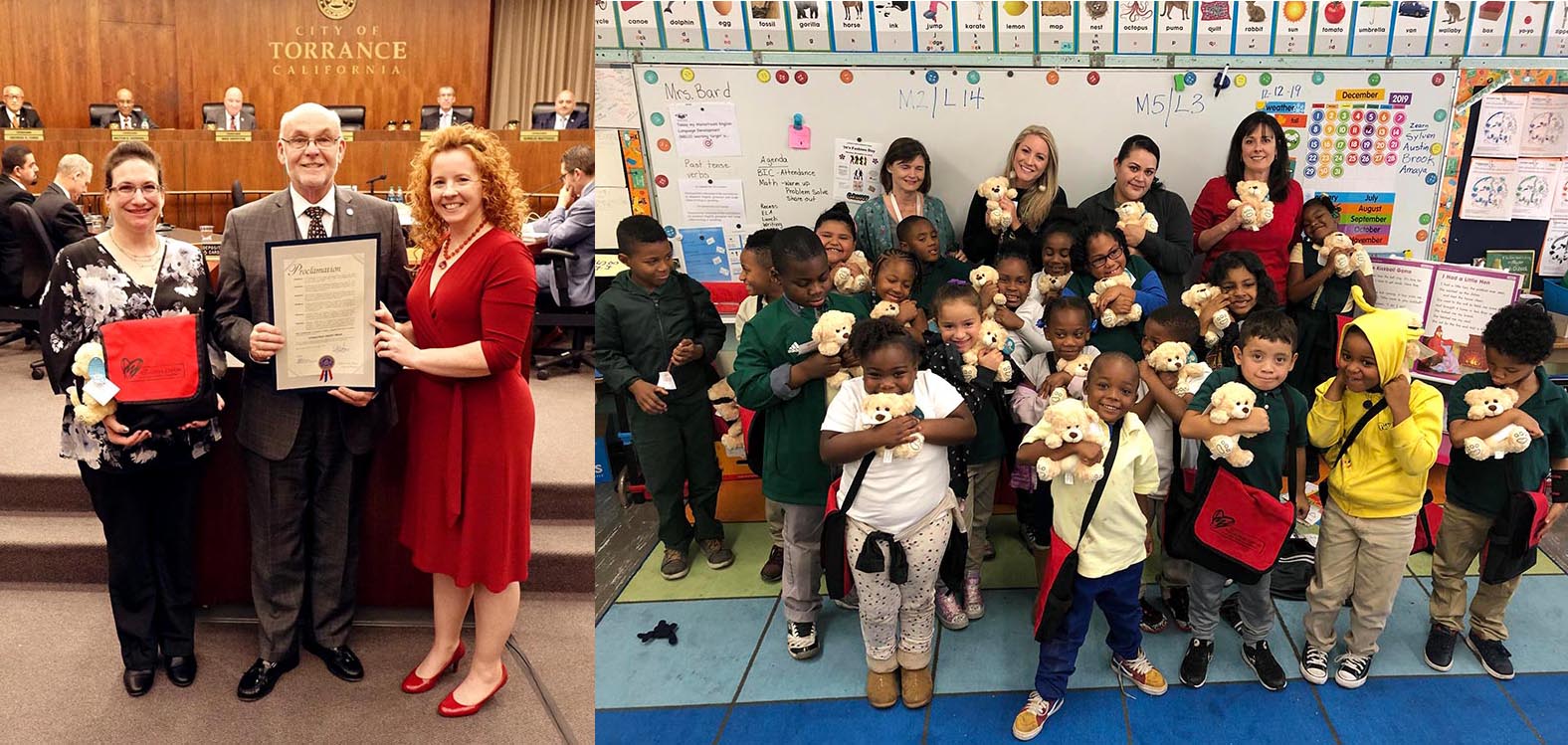 We recently celebrated Operation Teddy Bear's 25th Anniversary at a Torrance City Council Meeting, where Mayor Pat Furey presented the Volunteer Center with a proclamation honoring this momentous occasion, the program's impact and our continued service to the community (thanks to so many of you)!

President/CEO Sara Myers thanked the City for their ongoing support and specifically acknowledged the Economic Development Department for the way they support and connect businesses in Torrance, which also led to a beautiful example of the community-wide effort and impact that makes Operation Teddy Bear possible.

Thanks to a new relationship with the Sares Regis Group, all of this year's Operation Teddy Bear preparation and packing activities took place in a fantastic, donated warehouse space conveniently located in Torrance - right up the road from the Volunteer Center. Members of the Sares Regis team also volunteered at our packing event, visited schools to help teach our signature lesson in kindness and identifying emotions, and distributed the bags they helped pack!
---
Lessons in Empathy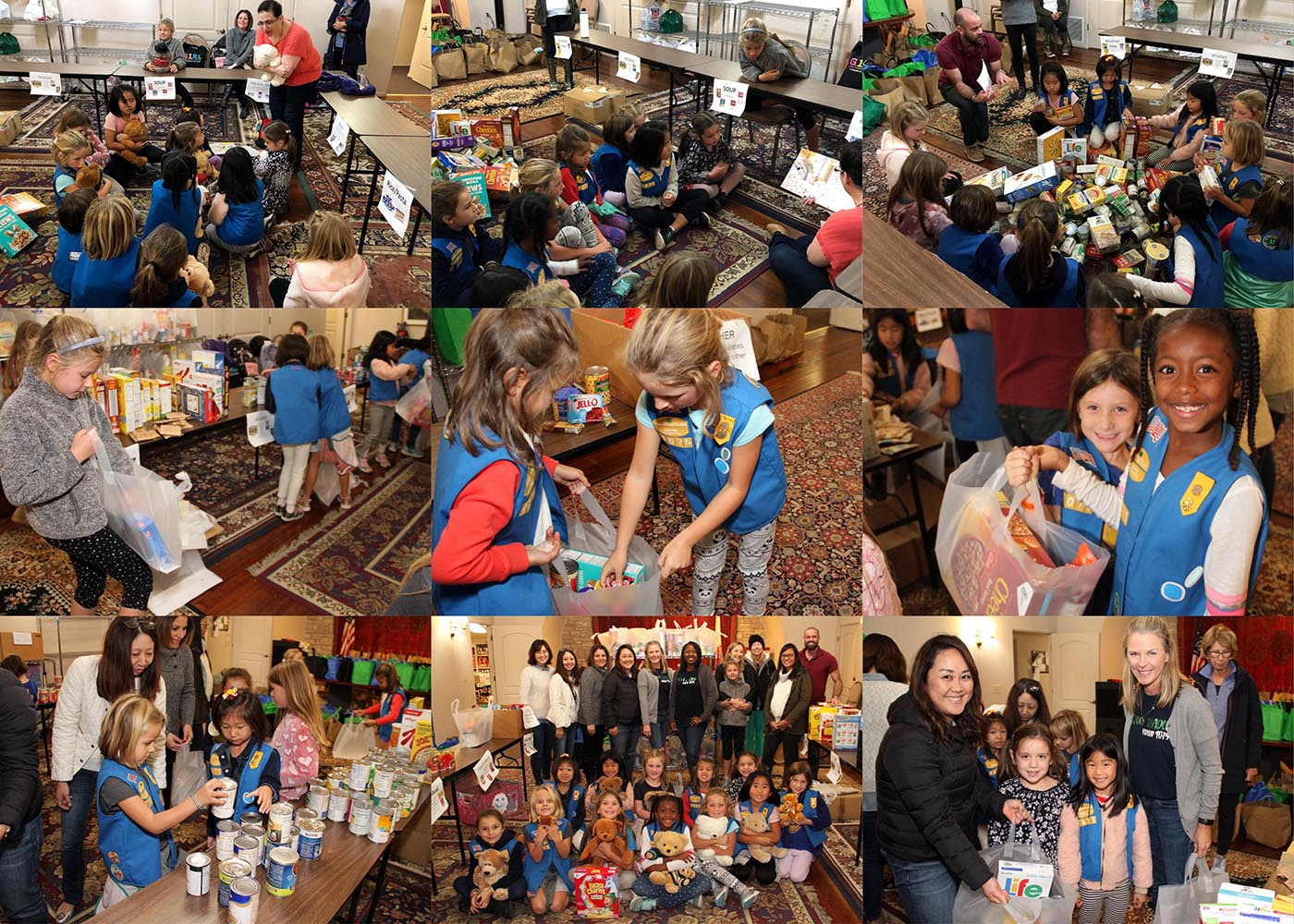 We recently hosted a group of Daisy Scouts from Torrance's Girl Scout Troop 9075 to participate in a new addition to our popular volunteer-driven programs aimed at increasing empathy and resilience in local youth. When the troop visited the Volunteer Center, we talked with the first graders about how we help local students their age through Operation Teddy Bear, which included a hands-on demonstration of one of the program's in-class exercises - hugging bears, taking deep breaths and talking about our feelings!

We then introduced them to Food For Kids by reading "Maddie's Fridge" by Lois Brandt, taking a tour of the pantry, talking about how it feels to be hungry, and relating those feelings to the families we help through the program. The visit ended with another hands-on activity - packing bags of food, and an opportunity for the girls to pick out what went into each bag in order to create meals for the families we serve.

The girls and their moms (and one grandmother!) helped us pack 75 bags, and everyone left with a greater sense of empathy, understanding and tools they can use to calm their worries. It was a truly heart-warming experience for everyone involved!
---
New Partnership with Herbalife
We are proud to announce that we are now a Casa Herbalife partner! We recently celebrated our new partnership and Food For Kids program grant with team members from Herbalife and the Herbalife Nutrition Foundation, including Rob Levy, Herbalife's Executive Vice President of the Americas, and Jenny Perez, Executive Director of the Herbalife Nutrition Foundation.
"We're extremely proud to support the Volunteer Center and be able to help change the lives of even more people in need," Jenny Perez shared. "Our Casa Herbalife Nutrition program aims to instill good eating habits for children and families, so they may have a healthier future."
After the formal presentation, we demonstrated various ways the Food For Kids program and our donors make an impact on the local community. Our President/CEO Sara Myers led a discussion on empathy with youth from Believers' Victory International Church (BVIC), and Lorena Sandoval-Holt explained how her family recently gave back to Food For Kids.
The families from BVIC also held a food drive, and the Herbalife team worked side-by-side with them - bringing in the food, weighing it, sorting it and packing it into bags for the families we serve. It was a wonderful evening of generosity and compassion in the South Bay!
---
Spreading Cheer with Operation Teddy Bear
Operation Teddy Bear's 25th anniversary year was another inspiring year of enthusiastic volunteers connecting with excited first graders and their grateful teachers. More than 4,000 underserved first graders at 42 schools in the South Bay, Los Angeles Harbor, Long Beach, Lennox and Compton learned about kindness, compassion, volunteering and identifying emotions from our amazing volunteers before the students were surprised with schoolbags filled with books, educational supplies and wellness tools and the teachers were surprised with bags of much-needed classroom supplies. The reactions were as priceless as ever! Click here to watch a video by our friends at the Port of Los Angeles to see some of those reactions and other great moments of volunteers connecting with the students.
None of this would've been possible without our amazing partners in the community who provide funding, in-kind donations, and of course, volunteers! Our program sponsors top that list, and they include the Affinity Group, John Deere Foundation, Kinecta Federal Credit Union, Los Angeles Trial Lawyers' Charities, Molina Foundation, Rudolph J. and Daphne A. Munzer Foundation, Port of Long Beach, Port of Los Angeles, QuinStar Technology, Rotary Club of Manhattan Beach, Sandpipers Philanthropy Trust, Sares Regis Group, Valero Energy Foundation, Watson Land Company, Carl E. Wynn Foundation, and Whitney Young Children's Foundation.
We are grateful to the volunteers who took the time to visit the schools, inspire the first graders and distribute the schoolbags, including representatives from the Affinity Group, Bank of America, Beacon House, California Water Service, GreenVetsLA, Herbalife Nutrition Foundation, John Deere, Kinecta Federal Credit Union, Los Angeles Trial Lawyers' Charities, Molina Foundation, Moog, Nonprofit Partnership, Port of Los Angeles, Rotary Club of Manhattan Beach, Sandpipers, Sares Regis Group, Simon Law Group, South Bay Junior Women's Club, Sun Chlorella USA, Torrance Refining Company, Valero, Watson Land Company, as well as several individual volunteers and members of our Board of Directors.
---
Local News Feature
Our new focus and the programs we're developing to help with the youth mental health crisis were recently featured in the Daily Breeze and Long Beach Press-Telegram!
In addition to our President/CEO Sara Myers, the article also includes interviews with local parent and Torrance Council of PTAs Board Member Nanette Nolan; California State University, Dominguez Hills Professor Nancy Cheever; Mental Health America of Los Angeles' President and CEO Christina Miller; and local student Luke Antaky who participated in our teen focus group and spoke at our recent Heart to Heart Gala. The article also shares details and insights about the great work Torrance Unified School District is doing at the school level, including the recent screening of the documentary "LIKE."
---
L.A. Parent Magazine Feature
L.A. Parent Magazine editor Christina Elston recently interviewed President/CEO Sara Myers about our new focus on Youth Mental Health, the connection to screen time, and compassionate steps parents can take to begin addressing the issue. Click here to read the article.
---
Increasing Awareness and Helping Local Families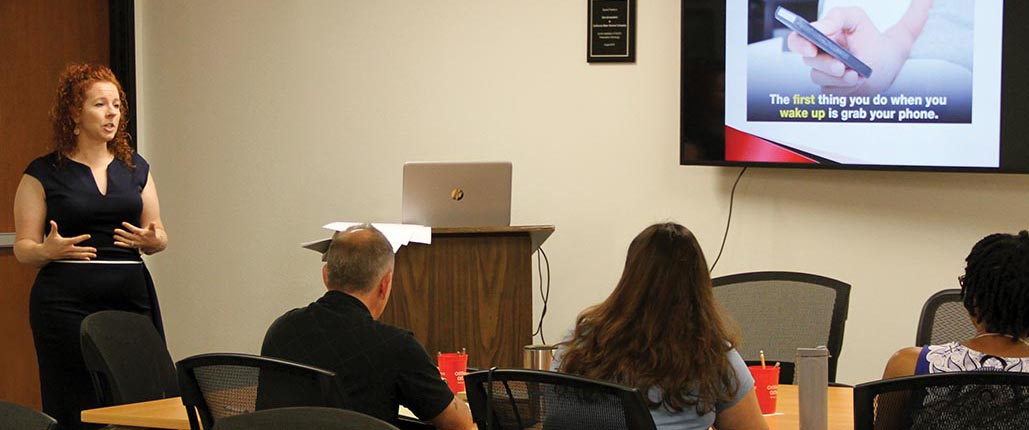 President/CEO Sara Myers presented Connected to Screens, Disconnected from Life: Helping Our Community Refocus on Improving Their Mental Health to members of the Torrance Area Chamber of Commerce in early September at the inaugural session of the Chamber's Wellness Plus series. The presentation covered details that we've learned through our research on the mental health crisis, including how screen time and social media addiction are contributing to the issue. Sara also shared suggestions to help the attendees address screen usage with their families and improve the mental, social and emotional wellness of the youth in their lives.
"Sara's presentation focusing on crucial issues facing today's families was informative, inspiring and thought-provoking," said Donna Duperon, the Chamber's President and CEO. "From depression to peer pressure and screen time to communication skills, our chamber members were educated on the issues and were able to take away valuable information to help them day-to-day."
We are also available to provide this training presentation to local companies who invest in on-going health and wellness enrichment for their employees. Please contact Liz Reinhardt, Director of Fund Development and Marketing, at events@volcenter.org or (310) 212-5009 for details and pricing.
---
The Impact of Screen Time and Social Media

More than 1,500 students and parents joined the Torrance Unified School District and Torrance Council of PTAs at four screenings of the documentary LIKE during the first week of school. Similar to how we listened to the community's needs with our new focus, the school district hosted this event after hearing the students' concerns about the stress and anxiety caused by social media. Dr. Kati Krumpe, the school district's Chief Academic Officer, opened the event by dedicating it to the students. She also said, "We hope today's screening starts a conversation about ways we can work together to help our students deal with the many challenges facing them today."
Following the documentary, a four-person panel responded to questions from the audience. Each panel included two high school students, a mental health practitioner, and our President/CEO Sara Myers discussing things such as finding more balance, leading by example, creating buy-in as a family, open communication, and what parents can do from the students' perspective.
Nannette Nolan from the Torrance Council of PTAs said that it was also "a great opportunity to help parents bridge that divide... [and] understand what students are really facing" in the world today. Click here to watch Torrance CitiCable's coverage of the LIKE documentary screening and the panel discussion that followed, including interviews with Sara Myers and parent/Board Member Roseanney Liu.
---
An Evening of Heartwarming Moments
Nearly 200 members of the community joined us for an evening celebrating kindness, empathy, compassion and mindfulness at our Heart to Heart Gala on Saturday, June 15. As guests arrived to the expansive space inside CRAFTED at the Port of Los Angeles, we invited them to take their chances on the silent auction and other games, giving them the opportunity to go home with a variety of fun-filled items, experiences, trips, bottles of wine, and baskets filled with something for everyone - all supporting our new Youth Mental Health programs. Guests could also celebrate the evening's theme - and share it widely - by taking a photo at the "Kindness & Empathy Photo Booth," learn more about our programs, and see the display of recent honors from the City of Torrance, Supervisor Janice Hahn, Assemblymember Al Muratsuchi and Congressman Ted Lieu.
As everyone took their seats for dinner, current Board Chair Lynne Neuman and incoming Board Chair Brenda Williams welcomed guests and invited them to join in a meaningful moment and enjoy the feeling of being unplugged, centered and connected. They also publicly honored the five local high school graduates selected to receive Durfee Family Scholarships (see more below) and thanked the event's major sponsors. President/CEO Sara Myers took the podium to talk about the organization's history and future, as she described the planned programs that will help youth, families and the community look up from devices, reconnect, and practice more kindness toward themselves and others, followed by local teens Luke Antaky and William Brandt sharing their thoughts on the new teen program.
Auctioneer John Kunkle hosted a lively and exciting live auction featuring five exciting packages and a bidding war for a Havana Nights-themed party in a private home. Then, you could hear a pin drop as Jason Reid shared how he lost his son to suicide in March 2018, one week after he turned 14. Jason spoke about his passionate vision to end teen suicide by the year 2030, and his support for the Volunteer Center's work and new programs. Community members were also encouraged to pledge their support for our new programs, which many did quite generously. Finally, Dr. Vernon Williams revealed that Steve and Khryste Griswold won the popular 52-Card Draw prize - a trip to San Diego - before we invited all the guests to the dance floor.
The Heart to Heart Gala was generously sponsored by Torrance Refining Company; ActivePDF, Inc.; California Water Service; Chevron; Griswold & Griswold Insurance Agency; Torrance Memorial; Continental Development Corporation; The South Bay Bar Association; Torrance Community Credit Union; The Hans and Dianne Bozler Trust; Steven A. Kovary, CPA and Company; and the Friends & Family of Sara Myers. Click here for complete details, including a list of auction donors, wine donors and additional supporters. Click here for videos of the evening's remarks.
---
The Volunteer Center is a participant of the UCommunity - UPrinting Sponsorship Program.