Get Ready for the Family Fun Fair!


We're excited to present our second annual Heart of Helping Family Fun Fair on Saturday, March 10 from 11:00 a.m. to 3:00 p.m. We hope you'll join us for a fun-filled day of games and activities where you can teach your kids about helping others while helping us raise funds for our programs and services.
There is no cost for admission. You can purchase Game/Activity/Food tickets at the event, as well as Opportunity Drawing tickets for a variety of prizes. We're also bringing back our Special Drawing for 4 Disneyland® Resort 1-Day Park Hopper® Passes, so don't miss your chance to win a magical time at the happiest place on earth! You can now pre-purchase Disneyland® Resort Park Hopper® Drawing Tickets and Game/Activity/Food Tickets online, and if you register for the event ahead of time (optional), you'll get 2 FREE Game/Activity/Food Tickets (one offer per family). Tickets will be available for pick up the day of the event. Click here for complete details!
---
Lea Ann King Honored as Woman of the Year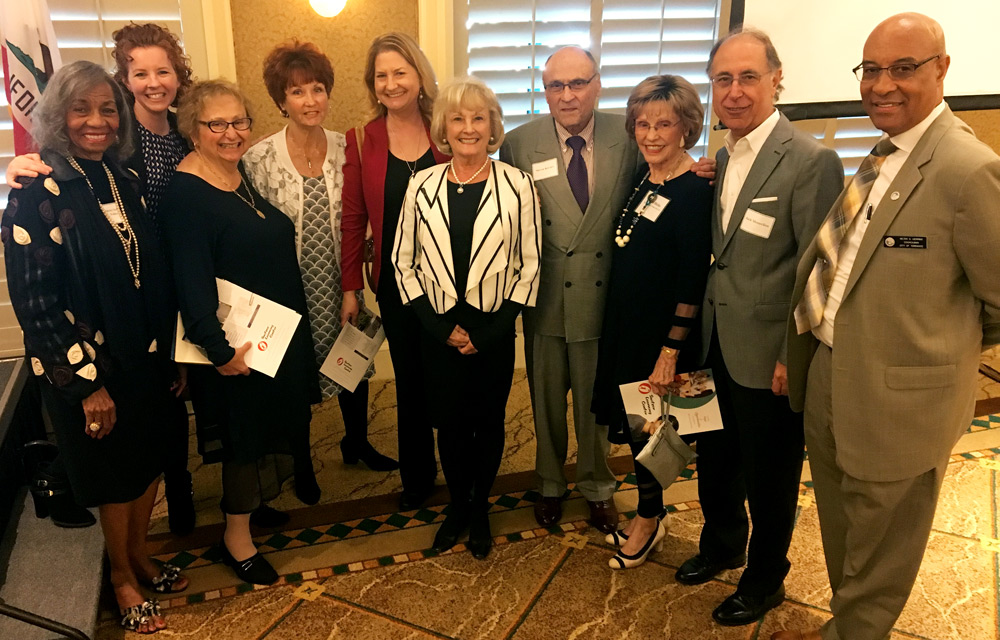 Pictured: Honoree Lea Ann King (center) with Volunteer Center Board Members Shirley Starke-Wallace, Jean Adelsman, Lynne Neuman, Steve Kovary and Jack Messerlian; Volunteer Center President/CEO Sara Myers; former Volunteer Center President/CEO De De Hicks; and Torrance City Council Members Heidi Ashcraft and Milton Herring
Every year, the Switzer Learning Center honors four incredibly dedicated, hard-working, innovative and generous women who have made significant contributions to the South Bay through their work in the community. We are proud to congratulate longtime Board Member and dedicated volunteer Lea Ann King for being among this year's honorees.
Lea Ann was nominated by Torrance City Council Member Heidi Ashcraft and honored for her work to champion social inclusion. The 2018 honorees also included Laurie Brandt, co-owner of Red Car Brewery & Restaurant, for community unity; Supervisor Janice Hahn, representing the 4th District on the LA County Board of Supervisors, for civic leadership; and Jill Smisek Maroney, current president of the Torrance Historical Society, for volunteerism. An honorary Woman of the Year award was also bestowed upon the event's emcee, Carolin Keith Wade, an equally dedicated and generous woman with a strong history of contributions to the South Bay, including the Volunteer Center
Fellow Board Member Jean Adelsman presented the award to Lea Ann, noting that she is a "bias buster" who began a life after college focused on others, and she lives to bring people together. Lea Ann began her remarks by saying it is "so great to be a part of all the women who rock the South Bay" and continued with an informative civics lesson - partially for the benefit of her children and grandchildren in attendance, whom she noted as the motivation to build a more inclusive society. She spoke about her efforts to further diversity and inclusion in our community, as well as her work at the Volunteer Center.
Supervisor Janice Hahn summed up the contributions of the women nicely when she joined in the congratulations to her fellow honorees and said, "You are making your corner of the world so much better and so much more valuable," and we couldn't agree more!
---
Volunteers Needed for "Little Hats, Big Hearts"

Do you knit or crochet? If so, you should consider volunteering for "Little Hats, Big Hearts," a collaboration between the American Heart Association and the Children's Heart Foundation. They are looking for volunteers to create little red hats for babies born in February in honor of American Heart Month.
The hats will be distributed to infants in hospitals in more than 40 states throughout February to empower moms to live heart healthy lives and to help their children do the same. Last year, hundreds of volunteers knitted or crocheted 90,000 tiny hats for the project.
Those wishing to participate should use any red yard that is cotton or acrylic, medium to heavy weight, and machine washable/dryable. They also recommend simple hat patterns. While bows and buttons are cute, they can be dangerous for the little ones if they come off the hats. Local participating hospitals include Long Beach Memorial Hospital, Providence Little Company of Mary and Torrance Memorial Medical Center. Click here for more details about the project and how you can take part!
---
Feeling the Love for Food For Kids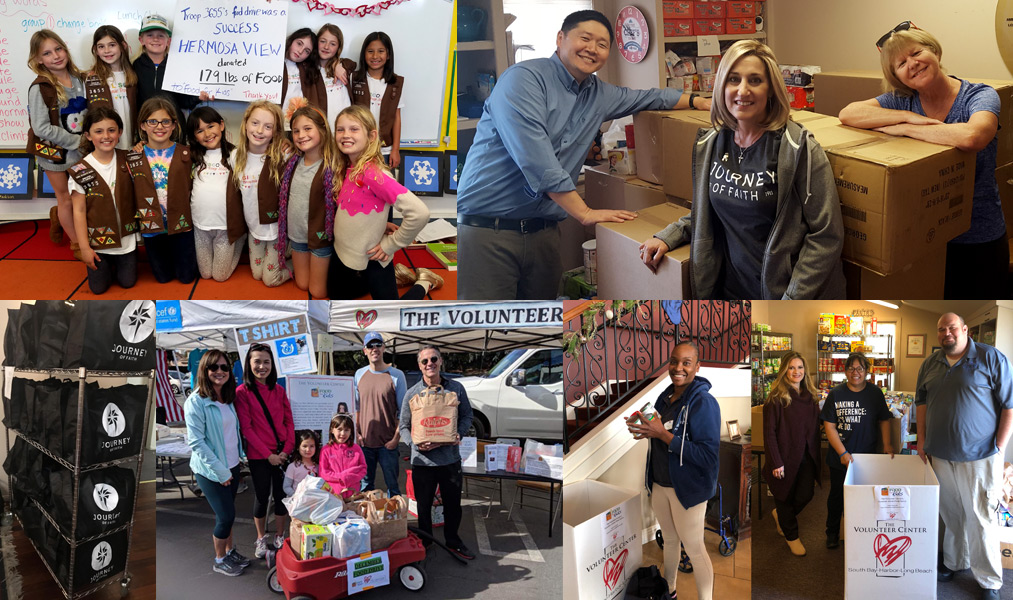 A huge thank you for the recent generous support of our Food For Kids program from the following organizations:
Girl Scout Troop 3655 and Hermosa View Elementary School in Hermosa Beach joined together for "Kindness Week" to collect and donate 179 pounds of food!
Journey of Faith in Manhattan Beach continues support of Food For Kids through their quarterly Pop-Up Pantry, and we are so grateful for their support with these large donations multiple times a year. Their latest delivery contained 152 already-packed bags and an additional 1,400 pounds of food, for a total donation of nearly 3,000 pounds of food! See a video of their donation delivery here.
Seaside Parent Participation Nursery School in Torrance collected and donated 75 pounds of food to Food For Kids!
Volunteer Action for Aging at the Bartlett Center in Torrance donates to Food For Kids regularly, and their most recent donation contained 34 pounds of food!
Welbrook South Bay Senior Living in Torrance hosted a food drive to benefit Food For Kids, culminating in a donation of 101 pounds of food!
We are currently in need of breakfast items (cereal, oatmeal, granola bars) and shelf-stable fruit (canned fruit, raisins, apple sauce, fruit cups; no glass containers please) - click here to learn more about Food For Kids, how you can contribute and view/download a copy of our Non-Perishable Food Shopping List.
Don't forget - we also host a booth at the Wilson Park Farmer's Market a couple times a month. Visit us next on Tuesday, February 27 between 8:00 a.m. and 1:00 p.m. to say hello, drop off food donations, and learn more about Food For Kids and the Volunteer Center (check out the Upcoming Events at the right for future Farmer's Market dates).
---
Operation Teddy Bear Volunteers-in-Action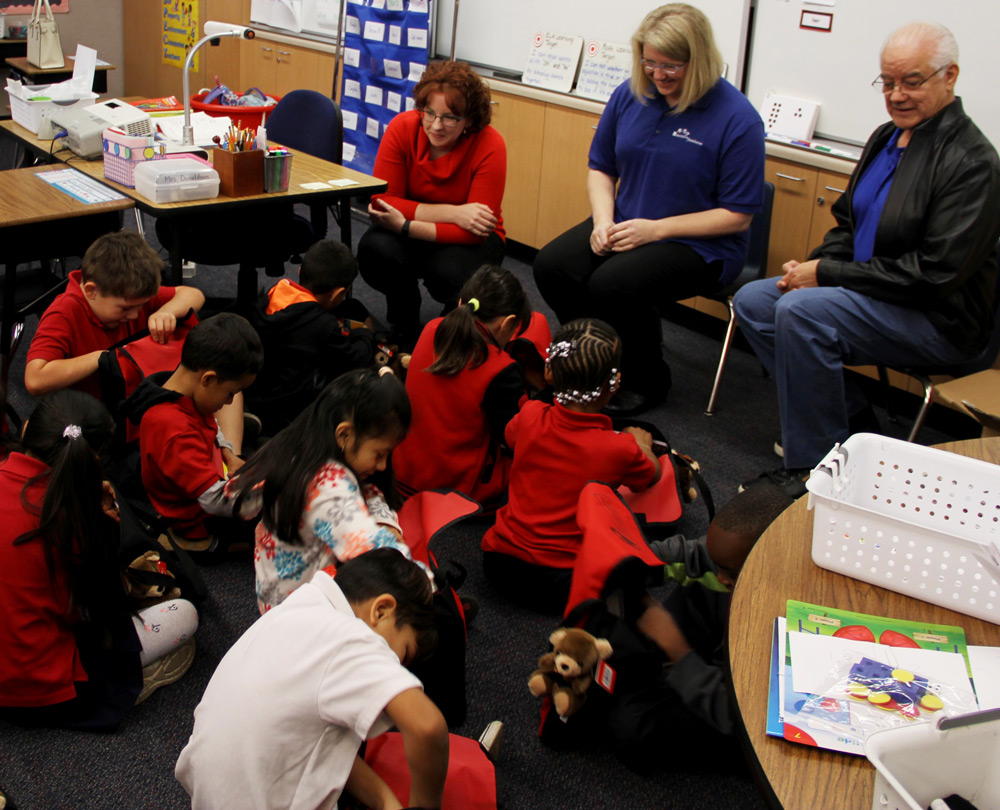 We are truly grateful to the community of volunteers, donors and sponsors that make Operation Teddy Bear possible each year. Thanks to their support, we provided more than 4,000 underserved first-graders at local elementary schools with a kind gift during the 2017 holiday season - a brightly-colored schoolbag filled with educational materials, including reading and coloring books, writing journals, a learning clock, a toothbrush, pencils, crayons, and of course, a teddy bear. Click here to learn more about these Operation Teddy Bear volunteers-in-action!
---
Check out our 2016-2017 Progress Report!
Last May, we asked you to make donations to support a number of projects. As a follow-up, we've created a progress report to show you what we were able to accomplish with your gifts. Click here to learn more and donate to help us continue these programs again through our 2017-2018 year!
---
Long Beach Serves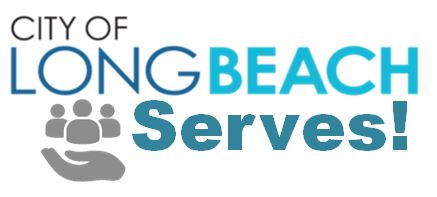 We are proud to be a part of a citywide effort to promote volunteerism in Long Beach. Residents are encouraged to give back and donate time to helping the nonprofits in Long Beach and share their experiences with the hashtag #LBServes.
---