Presenting our 2017-2018 Annual Report!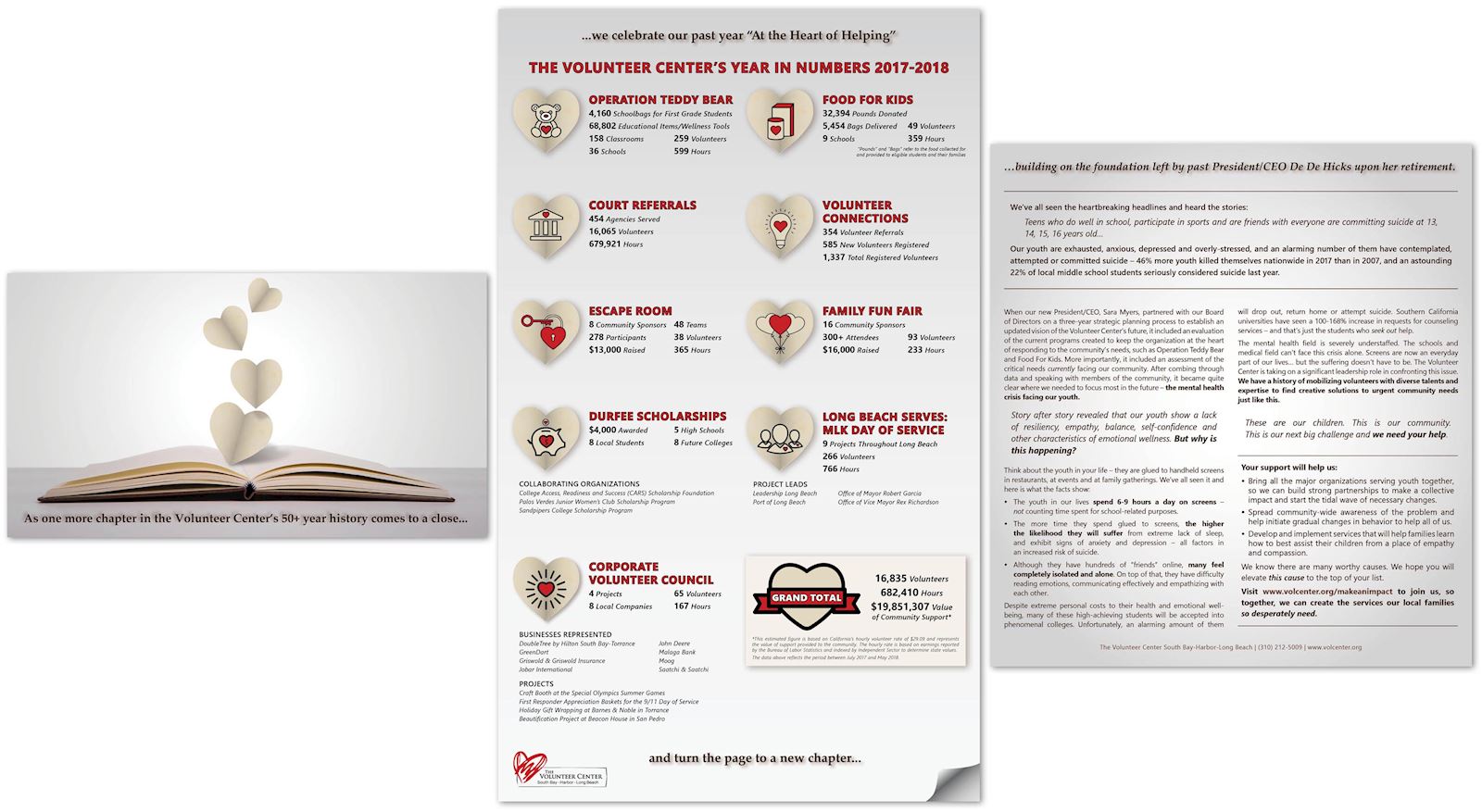 Click here to check out our Annual Report and learn more about the next chapter in the Volunteer Center's 50+ year history!
After you read about our past and future in our Annual Report, we hope you'll join us in making an impact with a donation today, so we can continue to meet the needs of our community and be "at the heart of helping" together
---
Another chance to solve the Mortuary Mystery!
...will you join these teams by successfully solving the puzzles and finding the final clue in less than 60 minutes??? Gather your team of 4 to 6 people, book your session and find out!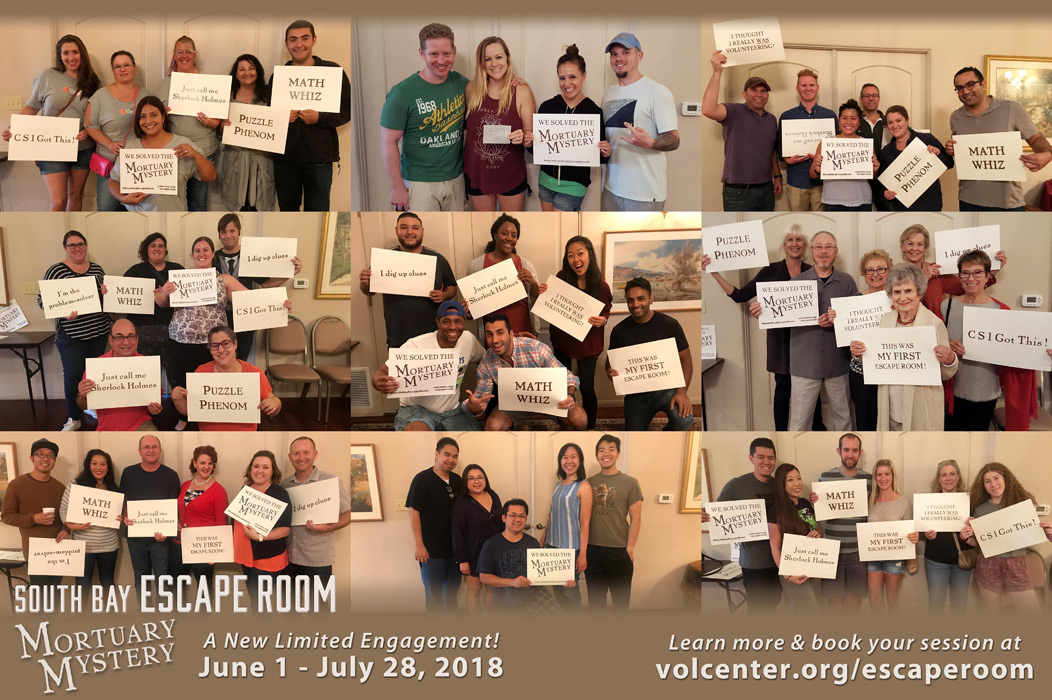 Click here for details about our new, limited engagement of South Bay Escape Room: Mortuary Mystery June 1 - July 28, and click here to sign up for email updates about our Escape Room fundraiser!
---
The CVC Welcomes Spring with a Service Project
The Corporate Volunteer Council (CVC) once again sponsored a booth at the recent 2018 Special Olympics' Southern California Summer Games in Long Beach, continuing a summer service tradition for the group. CVC members from DoubleTree by Hilton Torrance-South Bay, Green Dart, John Deere, Malaga Bank, MOOG and Saatchi & Saatchi helped athletes from across Southern California celebrate the two-day event with a photo booth, complete with special handmade photo frames that the athletes decorated to display their photos!
---
Eight Durfee Family Scholarships Awarded
The Volunteer Center recently awarded eight $500 Durfee Family Scholarships to local high school seniors to assist them with the cost of classes and materials during their first year of college, in collaboration with the College Access, Readiness and Success (CARS) Scholarship Foundation at Leuzinger High School, the Palos Verdes Junior Women's Club Scholarship Program and the Sandpipers College Scholarship Program.
In addition to strong academic performance, these students were selected for showing a continued passion for serving their community despite personal and family challenges:
CARS Scholarship Foundation
Ana Perez - Leuzinger High School/UCLA
Alexis Rodela - Leuzinger High School/Cal State Northridge
PV Junior Women's Club Scholarship Program
Katherine Cruz - Peninsula High School/LA Harbor College
Grace Gay - Chadwick/Syracuse University
Sandpipers College Scholarship Program
Emily Diaz - Hawthorne High School/UC Santa Barbara
Kyndall Dowell - Leuzinger High School/UC Berkeley
Stevie Schlosser - South High School/Point Loma Nazarene University
Udochi Okori - Hawthorne High School/Kalamazoo College
The Durfee Family Scholarships were established in 1998 thanks to a generous endowment gift made by the late Ev Durfee, a past Volunteer Center Board Member and longtime supporter. We wish all of our scholarship recipients success as they embrace their bright futures ahead!
---
Become a Kids For Kids Sponsor!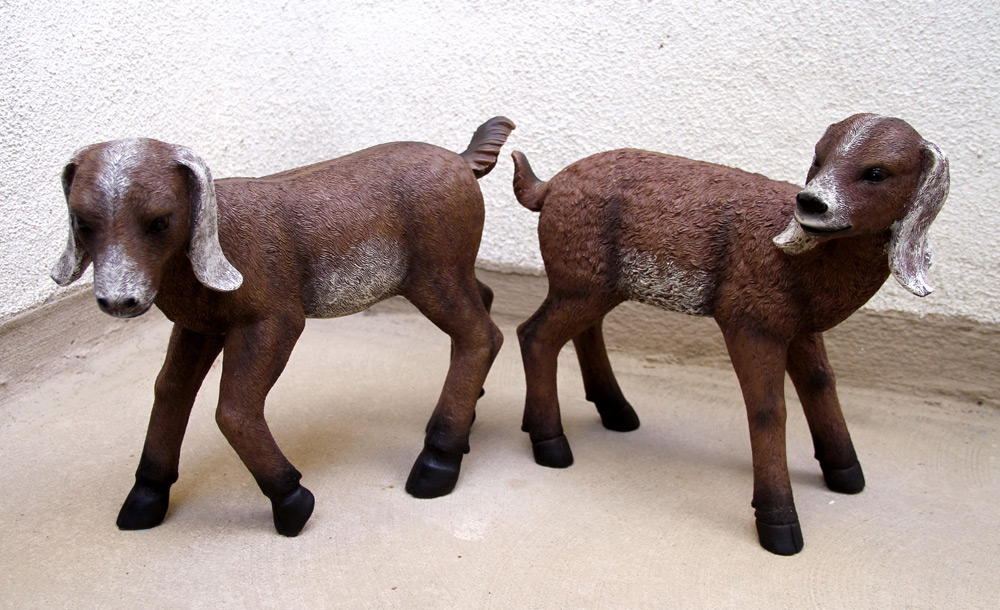 The Volunteer Center is grateful to the Affinity Group for their leadership in creating unique fundraisers year-after-year.
This year, they've launched Kids For Kids, a wonderful opportunity for individuals, corporations and organizations to join the Affinity Group in supporting Operation Teddy Bear. Inspired by the goats used to clear brush on the hillsides of the Palos Verdes Peninsula and other areas in the South Bay, Kids For Kids sponsors will receive a special gift from the Affinity Group: a resin statue of a baby goat - otherwise known as a "kid!"
One of these charming statues with adorable faces, realistic eyes and playful poses (pictured) will be hand painted with a unique design by a local artist, unless you prefer to keep the natural look of your "kid." Your Kids For Kids sponsorship will be acknowledged on a special website, and if you plan to display your statue at a public location, your "kid" will be featured on the website's interactive map! Click here for complete details.
---
Food For Kids Donations Keep Coming
We are so grateful for the support we continue to receive from the local community for our Food For Kids program! These recent donations will help us continue to feed hungry families over the summer months in partnership with local nonprofits, easing the "summer gap" that occurs for eligible families when school is out of session.
Girl Scout Troop 17165 followed up last month's donation with an additional 26 pounds of food!
Members of the Leadership Torrance Class of 2018 coordinated a food drive as their annual project, benefiting our Food For Kids program, the Healthy Bag program at Community's Child and the Warrior Food Pantry at El Camino College. The portion donated to Food For Kids contained 1,279 pound of food and reusable bags from sponsoring organizations. Click here to see a video of the delivery!
NEOGOV/Warburg Pincus donated more than 200 pounds of food!
Theresa Nguyen donation 153 pounds of food!
Torrance Adult School collected and donated 248 pounds of food!
Our local Torrance Post Office followed up last month's donation with an additional 366 pounds of food!
Click here to learn more about the program, including what, how and where you can contribute. You can also learn about the latest Food For Kids donations from the community and more on our Facebook page!
---
Operation Teddy Bear Volunteers-in-Action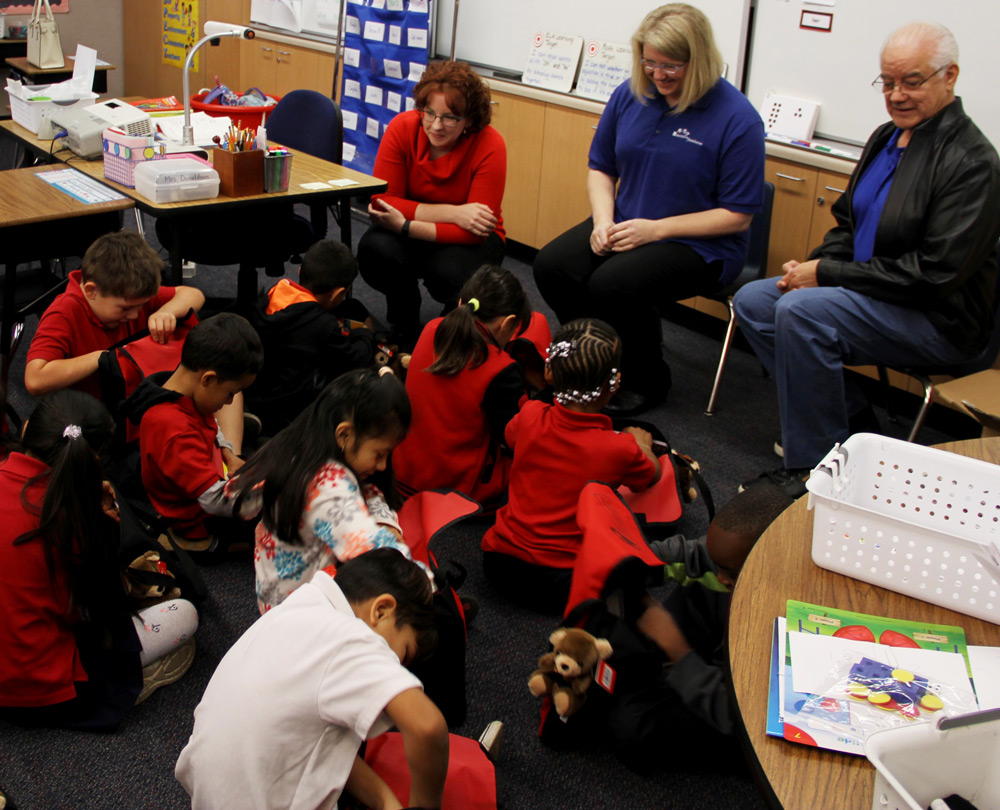 We are truly grateful to the community of volunteers, donors and sponsors that make Operation Teddy Bear possible each year. Thanks to their support, we provided more than 4,000 underserved first-graders at local elementary schools with a kind gift during the 2017 holiday season - a brightly-colored schoolbag filled with educational materials, including reading and coloring books, writing journals, a learning clock, a toothbrush, pencils, crayons, and of course, a teddy bear. Click here to learn more about these Operation Teddy Bear volunteers-in-action!
---
Long Beach Serves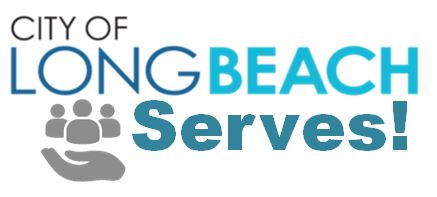 We are proud to be a part of a citywide effort to promote volunteerism in Long Beach. Residents are encouraged to give back and donate time to helping the nonprofits in Long Beach and share their experiences with the hashtag #LBServes.
---